MF Global Creditor Panel Includes JPMorgan, Wilmington Trust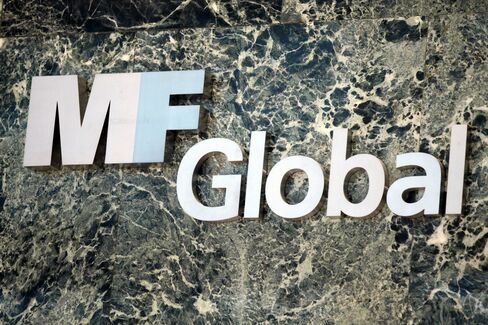 MF Global Holdings Ltd. creditors formed a committee including JPMorgan Chase & Co. and Wilmington Trust Co. to help seek recoveries from the eighth-largest bankruptcy in U.S. history.
The committee was formed yesterday after a meeting in the Millennium Hilton Hotel in Manhattan that drew dozens of lawyers, debt traders and creditors. The committee has the power to sue the company's advisers, search for assets overseas and pursue information from an investigation of the commingling of customer accounts at the failed brokerage.
Bank of America Corp., Elliott Management Corp. and Caplin Systems Ltd. are also on the five-member committee, according to papers filed in U.S. Bankruptcy Court in Manhattan by the U.S. Trustee. The Trustee, an arm of the Justice Department that oversees bankruptcies, chose from among the largest unsecured creditors willing to serve.
"It's a small committee in a large case," said Scott Peltz, the national leader of RSM McGladrey's Financial Advisory Service in Chicago. "That's perhaps an attempt at trying to achieve some sort of more orderly process in one that's to date been quite chaotic."
MF Global sought bankruptcy protection Oct. 31 after revealing investments related to $6.3 billion in European sovereign debt. Its operating unit, MF Global Inc., is being overseen by a trustee probing possible fraud and the Federal Bureau of Investigation is also investigating, according to a person familiar with the matter. Jon Corzine, the former co-chief executive officer of Goldman Sachs Group Inc., quit as MF Global's CEO on Nov .4.
Customer Funds
MF Global listed $39.7 billion in debt and $41 billion in assets and said it has about $26 million in cash. About $593 million of customer funds are unaccounted for, according to a person with knowledge of regulatory probes into the firm's collapse.
The holding company has approached 20 potential parties seeking a loan to fund operations while it reorganizes, Kenneth Ziman, a lawyer for MF Global's bankrupt estate, said at yesterday's creditor meeting.
MF Global is also selling Asian assets. Operating units overseas, including those in Hong Kong, Singapore, Australia and Japan, have entered administration proceedings, or wind-downs, in those countries, Ziman said. Liquidators are trying to sell the Asia-Pacific operations as a single unit and received more than 50 bids, a spokeswoman for KPMG International's China affiliate said Nov. 5 in an e-mail.
Bankruptcy Loan
Companies in bankruptcy typically get loans to finance operations while they reorganize from a lender who wants to protect its prior investment, or a potential buyer. MF Global tried and failed to sell itself in the days before its bankruptcy.
JPMorgan, agent to a $1.2 billion unsecured loan, has already asked for all of MF Global's's remaining collateral in exchange for letting the firm use $8 million in cash collateral until Nov. 14. The New York-based bank also provided a $300 million secured loan to MF Global's brokerage.
JPMorgan, in its role on the creditor committee, may have an interest in keeping money at the brokerage unit to satisfy its secured debt while other creditors may aim to bring the broker's assets into the holding company's bankrupt estate.
"That would have been addressed in the process of picking the committee," Peltz said. "The U.S. Trustee would talk about these types of conflicts."
Peter Pantaleo, a lawyer for JPMorgan, didn't immediately return a call and e-mail for comment.
'Providing Liquidity'
Customers also met yesterday, said David Rosen, 32, an energy broker who works at the New York Mercantile Exchange, who organized the meeting. They are seeking representation in the bankruptcy to recover money lost by members of exchanges who provided liquidity for MF Global trades, he said.
"We didn't think we were just customers," said Rosen, who had more than $100,000 in an MF Global account. "We're the ones in the pits providing liquidity so everyone around the world can trade these products."
An ad-hoc committee or sub-group of MF Global creditors could form later in the case as more claims emerge, Peltz said. Wilmington Trust has taken over from Deutsche Bank AG, which resigned, as trustee to more than $1 billion in unsecured notes. Other unsecured creditors include Headstrong Services LLC, owed $3.9 million, New York-based law firm Sullivan & Cromwell LLP, owed $596,939, and Oracle Corp., owed $302,704.
Notes Fall
MF Global's $325 million in 6.25 percent notes due 2016, issued in August, traded at 104 cents on the dollar as of Sept. 7 before dropping to 50 cents on the dollar in the week before its bankruptcy.
The notes now may be trading on expectations of lawsuits. They stood at 38 cents on the dollar at 10:15 a.m. in New York, according to Trace, the bond-price reporting system of the Financial Industry Regulatory Authority.
U.S. regulators questioned MF Global's use of so-called repo-to-maturity transactions as early as March, well before the company issued two tranches of $325 million in debt and disclosed the $6.3 billion bet on Europe's most indebted nations that prompted regulatory concerns and ultimately its bankruptcy.
James Giddens, the trustee overseeing the liquidation of the company's brokerage, on Nov. 4 won court permission to probe the company's directors and officers, lenders and other investors. That probe will focus on customer recoveries.
Other regulators including the Commodity Futures Trading Commission and the Securities and Exchange Commission are investigating as well. MF Global was granted an extension of Jan. 30 of the usual 14-day window to disclose its full list of assets and debt.
The bankruptcy case is MF Global Holdings Ltd., 11-bk-15059, U.S. Bankruptcy Court, Southern District of New York (Manhattan).