MF Global Could Liquidate Instead of Reorganize, Analyst Says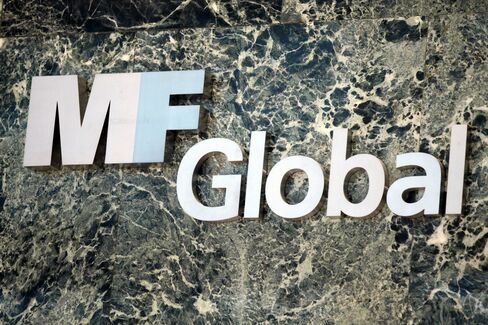 MF Global Holdings Ltd. creditors formed a committee yesterday without quickly hiring a lawyer to represent them, a sign that liquidation is more than likely, said Joe Farricielli, a managing director at Cantor Fitzgerald LP who covers MF Global debt.
A creditors committee was formed yesterday, including JPMorgan Chase & Co. and Wilmington Trust Co., to help seek recoveries from the eighth-largest bankruptcy in U.S. history.
MF Global filed for bankruptcy on Oct. 31, listing $39.7 billion in debt and $41 billion in assets and saying it has about $26 million in cash. About $593 million of MF customer funds are unaccounted for, according to a person with knowledge of regulatory probes into the firm's collapse.
"In a case like this, to pay a lawyer and a professional will be far more than the $26 million they have, and it wouldn't be surprising if hiring of professionals is delayed until they figure out where they can get the money to pay them," Farricielli said in a phone interview.
If the company were to announce a sale of some of its Asian assets, that would result in funds going back to the parent company, making a reorganization more probable, Farricielli said. Farricielli doesn't have a position in MF Global's debt, nor does his firm, though it makes a market in MF Global securities.
Sovereign Debt
MF Global sought bankruptcy protection after revealing investments related to $6.3 billion in European sovereign debt. Its operating unit, MF Global Inc., is being overseen by a trustee probing possible fraud and the Federal Bureau of Investigation is also investigating, according to a person familiar with the matter. Jon Corzine, the former co-chief executive officer of Goldman Sachs Group Inc., quit as MF Global's CEO on Nov. 4.
MF Global holdings bankruptcy lawyer Kenneth Ziman fielded a question from the audience asking why management wasn't there; "There's not a large management team at the holding company level," Ziman said.
Ziman said at the meeting that a search for an operating loan for the company was ongoing, with the company approaching 20 potential lenders. Liquidators are trying to sell the Asia-Pacific operations as a single unit and received more than 50 bids, a spokeswoman for KPMG International's China affiliate said Nov. 5 in an e-mail.
Ziman's office is referring all press calls to company spokesman Diana Desocio, who didn't immediately return a call and e-mail for comment on why the company's management wasn't present and why creditors had yet to hire counsel.
The bankruptcy case is MF Global Holdings Ltd., 11-bk-15059, U.S. Bankruptcy Court, Southern District of New York (Manhattan).