M&S Forecasts Lower Cost Growth as Profit Beats Estimates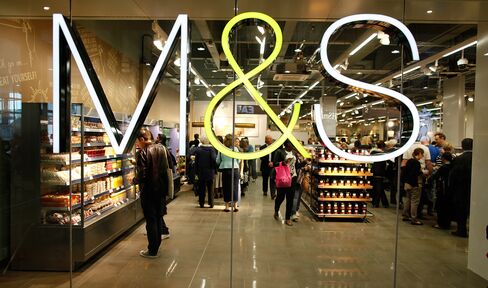 Marks & Spencer Group Plc, the U.K.'s largest clothing retailer, reported first-half profit that beat analysts' estimates and said costs will rise less than forecast as it contends with a "challenging environment."
Pretax profit declined 8 percent to 320.5 million pounds ($515 million) in the six months ended Oct. 1, the London-based company said today, exceeding the 313.3 million-pound average estimate of 12 analysts surveyed by Bloomberg. The retailer forecast operating expenses for the year will rise 3 percent, compared with a previous prediction of 5 percent.
Chief Executive Officer Marc Bolland is seeking to increase efficiency at the retailer and has deferred spending on store refurbishments as profitability is squeezed by rising commodity costs and a need to keep prices down. Gross margins for the year will be "broadly flat," Marks & Spencer also said today, compared with previous guidance of a 0 to 25 basis-point improvement.
"I'm not surprised they cut the gross margin guidance given the promotional environment," said David Jeary, an analyst at Investec Securities with a "buy" recommendation on the shares. "That slight negative however is offset by the operating cost guidance, which I think given the current environment will be taken positively."
The shares fell 0.8 percent to 323.5 pence at the close of London trading. They have fallen 12 percent this year.
'Challenging Environment'
U.K. general merchandise sales fell 1.3 percent in the first half, said the company, which gets almost half its revenue from selling food. Bolland aims to revive growth by bolstering each of its clothing brands with specialist managers, in-store presentations and advertising campaigns.
"The second half of the year has started in line with our expectations," the CEO said. "We will continue to manage the business for a challenging environment with particular focus on offering great value to our customers and tight control of costs and stock. We remain cautious about the outlook, but are well set up for the all important Christmas period."
Bolland expects customers to purchase smaller treats rather than more-expensive items at Christmas. Online food orders are up 10 percent and sales of Christmas gift wrapping and cards are ahead of last year, he said on a conference call.
Increased Promotions
"The consumer confidence we see at the moment is low, disposable income is low," the CEO said. "Customers want to protect Christmas, they want to celebrate Christmas at home with the family." Shoppers will also avoid going out at New Year's Eve this year, which will benefit Marks & Spencer as customers purchase meals such as a 15-pound dinner for four, he said.
The U.K. clothing market has been "about 5 percent more promotional" over the last six months compared with a year earlier, according to Bolland. "There will be lots of deals out there and some of our colleagues in the market will put pressure on the promotional" environment over Christmas, he said.
Capital spending this year will be 700 million pounds to 750 million pounds, the retailer said, down from an earlier forecast of 900 million pounds. The reduction is because of a change in the timing of a program to introduce an updated format across the retailer's U.K. stores, Chief Financial Officer Alan Stewart said. The rollout will still be completed by the middle of 2013, with spending weighted to the end of the period.
Store Interiors
"We're evaluating all our capital expenditure very carefully, we've got our pilot stores out there, we'll evaluate them and then we'll roll out in the New Year," Stewart said. "There's some timing here, but no cutback in the investment."
Changes to store interiors have resulted in "positive consumer feedback" Bolland said, without disclosing the effect on sales. The retailer will give an update on Jan. 10.
Bolland aims to increase sales to as much as 12.5 billion pounds by fiscal 2014 as Marks & Spencer expands into France, China and India and bolsters its online offering.
Best Buy Co., the world's largest consumer-electronics retailer, yesterday announced plans to shut its U.K. shops, while Next Plc has said consumption is weakening and Asos Plc, the U.K.'s second-largest online clothing retailer, has warned of increased discounting.
Stewart said he doesn't expect any change to a consensus full-year pretax profit estimate of 705 million pounds.