Kocherlakota Says Fed Should Make Public Contingency Plan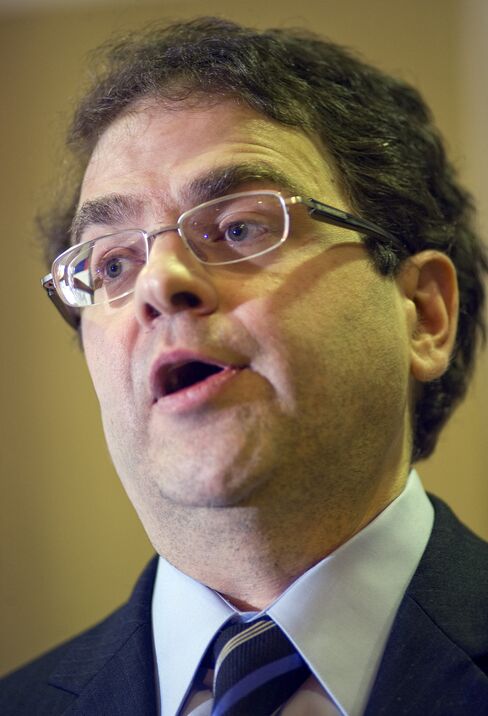 Federal Reserve Bank of Minneapolis President Narayana Kocherlakota said the U.S. central bank should develop and make public a contingency plan that would explain how it would react to developments in the economy.
Such a contingency plan by the policy-setting Federal Open Market Committee would "provide clear guidance on how it will respond to a variety of relevant scenarios," Kocherlakota said today in a speech in Sioux Falls, South Dakota.
Kocherlakota said a contingency plan would reduce uncertainty about the Fed's actions among consumers and companies, which he said has reduced incentives to spend and hire. It would also enhance the central bank's credibility and transparency, he said.
His comments extend a discussion among members of the FOMC about how to better explain their forecasts and policies to the public. At a press conference last week, Fed Chairman Ben S. Bernanke said options include clarifying the central bank's long-term inflation goal, publishing the likely path of interest rates, and tying the Fed's pledge to hold rates low to specific levels of employment and inflation -- a strategy espoused by Chicago Fed President Charles Evans.
The Fed reached no decision to adopt a new communication strategy at its Nov. 1-2 meeting and didn't decide on any additional programs to combat an unemployment rate that has stayed near 9 percent or higher for 31 months.
Previous Dissents
Kocherlakota supported this month's policy statement, after joining Dallas Fed President Richard Fisher and Philadelphia's Charles Plosser in dissenting from the previous two statements announcing new stimulus measures.
Plosser, in a separate speech today in Philadelphia, said the Fed should adopt a 2 percent inflation target to increase the accountability of policy makers and improve economic stability. The fed currently aims to keep inflation at about 2 percent, while lacking a formal target.
"Making such a clear and explicit statement should give the public confidence that the Fed's commitment to its price stability mandate is a credible one," Plosser said. "Being explicit about our inflation objective would help anchor expectations and reduce uncertainty about future policy steps."
Kocherlakota said the central bank has "tools remaining" to lower borrowing costs. It could buy more Treasury securities or housing debt, as well as "extend its prediction for how long it will keep its target short-term interest rate exceptionally low," he said.
'Lower for Longer'
"However, the FOMC should do more than simply decide at each meeting whether or not to buy more assets or to keep interest rates low for longer," he said.
The Minneapolis Fed chief provided an example of the contingency planning he called on the Fed to adopt, imagining a situation where core inflation -- which excludes prices of food and energy -- rises more than expected and unemployment remains elevated.
"Suppose hypothetically that core inflation, and the outlook for core inflation, has risen to 3 percent by the end of 2013, while unemployment has fallen to between 8 percent and 8.5 percent," he said. "A public contingency plan would allow the public to know what the committee intends to do in that eventuality."
In response to audience questions, Kocherlakota said a recession in Europe could damage the U.S. economy in two ways -- through international trade and through financial markets.
Recession in Europe
"If you put all the numbers together, the trade effect from a recession in Europe would not have much consequences for my forecast of GDP," Kocherlakota said. "More alarming would be there's a bunch of financial-market uncertainties in Europe."
"That could pose more of a threat to our economy. It would be a negative drag on inflation, it would force inflation downward and it would force unemployment upward," he said. "That kind of shock, there's no real tension in our mandates. We know how to respond to that."
U.S. stocks and the euro rose, erasing earlier losses, as Italian Prime Minister Silvio Berlusconi's offer to resign bolstered optimism a new leader will be able to tame the nation's debt crisis. Commodities rallied and Treasuries reversed gains.
The Standard & Poor's 500 Index climbed 1.2 percent to 1,275.92 at 4 p.m. in New York after slipping as much as 0.5 percent earlier. The euro appreciated 0.5 percent to $1.3838 as the shared currency climbed against 10 of 16 major peers.
Economic Projections
In their summary of economy projections, released last week, central bankers said they expect core inflation to remain between 1.5 percent and 2 percent through 2014. Policy makers forecast unemployment will fall to 8.5 percent to 8.7 percent at the end of 2012 and 7.8 percent to 8.2 percent at the end of 2013.
Employers added 80,000 workers to payrolls in October, the Labor Department reported on Nov. 4, and the unemployment rate fell to 9 percent from 9.1 percent.
Kocherlakota said the Fed's recent decisions to pledge to hold interest rates near zero through at least mid-2013 and to extend the maturities of $400 billion of government securities in its portfolio were inconsistent with economic data.
"This kind of inconsistency is much less likely to occur once the FOMC has formulated an explicit public contingency plan."
"A public FOMC contingency plan can help reduce the level of policy uncertainty being created by the Fed," Kocherlakota said.
Kocherlakota, 48, received his doctorate in economics from the University of Chicago. He taught at the University of Minnesota before becoming president of the Minneapolis Fed in October 2009.
Before it's here, it's on the Bloomberg Terminal.
LEARN MORE