Julius Baer Said in Lead to Buy Rabobank Stake in Sarasin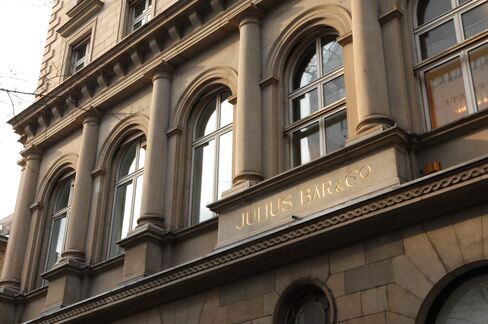 Julius Baer Group Ltd., Switzerland's largest publicly traded private bank, is leading the race to acquire a stake in Bank Sarasin & Cie. AG held by Rabobank Groep, people familiar with the process said.
Baer, which submitted a bid late last week, may pay between 35 and 45 Swiss francs per share, two of the people said. Discussions to sell Sarasin are still under way and the outcome of the sale isn't clear, the people said.
Swiss banks are seeking ways to gain assets after a crackdown on tax evasion in the U.S. and Europe. Firms are also trying to reduce costs by merging or relocating operations, as a strengthening of the Swiss currency this year has squeezed profit margins. For its part, Rabobank could be withdrawing from a situation it can't manage closely enough, Tom Muller, an Amsterdam-based analyst at Theodoor Gilissen Bankiers NV, said.
"Rabobank lacks executive control over Sarasin," Muller said. "Having an independently operating subsidiary with its own strong name over which you don't have full control might clash with Rabobank's ways of working." That could make a bid by Julius Baer "an offer they can't refuse," he said.
If Baer succeeds in buying Rabobank's stake in Sarasin, it may consider selling Sarasin's asset management business, one of the people said. The 45 franc-per-share price would value Sarasin's B shares at about 2.3 billion francs ($2.5 billion), according to Bloomberg data. Rabobank owns all 56.6 million A shares in Sarasin, which are valued at 6.69 francs per share.
Spokesmen for Baer and Rabobank declined to comment.
Sarasin Soars
Sarasin shares rose 4.2 percent to close at 35.10 francs in Zurich. They have risen 23 percent since reports of a possible deal emerged Oct. 13. The bank is now valued at 2.2 billion francs.
Baer had 166 billion francs in client assets at the end of June compared with 101.6 billion francs at Sarasin. Pictet & Cie., the nation's biggest closely held bank, is currently the third-largest money manager in Switzerland with 252 billion francs in managed assets, behind UBS AG and Credit Suisse Group AG.
Sarasin's management is also weighing an offer for Rabobank's Sarasin stake, alongside a private equity firm, according to a person familiar with those negotiations. The deal with Baer would quash Sarasin Chief Executive Officer Joachim Straehle's hopes for a management buyout. Sarasin declined to comment.
While Raiffeisen Schweiz has also shown an interest in buying part of Sarasin, the people said, the privately held bank may need to partner with other investors, such as private equity firms, in order to make a credible bid, one person said. The Zurich-based newspaper Tagesanzeiger reported that Raiffeisen, based in Saint-Gallen, Switzerland, had teamed up with H.I.G. Private Equity.
Investing Abroad
Sarasin has been investing in markets such as Germany, while encouraging its offshore clients to become tax-compliant by the end of 2012. The firm reported a 20 percent increase in first-half profit this year after gross margins improved in private banking.
Baer, which has also been investing in Europe and in emerging markets, would benefit from "synergies and scale" following an acquisition, Teresa Nielsen, an analyst at Vontobel's investment bank, wrote in a note on Nov. 7.
In 2009, ING Groep NV, the Netherlands' biggest financial-services company, sold its Swiss wealth management business to Julius Baer. Separately, ABN Amro Group NV, the third-biggest Dutch lender, agreed in August to sell its Swiss private-banking business to the Geneva-based wealth manager Union Bancaire Privee.
Rabobank has hired JPMorgan Chase & Co. as its adviser, while Julius Baer is working with Goldman Sachs Group Inc., and Sarasin's management with UBS.
Rabobank has 68.6 percent of Sarasin's voting rights and a 46.1 percent equity stake.
Before it's here, it's on the Bloomberg Terminal.
LEARN MORE