Italian Bonds Fall on Berlusconi Vote, Margin Charge Speculation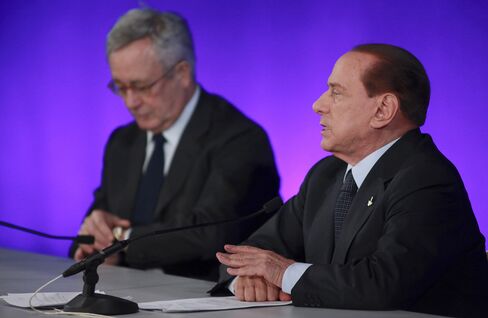 Italy's bonds fell after Prime Minister Silvio Berlusconi won a routine vote without an absolute majority, casting doubt on the nation's ability to enact austerity measures under his leadership.
Italian 10-year yields climbed to a euro-era record amid speculation LCH Clearnet Ltd., Europe's largest clearing house, will raise its margin charge on the debt, a rumor denied by the company. German government bonds pared a decline after European Central Bank council member Jens Weidmann said the bank can't bail out nations by printing money.
"The problem is that he hasn't gone," said Marc Ostwald, a fixed-income strategist at Monument Securities Ltd. in London, referring to Berlusconi. "The other big problem is there's a lot of talk going around the market that LCH are going to revise the margins on Italian debt. A lot of people will have to jettison their positions" under such a move, he said.
Italy's 10-year bond yield rose 11 basis points, or 0.11 percentage point, to 6.77 percent at 5:07 p.m. London time, the most since the introduction of the 17-member currency in 1999. The difference in yield, or spread, over similar-maturity German securities widened to a record 497 basis points. The 4.75 percent security maturing September 2021 fell 0.71, or 7.10 euros per 1,000-euro ($1,379) face amount, to 86.41.
Confidence Call
The Italian two-year note yield climbed 32 basis points to 6.37 percent. It earlier climbed to as much as 6.44 percent.
Berlusconi won with 308 votes, short of a majority in the 630-seat Chamber of Deputies. The result may lead President Giorgio Napolitano to again call for a confidence vote. The premier has refused to step down even after three members of his party defected to the opposition and six others called on him to resign.
"The political journey for Berlusconi has come to an end," said Alessandro Giansanti, a senior interest-rate strategist at ING Groep NV in Amsterdam. "The current government can no longer guarantee laws will proceed in parliament. In the short term there will be a relief rally if there is a new government. In the medium term, they will really need to show their ability to make reforms."
Volatility on Italy's sovereign debt was among the highest among developed-country markets today, according to measures of 10-year bonds, two-10-year spreads and credit-default swaps. The change in the spread was 2.6 times the 90-day average, the Bloomberg gauge showed.
No 'Majority'
"The government doesn't have a majority," Pier Luigi Bersani, leader of the main opposition Democratic Party, said as he called on Berlusconi to resign after the vote. "We all know that Italy runs the real risk of not being able to access the financial markets in the next few days."
Yields on 10-year German bunds advanced two basis points to 1.80 percent. The two-year government yield also gained two basis points, to 0.40 percent.
European finance ministers meeting in Brussels yesterday pledged to roll out a bulked-up euro-area rescue fund next month. Finance chiefs intend to complete "legal and operational work" by the end of November, with implementation set for December, according to a presentation by the rescue fund, known as the European Financial Stability Facility.
EFSF Sale
The EFSF yesterday revived the 3 billion-euro bond sale it pulled last week. The bailout fund priced the bonds due February 2022 to yield 104 basis points more than the benchmark swap rate, according data compiled by Bloomberg. That compares with the facility's existing 3.375 percent bonds due in 2021 that were priced to yield 17 basis points more than swaps when they were sold on June 15.
The yield on Greece's benchmark 5.9 percent bond maturing in 2022 rose 10 basis points to 27.76 percent, while Greek two-year note yields fell 41 basis points to 105.51 percent.
Societe Generale SA, France's second-largest bank, reported a writedown on Greek sovereign debt contributed to a 31 percent decline in third-quarter profit. The bank follows larger rival BNP Paribas SA in increasing its writedown of Greece's debt to 60 percent.
Banks including BNP and Commerzbank AG are unloading sovereign bonds at a loss, threatening to exacerbate the region's crisis and undermine European leaders' efforts to lower borrowing costs, while generating larger writedowns and capital shortfalls.
French Banks
French banks held more of Greece's public and private debt than lenders from any other country at the end of June, according to Bank for International Settlements data. The bonds have lost 52 percent this year, according to indexes compiled by Bloomberg and the European Federation of Financial Analysts Societies, compared with an 8.7 percent return on German government debt.
Greece sold 1.3 billion euros of 26-week Treasury bills today with a uniform yield of 4.89 percent. Investors bid for 2.91 times the securities offered.
The Netherlands auctioned 1.99 billion euros more of 3.25 percent bonds due in July 2021 at an average yield of 2.238 percent. The Dutch State Treasury Agency aimed to sell as much as 2.5 billion euros of the bonds.
Austria issued 660 million euros of debt tapping its bond maturing September 2021 at an average yield of 2.992 percent in a sale today, compared with 2.811 percent at an auction on Oct. 5. The agency retained 60 million euros of the total issue volume, according to the website.
The Alpine republic will sell about the same amount of gross debt in 2012 as this year and is "pretty much" funded for 2011 after today's auction, according to Martha Oberndorfer, head of the nation's federal financing agency.
Austria plans to sell as much as 19 billion euros this year and "the volume will be in a similar order of magnitude" in 2012, Oberndorfer said in a telephone interview from Vienna.