India's Trade Deficit Widens the Most in at Least 17 Years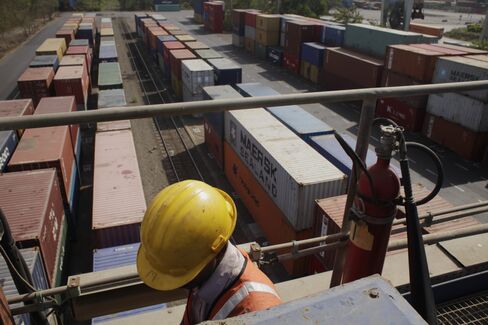 Nov. 9 (Bloomberg) -- India's trade deficit widened the most in October in at least 17 years, adding pressure on the rupee, Asia's worst performing currency this year.
Merchandise exports rose 10.8 percent to $19.9 billion last month from a year earlier, Commerce Secretary Rahul Khullar told reporters in New Delhi yesterday. Imports gained 21.7 percent to $39.5 billion, causing a trade deficit of $19.6 billion. That's the biggest shortfall since April 1994, according to data compiled by Bloomberg.
India's trade gap increased as merchandise shipments grew at the slowest pace in two years, dragged down by waning demand for engineering and petroleum products in Europe, Khullar said. The deficit may enlarge as higher oil costs boost the value of imports, said Hemendra Bhatia, chief currency strategist at Ahmedabad, India-based Vadilal Enterprises Ltd.
"The rupee will remain under pressure," Bhatia said in an interview yesterday. "Exports will weaken because of the global slowdown."
He expects the currency to fall to as much as 51.20 per dollar by the end of December.
The rupee dropped 0.6 percent to 49.79 against the dollar at 10:29 a.m. in Mumbai, weakening more than 10 percent since Jan. 1. The yield on the 7.80 percent government bond due April 2021 rose seven basis points, or 0.07 percentage point, to 9.10 percent. The BSE India Sensitive Index advanced 0.1 percent.
Inflation Risks
The Reserve Bank of India said last month that the rupee's weakness adds to pressure on inflation, which has stayed above 9 percent since the start of December.
Still, the central bank said on Oct. 25 that its 13 interest-rate increases since mid-March 2010 will help curb inflation and signaled it was nearing the end of monetary tightening. It predicted India's economy will expand 7.6 percent in the year ending March 31, lower than the 8 percent it estimated earlier.
"The impact of the rupee will show up in rising exports only later this year," Khullar said. "We are having a very difficult autumn. Our exports are predominantly targeted toward Europe and clearly that's where growth rate has contracted."
Exports of engineering goods grew 2.6 percent in October from a year earlier, while petroleum products advanced 9.4 percent in the month, Khullar said.
Deficit Concerns
The trade deficit for the first seven months of the year that started April 1 was $93.7 billion and "that is clearly something to be worried about, because at this rate you're clearly going to breach the $150 billion mark for the fiscal year," he said.
India imports almost three-quarters of its oil requirements. Oil prices have gained 6.4 percent in New York this year.
Meanwhile, European finance ministers pledged to roll out a bulked-up rescue fund next month, leaving Greece and Italy on the front lines until then in the fight against the debt crisis.
As economic recoveries falter in the U.S. and Europe, India's government plans to increase shipments to Africa and Latin America as it targets $500 billion in exports by 2014.
Exports may also get a boost after Pakistan last week granted trade concessions to India.
Under the so-called most-favored nation status, Pakistan will give its South Asian neighbor equal standing in international trade by removing non-tariff barriers, lowering customs duties and raising import quotas. India granted most-favored nation status to Pakistan in 1996.
To contact the reporter on this story: Tushar Dhara in New Delhi at tdhara1@bloomberg.net
To contact the editor responsible for this story: Paul Panckhurst at ppanckhurst@bloomberg.net