Imperial Seal, Vase Boost Record $60 Million China-Art Auctions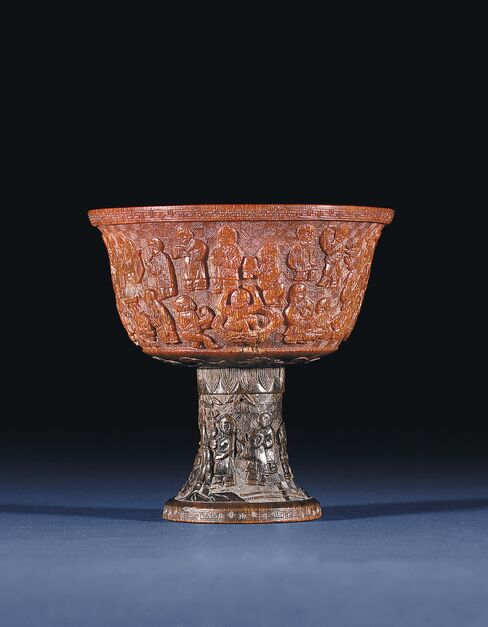 Nov. 8 (Bloomberg) -- A Qianlong-era vase and a jade Imperial seal are among highlights of U.K. sales of Chinese art with a record value of more than $60 million, starting today.
Auction houses are aiming to tempt international buyers who are in Britain for the Asian Art in London event. The regular November test of the market features 47 dealer shows of museum-quality pieces. The bumper crop of higher-quality London sales is valued at 34.6 million pounds ($55.4 million), with more from out-of-town events.
Also up for sale is an 18th-century Doucai "Lotus and Bats" jar and cover that had spent 30 years on the floor of a house's dining room in Shropshire, in the English Midlands. The owners had no idea it was worth as much as 500,000 pounds and it is now one of 560 lots being offered at Sotheby's. Still, demand for historic Chinese art has become more selective as buyers choose from a plethora of material from eager sellers. Sotheby's found buyers for just 53 percent of its lots in Hong Kong on Oct. 5.
"Maybe the fever isn't there anymore," Roger Keverne, a London ceramics dealer, said in an interview. "A little softening of the market won't do any harm. The London auctions will still do well. Chinese buyers will be wall-to-wall and a lot of Asian dealers will be buying stock for their middle-range clients. People are sensing opportunities."
The auctions and dealer shows at the 14th annual Asian Art in London lack individual works valued at more than 1 million pounds. Plenty of pieces remain with the sort of old provenances that are a magnet for buyers, dealers said.
Marathon Sale
Christie's International's and Sotheby's sales today and tomorrow carry low estimates of 14.6 million pounds and 12 million pounds respectively. Both are record valuations for such events in the U.K. capital. Bonhams's marathon sale of more than 690 lots on Nov. 10, valued at 8 million pounds to 10 million pounds, is the biggest for Asian art that the company has held in London. It features three separately cataloged collections, as well as three privately entered pieces of 18th-century Imperial porcelain.
The Qianlong famille-rose vase from the estate of J.N. Robertson, a former Jardine Matheson employee, is estimated to fetch as much as 800,000 pounds. The piece, decorated with chrysanthemum blossoms, was bought in Hong Kong in the 1920s, according to the catalog.
"What excites bidders from Asia is the chance to buy pieces that have been tucked away in European collections for a hundred years," said Colin Sheaf, Bonhams's specialist. "These are probably the biggest auctions of Chinese ceramics seen in London since the big retail sales of the 18th century."
Marriage Bowl
Christie's 445-lot catalog contains four named European collections. Descendants of the Leeds textile manufacturer and retailer Montague Burton are selling a Qianlong-period pale celadon jade marriage bowl priced at 350,000 pounds to 450,000 pounds.
"Private people have had their pieces revalued and have been shocked by the price increases," Pedram Rasti, Christie's London-based head of Chinese porcelain and works of art sales, said. "Owning valuable items can become a burden. This is how a buoyant market brings things out."
Regional auction house Woolley & Wallis of Salisbury, western England, will be adding a further 350 lots of Chinese material on Nov. 16, with a total estimate of about 4 million pounds. The top lot is a 1801 celadon jade seal of Empress Xiaoyiren at 500,000 pounds to 800,000 pounds. It is one of five "premium" lots in the sale that require deposits from bidders.
Advance Money
The market for Chinese art continues to be plagued by issues of slow payment, prompting auction houses to ask for money in advance.
Forty percent of sales of more than 10 million yuan ($1.6 million) at last autumn's auctions in China were not fully paid by April this year, the China Association for Auctioneers told the Daily Telegraph newspaper on Oct. 11.
Almost a year after it took a winning bid of a record 51.6 million pounds for a Qianlong-dynasty vase, west London auction house Bainbridges will not confirm it has received any payment for the piece.
Asian Art in London sees auction houses, dealers and museums collaborating to show works from throughout Asia spanning four millennia. For the first time, eight international dealers -- including Art of the Past from New York and Barcelona-based Carlos Cruanas -- will be participating in the event, which runs through Nov. 12.
St. James's dealers Priestley & Ferraro will be showing 20 pieces of early Yue celadon wares, including two Northern Song-dynasty boxes and covers, priced at 750,000 pounds each.
Huanghuali Chair
Mayfair dealer Giuseppe Eskenazi will be exhibiting 14 pieces of Chinese 17th-century huanghuali wood furniture from a private collection amassed in the 1990s. These include an armchair and a pair of side tables valued at more than $1 million each.
Giuseppe's cousin, John Eskenazi, a specialist in Indian sculpture, will be showing a 6th-century Gandhara terracotta of the bodhisattva Maitreya. This is also marked at more than $1 million.
The international trade in Chinese art, including sales of paintings and dealer transactions, is worth at least $10 billion a year, according to Bloomberg calculations. Auctions in mainland China generated bids valued at 5.9 billion euros ($8.1 billion) in 2010, said a report by the European Fine Art Foundation published in March.
(Scott Reyburn writes about the art market for Muse, the arts and culture section of Bloomberg News. Opinions expressed are his own.)
To contact the writer on the story: Scott Reyburn in London at sreyburn@hotmail.com.
To contact the editor responsible for this story: Manuela Hoelterhoff at mhoelterhoff@bloomberg.net.