Hong Kong's Peg to Stay Until Yuan Convertible, Tsang Says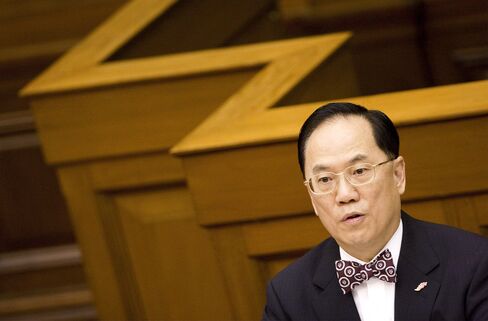 The Hong Kong dollar's peg to its U.S. counterpart will stay at least until the yuan becomes fully convertible, "which won't be tomorrow," Hong Kong Chief Executive Donald Tsang said at an event in New York yesterday.
"We want a stable currency," Tsang said. "I am sure the market speculators want us to change and remove the peg; I am sorry, we are going to disappoint you. We won't do that. It will stay this way."
The Hong Kong dollar peg was adopted in 1983, when negotiations between China and the U.K. over returning the city to Chinese control triggered capital outflows. The city's currency has been kept at about HK$7.8 per dollar since 1983. In 2005, policy makers committed to limiting the currency's decline to HK$7.85 per dollar and capping gains at HK$7.75.
China ended its currency peg to the dollar in 2005 after keeping the exchange rate stable for a decade. Chinese officials told European Union business executives that the yuan will achieve "full convertibility" by 2015, EU Chamber of Commerce in China President Davide Cucino said on Sept. 7.
There have been talks on whether Hong Kong should scrap the peg or re-peg to the Chinese yuan, as a fixed exchange rate means the city's monetary policy is largely dictated by the U.S., where a jobless rate of 9 percent has led the Federal Reserve to pledge near-zero rates through mid-2013. Hong Kong's inflation rate reached 7.9 percent in July, the fastest pace since 1995, highlighting the limitations of the existing arrangement.
Review Urged
The Hong Kong dollar was little changed at 7.7697 per dollar as of 12:37 p.m. in the city. One-year implied volatility on the currency, a measure of exchange rate swings used to price options, fell to 1.5 percent from 1.75 percent in the past month. China's yuan strengthened 0.06 percent to 6.3470 per dollar today in Shanghai, according to the China Foreign Exchange Trade System.
In January, Hong Kong lawmakers Chim Pui Chung and Lam Tai Fai urged a review of the peg. HSBC Holdings Plc chief executive Stuart Gulliver and his counterpart at the Bank of East Asia Ltd., David Li, said in August that any shift could be to a link with a basket of currencies. The same month, Norman Chan, chief executive of the Hong Kong Monetary Authority, the city's de facto central bank, rejected proposals for any change to the peg.