Weidmann Says ECB Can't Print Money to Finance Public Debt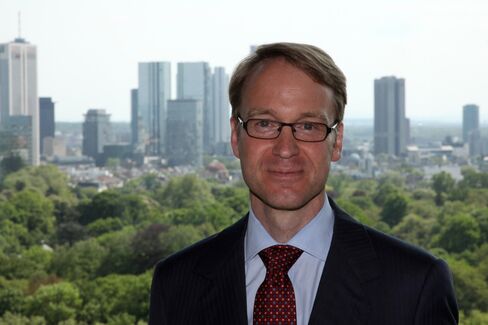 European Central Bank council member Jens Weidmann said the ECB cannot bail out governments by printing money.
"One of the severest forms of monetary policy being roped in for fiscal purposes is monetary financing, in colloquial terms also known as the financing of public debt via the money printing press," Weidmann, who heads Germany's Bundesbank, said in a speech in Berlin today. The prohibition of monetary financing in the euro area "is one of the most important achievements in central banking" and "specifically for Germany, it is also a key lesson from the experience of hyperinflation after World War I," he said.
The ECB is under pressure to ramp up its bond purchases to cap soaring yields in Italy as governments fail to contain the two-year-old sovereign debt crisis. Weidmann also rejected proposals to use Bundesbank currency and gold reserves to help finance purchases by a special fund, saying this is another form of monetary financing.
Such a course "undermines the incentives for sound public finances, creates appetite for ever more of that sweet poison and harms the credibility of the central bank in its quest for price stability," Weidmann said.
Bond Purchases
The ECB has so far bought 183 billion euros ($253 billion) worth of distressed nations' assets which it neutralizes, or sterilizes, by draining the same amount of money from the banking system. As yields soar to euro-era highs in Italy, the region's third-largest economy, some politicians and economists have called on the ECB to commit to buying as many bonds as it takes to calm markets.
Irish Finance Minister Michael Noonan said yesterday the ECB must stand ready to provide a "firewall" as the debt crisis escalates.
Weidmann welcomed the German government's opposition to using the central bank's gold and currency reserves to bolster Europe's 440 billion euro rescue fund, the European Financial Stability Facility.
"I am glad that also the German government echoed our resistance to the use of German currency or gold reserves in funding financial assistance to other" euro-area members, he said. "Proposals to involve the Eurosystem in leveraging the EFSF -- be it through a refinancing of the EFSF by the central bank or most recently via the use of currency reserves as collateral for a special purpose vehicle buying government bonds -- would be a clear violation of this prohibition" on monetary financing.