Foiling Icahn Lets Lions Gate Assert Hunger Games Worth the Wait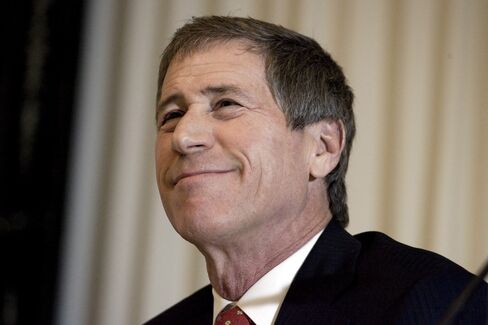 Jon Feltheimer and Michael Burns crank up the volume as an image flickers to life on a flat-screen TV in their offices at Lions Gate Entertainment Corp. in Santa Monica, California.
For years, Lions Gate's two bosses have searched for a breakout franchise of movies to allow the independent studio to thrive in an industry dominated by behemoths such as Walt Disney Co. and Time Warner Inc.
On this August afternoon, the two men watch a 60-second trailer for what they say is their best hope -- "The Hunger Games." It's set in a dystopian future where a totalitarian state forces 24 teens to duel to the death on national television.
On screen, a 16-year-old girl runs through a dark forest as fireballs explode in the trees around her. She fires an arrow and it morphs into a fiery logo for the $80 million movie -- Lions Gate's biggest production ever -- scheduled for a March 23 release, Bloomberg Markets magazine reports in its December issue.
"Hey, we've got something really special here," says Feltheimer, 60, Lions Gate's co-chairman and chief executive officer. Burns, 53, the studio's vice chairman, praises Jennifer Lawrence, the 21-year-old actress who plays the film's bow-wielding heroine. "She looks like she could start a revolution," he says.
In an era when blockbusters released by the six major studios have little impact on the share price of their parent corporations, Lions Gate offers investors the chance to bet on the performance of a single movie. The studio, which operates out of a plain five-story building, doesn't have amusement parks and cable networks to keep it going. It rises and falls with the release of every movie or TV show.
Hostile Takeover
"All the major studios are subsumed within multinational media conglomerates, so even the phenomenal results of a Harry Potter are unlikely to move the stock of Time Warner," says David Molner, the founder of Screen Capital International Ltd., a Beverly Hills, California-based firm that financed Oliver Stone's "W." "Lions Gate doesn't have a lot of places to hide its results."
The studio, best known for producing the Emmy Award-winning series "Mad Men," needs a hit. It has lost money for four straight years, and in 2010 it fought off a hostile takeover bid by Carl Icahn, the billionaire hedge-fund-manager.
With Hollywood's fortunes driven by moviegoers ages 12 to 24, Feltheimer and Burns are counting on "The Hunger Games" to become a juggernaut like the Twilight series. The teen vampire movies have generated more than $2.3 billion in global box office and DVD revenue, according to The Numbers, a film industry website.
Game Changer
"We would be disappointed if we didn't make three or four movies," Feltheimer says.
So would investors, who have seen Lions Gate's stock drop 45 percent in its four fiscal years ended on March 31. "The Hunger Games" and three potential follow-ups could generate from $220 million to as much as $733 million in earnings before interest, taxes, depreciation and amortization during the next several years, according to forecasts by James Marsh, an equity analyst at Piper Jaffray & Co. in New York, who rated the stock a "buy" as of mid-October.
The high-end forecast would amount to three-quarters of the studio's market capitalization of $975 million as of Oct.10. "The Hunger Games could be the biggest catalyst for Lions Gate's profits and share price during the next decade," Marsh says. "It could be a game changer for them."
Financial Chess Move
A smash would rebut Icahn's accusations that Feltheimer and Burns were profligate managers who wasted capital on big-ticket movies and harmful acquisitions. After Icahn amassed more than 37 percent of Lions Gate's stock, he sought last year to replace the board and jettison the two studio heads.
Feltheimer, who helped launch the beloved sitcom "Mad About You" as the head of Sony Corp.'s worldwide TV production business in the 1990s, assured stockholders that the studio's deals and ambitious slate of movies and TV shows would pay off. And Burns, a one-time head of Prudential Securities Inc.'s Los Angeles media investment banking unit, executed a financial chess move that diluted Icahn's voting power.
Icahn lost his proxy contest in December 2010 and failed to place even one director on Lions Gate's 12-member board. Nine months later, in August, Icahn agreed to sell all of his Lions Gate stock for $7 a share, 10 cents more than his average cost basis of $6.90, yielding a paper profit of about $4 million.
'Unmitigated Disaster'
Lions Gate has bet big on so-called tent pole movies before and come up empty, says David Miller, a Los Angeles-based equity analyst at Caris & Co. In August, the studio released "Conan the Barbarian," a $90 million, 3-D reboot of the swords and sorcery epic that launched Arnold Schwarzenegger's career in the 1980s. The studio's hopes that Conan would spawn sequels died after it brought in a meager $21 million in the U.S.
While Lions Gate shared the pain with financial partners, its next two releases -- "Warrior," a gritty father-and-son drama set in the world of mixed martial arts fighting, and "Abduction," a $35 million action movie starring 19-year-old heartthrob Taylor Lautner -- were also disappointments at the box office. Miller says Lions Gate's cold streak puts more pressure on "The Hunger Games" to deliver.
"Conan was an unmitigated disaster," says Miller, who rated Lions Gate shares a "sell" as of mid-October. "If you follow this company closely, you'll see it's always the next movie that becomes the reason to buy the stock. If Hunger Games doesn't work, the stock is going to take a big hit."
Scores of Facebook Pages
Feltheimer and Burns have reason to be optimistic. The movie is based on the first volume of a trilogy with 12 million copies in print in the U.S. and editions in 44 foreign markets, according to Scholastic Inc., the book's New York-based publisher.
Author Suzanne Collins's teen protagonist, Katniss Everdeen, who dispatches her enemies with cunning and violence even as she experiences her first romance, has inspired scores of fan websites, blogs and Facebook pages. The Marlborough School, a private academy for girls in grades 7 through 12 in Los Angeles, is one of many that have added the books to their reading lists.
Burns, a lanky man with a boyish face that belies his taste for corporate combat, says the movie offers Lions Gate that most coveted Hollywood prize: a reservoir of revenue that can be tapped for years. "Everyone is looking for stability in this business, so if the first one works, then you should have three more that work, and you create predictability in a very unpredictable business," Burns says in his rat-a-tat style.
'Too Much Heat'
Feltheimer, whose chiseled jaw and deep-set eyes could get him cast in a Western, nods in agreement. He says "The Hunger Games" must hit $100 million in domestic box office sales to justify making sequels. "I'm not too concerned we won't get to that kind of number," the studio head says.
He points to an issue of "Entertainment Weekly" magazine on a coffee table. It features two of the film's hunky young stars, Josh Hutcherson and Liam Hemsworth, on the cover. "There's just too much heat for this property around the world," he says.
Burns squirms at his partner's confidence. "Can I just knock on wood through this entire interview?" he says, rapping the side of his chair.
Founded in 1997 in Vancouver by a movie-loving Canadian mining financier named Frank Giustra, Lions Gate made its name producing and distributing edgy R-rated fare such as "American Psycho," the 2000 sleeper starring Christian Bale as a Wall Street serial killer. The studio, which went public in 1997, consistently lost money.
Martini-Soaked World
When Feltheimer and Burns took charge in March 2000, they set out to make it profitable by acquiring other small studios and film libraries and selling DVDs and telecast rights to cable and broadcast channels. "The core of our original strategy was to build a library," Burns says. "We liked the annuity aspect of the income. It's the gift that keeps on giving."
By 2006, the duo also snared their first Academy Award. The urban drama "Crash" won for best picture. The Oscar sits gleaming on a credenza in Feltheimer's office.
Feltheimer had tapped a wiry young production executive named Kevin Beggs to lead a push for original TV programming in the then-unexplored wilderness of basic cable. In 2006, a script brimming with workplace sex penned by Matthew Weiner, a writer on HBO's mobster series "The Sopranos," landed on Beggs's desk. It was called "Mad Men," and Beggs and Feltheimer fell in love with its depiction of the martini-soaked world of Madison Avenue in the early 1960s.
Sixfold Jump
Still, concerned that the show wouldn't sell overseas, Beggs passed on making the pilot. So did HBO. Undeterred, American Movie Classics, a cable haven for old Westerns, went ahead and made the pilot and sent it to studios. Beggs and Feltheimer were won over by the show's risque themes and hastily consummated a production deal.
"It had its risks, but we saw the quality," says Beggs, 45, a Californian who started his production career on the bikini and beefcake series "Baywatch." "Mad Men" would go on to become the studio's No. 1 TV program, generating $200 million in streaming rights and DVD sales for its first four seasons.
At the close of fiscal 2007, the studio raked in $257 million in sales from licensing the 11,800 movies and TV episodes in its library compared with almost $40 million on the 1,500 titles it controlled in 2001.
The studio's two most valuable franchises -- the Saw series of horror films and Tyler Perry's comic Madea movies chronicling African-American life -- helped it record a third consecutive year of profitability. Lions Gate's shares jumped sixfold from March 31, 2003, to March 31, 2007, or to $11.42 a share from $1.91.
$255 Million Deal
"I initially thought of Lions Gate as a library rollup play, but surprise, surprise, they ended up being creative content guys," says Gordon Crawford, a portfolio manager at Capital Research & Management Co. in Los Angeles, which holds a 9 percent stake in Lions Gate.
By 2008, Icahn had started accumulating shares in Lions Gate as Feltheimer and Burns expanded beyond their original content strategy and into cable TV. That April, they committed to invest up to $43 million in a subscription cable channel called Epix as part of a three-way joint venture with Metro-Goldwyn-Mayer Inc. and Viacom Inc.'s Paramount Pictures. And in March 2009, Lions Gate paid $255 million in cash to buy the TV Guide Network and TVGuide.com from Macrovision Solutions Corp., a Santa Clara, California-based software maker.
'Profligate Spending'
Feltheimer and Burns made the deals to deliver their movies and TV programs through alternative channels as DVD sales started falling industrywide. The studio tapped a $340 million credit line to pay for the TV Guide Network and website, and its debt in fiscal 2009 jumped 69 percent to $557 million from the prior year.
It was bad timing, as the credit crunch drove the economy into a recession. In fiscal 2009, Lions Gate lost $178 million on $1.5 billion in sales after a flurry of flops such as "The Spirit," a movie about a ghostly superhero. Lions Gate's stock sank to a five-year low of $3.90 on Feb. 10, 2009. Icahn saw his opening and pounced.
In letters to Lions Gate's board and shareholders during the next year, he criticized management for wasting more than $235 million on money-losing assets such as Epix, TV Guide and FearNet, a cable channel devoted to horror movies. Icahn issued a series of tender offers to buy up big chunks of Lions Gate stock. In April 2010, he indicated he would try to unseat Feltheimer and Burns from both the board and the executive suite and install his own allies as directors and senior management.
10-day Truce
"I think profligate spending has taken its toll on Lions Gate's share price," Icahn wrote to Feltheimer in a letter on April 15, 2010. He declined to comment for this article.
Feltheimer and Burns countered that Icahn wanted to withdraw from production and focus solely on distributing films to theaters, an approach that would unravel the studio they'd been building for a decade. "Under Mr. Icahn's proposed direction, Lions Gate would give up its movie business and its highly profitable TV business, both of which replenish Lions Gate's library," they wrote in a letter to shareholders on that April 21.
On July 9, 2010, the two sides agreed to a 10-day truce to jointly explore whether a Lions Gate merger with struggling MGM might benefit shareholders. No deal emerged; yet, Burns used the lull to engineer a critical debt-for-equity swap, according to court records filed in subsequent litigation.
Icahn Diluted
Shortly after the cease-fire expired at midnight on July 20, the studio's board approved a transaction in which Lions Gate exchanged about $100 million in convertible debt held by Kornitzer Capital Management Inc., a Shawnee Mission, Kansas-based investment firm, into new notes. Kornitzer sold the notes to MHR Advisers LLC, a New York hedge fund controlled by Mark Rachesky, a one-time protege of Icahn's who had thrown his support to Lions Gate management.
Rachesky converted the notes into more than 16 million new equity shares at $6.20 each, well below Icahn's latest tender offering of $7. As a result, Icahn's 37.2 percent stake in Lions Gate was diluted to 32.8 percent, while Rachesky's position swelled to 28.8 percent from 19.2 percent. Along with the support of other allies, Feltheimer and Burns could count on 43 percent of Lions Gate's voting shares.
Icahn decried the move as a breach of his standstill agreement with Lions Gate to refrain from such action during the 10-day truce. He sued in New York and Vancouver, where Lions Gate is incorporated, to block Rachesky from voting his shares. Lions Gate said the swap was simply designed to retire debt.
Hot Property
After Icahn lost rulings in both courts, the studio's shareholders in December 2010 re-elected Feltheimer with 96 percent of the vote. And in September 2011, Rachesky, who has been a Lions Gate director since 2009, was named co-chairman.
As the takeover fight raged, Alli Shearmur, Lions Gate's president of movie production, had zeroed in on a hot property making the rounds in Hollywood: "The Hunger Games" (Scholastic Press, 2008). She gave copies to Feltheimer; Burns; her boss, Joe Drake, president of Lions Gate's motion picture group; and other studio executives. They were immediately smitten by the story of how the resourceful Katniss Everdeen fights for her survival in the lethal games of the title. News Corp.'s Twentieth Century Fox and other major studios were also circling the book.
When Drake and Shearmur pitched author Collins and independent producer Nina Jacobson for the rights in late 2008, they vowed to make a character-driven story that would resonate with young readers.
Priciest Picture Ever
"We weren't going to let the violence be gratuitous or the selling point of the franchise," says Shearmur, who oversaw the Bourne series starring Matt Damon while she was an executive at Universal Pictures Ltd. in 2002. "This is an emotional story about a young girl who sacrifices everything and sets off a revolution she never intended."
Drake also pledged that, unlike major studios, which often shelve projects, Lions Gate would make the picture. "We certainly sold the legacy of scripts and great books never seeing the light of day," Drake says.
In greenlighting Lions Gate's priciest picture ever, Feltheimer hedged the financial risk by selling the international distribution rights, except for the U.K., to other studios. Piper Jaffray's Marsh estimates that Lions Gate collected $50 million in upfront cash from the deals in exchange for permitting its partners to pocket box office sales in foreign markets.
Patience Running Out
After receiving tax incentives from North Carolina, where the film was shot this summer, Lions Gate has about $30 million at risk in the production, Feltheimer says. The studio will probably spend another $40 million in marketing and advertising "The Hunger Games," he says.
For 11 years, Feltheimer and Burns have labored to turn Lions Gate into a Hollywood player that does it all, from producing and distributing movies and TV shows to running cable networks. Epix is now profitable after its controlling partners negotiated a $1 billion deal to stream its movies on Netflix Inc.'s website. This month, "Margin Call," a low-budget Wall Street drama starring Kevin Spacey distributed by Lions Gate and partner Roadside Attractions, is winning much needed critical acclaim and word-of-mouth praise from moviegoers.
Shares Rally
And anchored by "Mad Men" and "Weeds," a series about a marijuana-dealing soccer mom, the studio's TV revenue has tripled in the past four years, to $353 million in fiscal 2011. Since it opened its current fiscal year on April 1, Lions Gate's stock has rallied 37 percent, closing at $8.64 on Nov. 7.
Yet Feltheimer and Burns are struggling with big-ticket movies, which made up three-quarters of the studio's $1.6 billion in sales last year. After several box-office bombs from Lions Gate, its shareholders are now counting on it to deliver a blockbuster. "Patience is running out," Caris's Miller says. Feltheimer and Burns find their studio's fortunes riding on the shoulders of a 16-year-old girl fighting for her life.
Before it's here, it's on the Bloomberg Terminal.
LEARN MORE