European Stocks Rebound From Two-Day Slide as Vodafone Rallies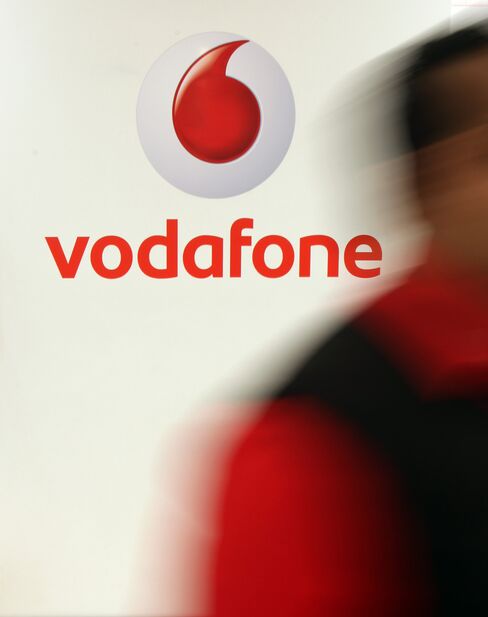 European stocks rose, with the Stoxx Europe 600 Index rebounding from two days of losses, as Italy's Prime Minister Silvio Berlusconi won a parliamentary vote on the budget yet still lost his absolute majority.
Vodafone Group Plc gained 1.8 percent after increasing its full-year earnings forecast as profit beat analysts' estimates. Repsol YPF SA climbed 6.3 percent after raising its prediction for recoverable reserves in Argentina. Banks rallied as Societe Generale SA, France's second-biggest bank, and Lloyds Banking Group Plc, the largest mortgage lender in the U.K., both gained more than 4 percent.
The Stoxx 600 rose 0.9 percent to 240.50 at the close. The benchmark measure has rallied 12 percent since this year's low on Sept. 22 as investors speculated that the euro area would protect the economies of Italy and Spain from the sovereign-debt crisis.
"If Berlusconi leaves, it'll cause some political unrest, but most likely also a sigh of relief in the markets," wrote Lars Mogeltoft, a chief equity adviser at Nordea Private Banking in Copenhagen, in a note to clients. "The big swings in the market will continue as focus stays on the two items that draw attention: Greece and Italy."
National benchmark indexes gained in every western-European market except Luxembourg and Portugal. France's CAC 40 Index advanced 1.3 percent, Germany's DAX Index rose 0.6 percent and the U.K.'s FTSE 100 Index added 1 percent.
Berlusconi's Budget Vote
Berlusconi won 308 votes out of 630 on a routine report on Italy's 2010 budget, Speaker Gianfranco Fini said in Rome. The yield on 10-year Italian bonds rose to 6.7 percent today after yesterday climbing to a euro-era record. European stocks dropped over the past two days, as two Berlusconi allies defected to the opposition and a third one quit.
In Greece, Prime Minister George Papandreou said a Greek national-unity government will be named "soon" and told his ministers to prepare to resign, spokesman Elias Mosialos said.
In Germany, a report from the Federal Statistics Office in Wiesbaden showed that the country's exports unexpectedly rose for a second month in September, helping Europe's largest economy weather the sovereign-debt crisis.
Exports, adjusted for work days and seasonal changes, increased 0.9 percent, the report said. Economists had forecast a drop of 0.8 percent, according to the median of 14 estimates in a Bloomberg News survey.
Price-Earnings Ratios
The Stoxx 600 traded at 10.4 times the estimated earnings of its companies, compared with the average multiple of 12 over the past five years, according to data compiled by Bloomberg. Some 48 percent of the 220 companies in the benchmark measure that have released earnings since Oct. 11 beat analysts' profit estimates compared with 44 percent that missed projections, according to data compiled by Bloomberg.
Vodafone advanced 1.8 percent to 176 pence. Europe's third-largest phone company by sales predicted full-year adjusted operating profit of 11.4 billion pounds ($18.3 billion) to 11.8 billion pounds, the upper half of the range indicated in May. First-half earnings before interest, taxes, depreciation and amortization gained 2.3 percent to 7.53 billion pounds in the six months through September. Analysts had predicted profit of 7.42 billion pounds.
Repsol surged 6.3 percent to 22.23 euros after its YPF SA unit in Argentina raised estimates for the Loma La Lata field in northern Patagonia to 927 million barrels of shale oil.
Lloyds, Societe Generale
Lloyds jumped 4.4 percent to 28.9 pence after posting smaller-than-estimated provisions for bad loans in the third quarter and saying it may miss its income target for 2014.
"There was some nervousness in the market ahead of these results," said Bruce Packard, a banking analyst at Seymour Pierce Ltd. in London. "The fact that there were no monsters in there is reassuring. I didn't think their 2014 targets were ever achievable."
Societe Generale SA shares advanced 7.3 percent to 18.77 euros after the bank said it won't pay a dividend for 2011, a decision that will reduce its capital needs under European Banking Authority requirements.
The lender also said third-quarter profit fell 31 percent, hurt by a 333 million-euro ($459 million) pretax writedown on Greek sovereign debt and lower trading revenue. Net income dropped to 622 million euros from 896 million euros a year earlier.
Intesa Sanpaolo SpA rose 3.5 percent to 1.20 euros after reporting third-quarter net income of 527 million euros, beating the median analyst estimate for profit of 314 million euros.
Nobel Biocare, Prudential
Nobel Biocare Holding AG soared 6.9 percent to 11.11 Swiss francs after the world's second-biggest dental implant maker posted third-quarter sales of 128.2 million euros. That exceeded the 125.7 million-euro average estimate of 15 analysts. The company sold more expensive prosthetics in North America and Asia than it had forecast.
Prudential Plc climbed 3 percent to 636.5 pence as the U.K.'s largest insurer by market value reported that sales climbed to 2.7 billion pounds in the first nine months of the year from 2.46 billion a year earlier.
Adecco SA dropped 5.5 percent to 37.59 francs in Zurich after the world's largest supplier of temporary workers said North American revenue declined in the third quarter. Adecco said sales from the region fell 6.6 percent to 903 million euros in the period.
SKF AB slipped 4.4 percent to 136.50 kronor in Stockholm trading after the world's largest maker of ball bearings said representatives from the European Commission raided two of its facilities today as part of an antitrust investigation.
Before it's here, it's on the Bloomberg Terminal.
LEARN MORE