Euro Will Fall as Crisis Engulfs Italy, Sinche Says: Tom Keene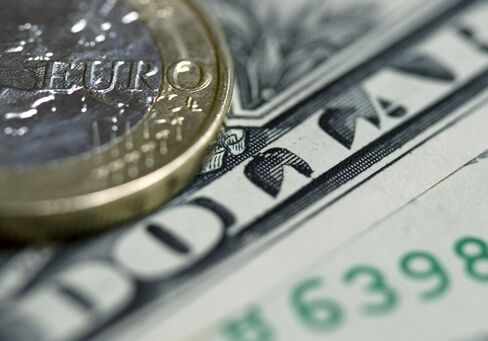 The euro is poised to depreciate further against the dollar on increased concern the region's debt crisis will worsen, according to Royal Bank of Scotland Group Plc's Robert Sinche.
The 17-nation currency lost 4 percent since the end of August as investor focus turned to Italy and whether it could implement sufficient austerity measures to avert a jump in bond yields similar to that in Greece. Futures traders piled last month into euro short positions, or bets the currency will fall.
"There is a persistent pessimism, and the market is very convinced that this will eventually lead to a much weaker euro," Sinche, global head of currency strategy at RBS Securities Inc. in Stamford, Connecticut, said in a radio interview on "Bloomberg Surveillance" with Tom Keene and Ken Prewitt. "If it goes to a full-fledged bailout and run on Italy, the resources aren't there. So they need to put in backstops much earlier than Italy."
The euro gained 0.2 percent to $1.3798 at 10:57 a.m. in New York after earlier rising 0.5 percent. Hedge funds and other large speculators held 60,060 euro short contracts as of Nov. 1, Commodity Futures Trading Commission figures showed last week. Bets against the currency reached a more than one-year high of 82,697 contracts Oct. 4.
Prime Minister Silvio Berlusconi failed to muster an absolute majority in a routine parliamentary ballot, fueling further calls for him to resign as Italy struggles to convince investors it can fund itself.
Record Italian Yields
Yields on Italy's 10-year bond reached a euro-era record of 6.74 percent. The extra yield investors demand to hold Italy's 10-year debt instead of similar-maturity Treasuries climbed to 4.59 percentage points, the fourth-highest among bond markets for euro-region nations, after Greece, Portugal and Ireland.
In Greece, Prime Minister George Papandreou resumed talks with his opposition rival in Athens as they moved closer to agreement on naming the premier of a new Greek unity government.
Sinche recommends investors buy the currencies of Asian countries, excluding Japan, as well as the Australian dollar, which dropped 0.4 percent to $1.0337 as Italian turmoil discouraged demand for higher-yielding assets. The trades should be funded by developed-nation currencies, he said.
"Down at these levels, even the Aussie dollar probably goes in with that group right now, looking relatively attractive," Sinche said.