Carney Says ECB Will Stop 'European Equivalent of Lehman'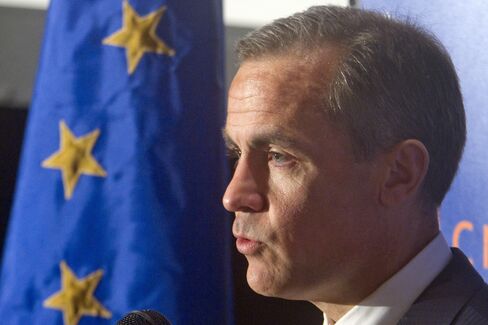 Bank of Canada Governor Mark Carney, who was named head of the Financial Stability Board last week, said European Central Bank moves to provide liquidity will prevent the rapid collapse of major lenders in the region.
"The combination of the ECB's bold moves and 4 trillion euros in unencumbered collateral at European banks should ensure that there is no European equivalent of Lehman," Carney, 46, said in a speech today in London. "However, measures that avoid disaster are not necessarily sufficient to promote recovery."
Carney said that central banks are in the best position to offer liquidity needed to help private lenders fund their operations, while making little mention of government actions to curb the European debt crisis. The global recovery depends in part on how European banks reduce their own debts and Carney suggested that Asian authorities could use their reserves as a source of new funding.
"The effects are not limited to Europe," Carney said. "As global liquidity recedes, volatility is increasing and activity falling. The effect on the real economy will soon be felt."
Banks in Europe would need to sell as much as 2.5 trillion euros ($3.45 trillion) of assets to meet a new requirement that their so-called Tier 1 capital ratio reach 9 percent by June, Carney said. The total would fall to 1.4 trillion euros based on last year's earnings if banks don't pay dividends, he said.
'Obvious' Advantage
"The advantage for European banks of selling U.S.-dollar assets is obvious," Carney said. "Doing so would reduce the funding currency mismatch that has plagued them for the past several years."
Another option to ease the pressure on European banks would be the sale of contingent capital, Carney said. In the past, Carney described such capital as debt securities that convert into equity when emergency funds are needed.
The European Central Bank is lending banks as much money as they want against eligible collateral for up to one year at its key rate. The central bank has also bought 183 billion euros worth of government bonds in the secondary markets since May 2010 and launched a new 40 billion euro covered-bonds purchases program.
Threaten Capital Markets
"Over the medium term, the continuation of such extreme liquidity cycles could ultimately threaten open capital markets and a free trading system if not better addressed," Carney said in today's speech.
The International Monetary Fund is the best way to "redistribute global official liquidity" Carney said in response to a question from an audience member, adding it's not clear that the IMF needs more resources to deal with a possible new "global liquidity shock."
Group of 20 leaders on Nov. 4 named Carney to lead the FSB, the organization overseeing efforts to write new rules for international finance that some lenders say may slow lending and hurt growth. The G-20 also agreed to formalize the powers of the FSB to ensure new rules decided on by leaders are implemented and to give it more resources.
Carney worked at Goldman Sachs Group Inc. for more than a decade before becoming a policy maker in 2003 and chief of Canada's central bank in 2008. He has pushed for tougher regulations for global lenders and clashed with banking executives over new rules requiring them to hold more capital.
'Shadow Banking'
Carney said one of his key goals at the FSB will be "enhanced supervision and regulation of shadow banking."
"The shadow banking sector, depending on the jurisdiction, is a half to in some cases 60 percent of the overall financial system," Carney told reporters at a press conference. "It's absolutely necessary to turn to that, which is what the FSB is doing." New regulations will create incentives for more money to move into shadow banking, he said.
The Canadian financial system that Carney helps oversee largely escaped the last financial crisis and has been ranked the world's soundest by the Geneva-based World Economic Forum for four years.
Carney said today Canada's central bank almost doubled the size of its balance sheet early in the financial crisis and is "ready to take similar steps" if required again.
The collapse of Lehman Brothers Holdings Inc. in September 2008 exacerbated a global financial crisis and preceded a coordinated interest-rate cut from central banks in the U.S., Europe and Canada.
No Outlook Comment
His speech today didn't touch on Canada's current economic outlook. The Bank of Canada's main interest rate has been unchanged at 1 percent since Sept. 2010 and Carney cut the country's economic growth forecast on Oct. 25 because of risks from Europe's debt crisis and a slow U.S. recovery. The last rate decision also removed a phrase about withdrawing monetary stimulus.
At the press conference, Carney reiterated Canada's long-standing opposition to a financial transactions tax, as has been suggested by some G-20 members.
Carney also said Canada's inflation targeting agreement with the government will be renewed before it expires at the end of the year, and that a policy of "flexible inflation targeting" has worked well since it was introduced two decades ago.
He also said that "financial stability considerations" can impact how fast policy makers meet an inflation target. The central bank's goal is to keep inflation at 2 percent.
Before it's here, it's on the Bloomberg Terminal.
LEARN MORE