EBay Puts at Record as Confidence Falls Before Holidays: Options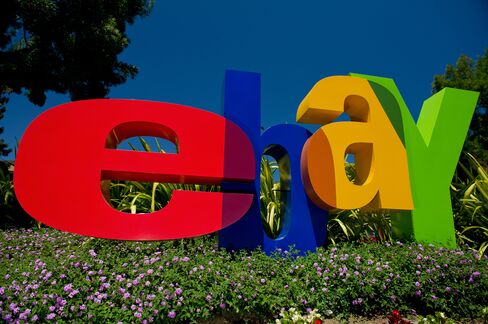 EBay Inc. options traders are paying the most ever to speculate on declines as U.S. consumer confidence at a two-year low threatens holiday sales.
Contracts that pay should the largest online marketplace fall were priced 9.49 points higher than comparable calls on Nov. 4, a record and double the 4.57 median since 2005, implied volatility data compiled by Bloomberg show. The relationship known as skew, based on three-month options 10 percent above and below the stock price, has risen from 4.51 in July.
Consumers grew less confident in October, driving a Conference Board sentiment index to the lowest level since the recession in 2009. Chip Hendon, who helps oversee $14 billion at Huntington Asset Advisors Inc., said options show investors are concerned that San Jose, California-based EBay's shares will drop with the U.S. jobless rate stuck at or above 9 percent. EBay generates about 46 percent of its business in America.
"There are fears going into the holiday season on what the numbers are going to look like," Hendon said in a telephone interview yesterday. "With the pessimism in the economy, you have more fear that retailers won't be out in force and that online transactions will be down."
Johnna Hoff, a spokeswoman for EBay, declined to comment on the options trading.
The Chicago Board Options Exchange Volatility Index fell 1 percent to 29.85 yesterday. The VIX, as the gauge is known, closed below 30 for the seventh time since August. It fell 7.9 percent to 27.48 today. The VStoxx Index, which measures the cost of Euro Stoxx 50 Index options, added 1.8 percent to 42.22 yesterday. The gauge dropped 6 percent to 39.67 today.
Technology, Retailers
EBay has rallied 17 percent in 2011, beating 63 out of 75 technology stocks in the Standard & Poor's 500 Index. Among shares in the S&P 500 Retailing Index, 14 out of 30 companies have done better. The shares closed at $32.47 yesterday.
November $29 puts, which are priced 11 percent below the stock's end-of-day level yesterday, had the biggest increase in ownership among all EBay options in the past 14 days, according to data compiled by Bloomberg.
U.S. retail sales growth will slow to 2.8 percent during November and December, down from 5.2 percent a year earlier, the National Retail Federation said last month. Consumers plan to spend less this holiday season than last year, according to a survey last month of 9,000 shoppers at 11 chains by Worthington, Ohio-based BIGresearch.
Consumer confidence among Americans slumped in October to the lowest level since March 2009. The Conference Board's sentiment index decreased to 39.8 from 46.4 in September, according to the New York-based private research firm.
'Greater Concern'
"We're heading into a particularly uncertain holiday season," said Gil Luria, an analyst at Wedbush Securities Inc. in Los Angeles who recommends buying EBay shares. There's "negative consumer sentiment and yet spending is still holding up, and that's causing greater concern about whether this will be the holiday season that consumers stop spending," he said.
EBay may stand to benefit as concern about the economy spurs consumers to try saving money, said Tom Forte, a New York-based analyst at Telsey Advisory Group, which sells research on consumers to investment firms.
"They can be a good source for the consumer to find lower-priced items in hard times," Forte said in a phone interview yesterday. "If you're willing to accept something out of box versus brand new, you can almost always find it cheaper on EBay."
Amazon's Skew
Skew for EBay has more than doubled since its July 27 low of 4.51. During that time, the price relationship for Seattle-based Amazon.com Inc., the world's largest online retailer, climbed 48 percent to 6.24. That compares with a five-year average of 4.86, Bloomberg data show.
EBay shares fell 3.1 percent on Oct. 20 after the company forecast sales and profit that missed some analysts' estimates, as efforts to woo developers and strengthen payment services erode profitability. Its operating margin, excluding some items, narrowed to 25.3 percent in the third quarter, primarily because of acquisitions, the company said. That compared with 28.7 percent a year earlier.
"That's been a difficulty for them, striking that right combination that will maximize their profits," Peter Jankovskis, who helps manage $2.4 billion at OakBrook Investments LLC in Lisle, Illinois, said in a telephone interview yesterday.
Before it's here, it's on the Bloomberg Terminal.
LEARN MORE