Crosby, Nash, No Stills Sing 1960s Hits to Occupy Wall Street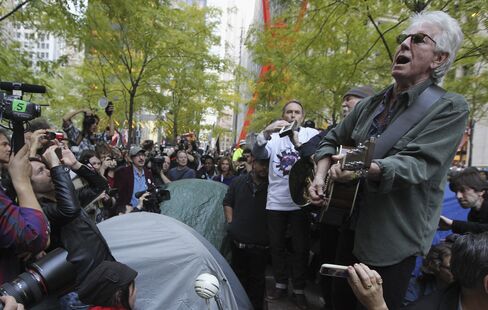 Folk-rock icons David Crosby and Graham Nash performed for society's besieged 99 percent in a New York acoustic concert audible to about 99 protesters and press.
The outdoor concert today in Zuccotti Park, home of Occupy Wall Street in lower Manhattan, began with "Long Time Gone," and ended with "Teach Your Children." Introducing "They Want It All," Nash, in sunglasses and a green work shirt, called it "a song for the guys in the buildings down here."
"They want it all," he and Crosby sang, accompanied by onlookers who could hear. "They want it now. They want to get it and don't care how."
The two played acoustic guitars and were joined by a man on Melodica. Occupiers have been prohibited from using electronic amplification since they took over the park almost two months ago, a restriction applicable to visiting performers.
The crowd, peaceful if not silent, was packed tight around Crosby, 70, and Nash, 69.
"He used to be on drugs for a long time," a woman in a straw hat said during the opening number, without specifying the performer.
"I used to do drugs," a man responded. "I still do."
Ed Kirby, a 51-year-old who lives in Brooklyn and said he's involved with software and architecture, complained that photographers constantly jostled for position.
'Media Madness'
"They were singing military madness," he said, referring to the song "Military Madness." "I heard media madness."
Stephen Stills, who played with the two at New York's Beacon Theatre the previous two days, wasn't present.
Nash ended the concert by toasting the occupiers.
"Keep going," he implored. "Stay here!"
A few occupiers before the show debated the value of visiting celebrities and continued the debate after.
"Are they good, are they bad, do they deserve special treatment?" Rachel Signer, a 27-year-old freelance writer, asked rhetorically in an interview.
"We're happy they're here but it does interrupt our work," said Signer, who's part of an impromptu "think tank." "If you really want to know what's going on here, it has nothing to do with celebrities. It has to do with hard-working activists."
She said occupiers are forming alliances and planning marches, among other tasks.
"It's still movement building," she said.
Before it's here, it's on the Bloomberg Terminal.
LEARN MORE