Calpers Says May Invest More in Hedge Funds After Review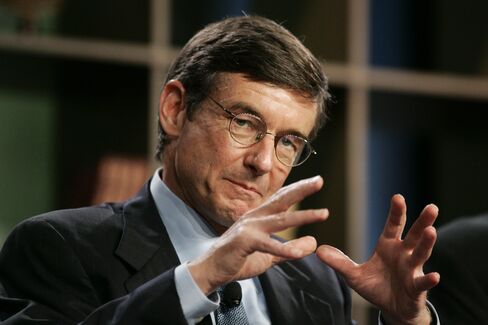 California Public Employees' Retirement System, the largest U.S. public pension fund, is likely to increase or maintain hedge fund investments next year after a review, Chief Investment Officer Joseph Dear said.
Calpers staff is scheduled to make recommendations to the board in late spring of 2012 regarding the benchmarks, objectives, capital source and strategies for its hedge fund investments, Dear said in an interview in Hong Kong today.
"The outcome of that could be a decision to increase the size of the program," said Dear. "It could be to leave it where it is. I doubt it will result in a recommendation to shrink the size."
Public pension funds like Calpers have been under pressure to meet their projected obligations amid low interest rates, an economic slowdown and Europe's debt crisis. Calpers, which manages $228.6 billion and may struggle to meet a 7.75 percent target in 2011, is using hedge funds to help boost returns, Dear has said.
Calpers invested $5.2 billion in hedge funds by Nov. 2, about 2 percent of its total allocations, according to its website. The review of its hedge fund investments is the first since Dear became CIO in March 2009, he said.
Calpers, which previously counted hedge funds as part of its public-equity investments, reclassified them in July to put them under its absolute-return strategy program, Dear said. That program reports directly to the CIO, allowing management to focus more attention on the asset class, he said.
Assets Shortfall
The absolute-return strategy program lost 2.5 percent in the third quarter, against the 18 percent decline in the value of its global equity investment, Dear said. The MSCI World Index slumped 17 percent in the biggest quarterly fall since the fourth quarter of 2008.
"In the third quarter where there was such extreme volatility, the performance of absolute return strategy portfolio demonstrated its value," Dear said.
Calpers's assets dropped by 28 percent from December 2007 to June 2009. The fund, which had been fully funded when the recession began in December 2007, said in January that it had only about 70 percent of the money it needs to cover benefits promised to government workers upon their retirement.
Return on Assets
The pension fund's 13-member board in March voted to keep the expected rate of return on assets, rejecting a recommendation from actuaries to cut it to 7.5 percent as projected market returns would trail historical averages. Lower return assumptions would force local governments and their employees to put more money into the fund when they were already facing financial strains.
Calpers's board is slated to meet again in the first quarter to review its return assumption, Dear said today.
"I don't expect that to change," he added. "In the near term, two years or less, achieving that target is going to be challenging. I think over a very long period of 20 years, it is achievable."
Calpers reported an almost 21 percent return for investments in the 12 months to June, the highest in the same period since 1997, led by stock and private equity gains, according to the fund's website. Its 23 percent loss in the fiscal year ended June 2009, the biggest in its 79-year history, reduced returns to 5.4 percent in the 10 years ended July.
Negotiating Fees
The pension fund spreads losses and gains over 15 years to cushion the impact that annual price swings may have on the amount of contributions needed to finance the retirement benefits.
As a whole, 215 public pension funds in the U.S. had 76 percent of the assets needed to meet their projected obligations, according to a survey released in June by the National Conference on Public Employee Retirement Systems in Washington.
Calpers makes 60 percent of its hedge fund investments directly by allocating to larger managers, and the remainder through funds of funds, Dear said. It relies on funds of funds for more geographically focused investments and those in smaller and newer managers.
Calpers has been able to negotiate more than $100 million of fee reductions with hedge fund managers on "a rolling basis" of three years since 2009, Dear said.