BOJ Should Seek 10-Fold Easing, Yen at 100, Ex-Board Member Says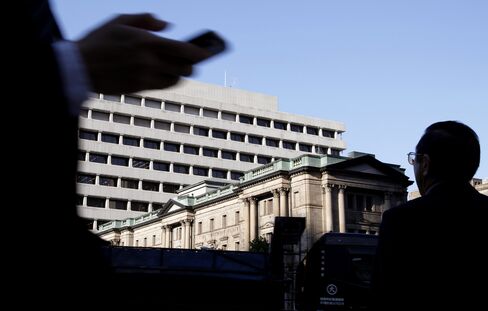 The Bank of Japan should boost monetary easing 10 fold to weaken the yen and preserve an export-led economic recovery, said an ex-board member who predicted the central bank's first move to zero interest rates more than a decade ago.
"The Japanese economy will collapse unless the yen weakens to 100 per dollar," Nobuyuki Nakahara, who served as a policy board member between 1998 and 2002 under then BOJ Governor Masaru Hayami, said in a Nov. 4 interview in Tokyo. "It's never too early to hammer out further stimulus."
The yen surged to a postwar record of 75.35 per dollar on Oct. 31, spurring the government to intervene in markets for the third time this year. The currency, which traded at 78.03 as of 9:14 a.m. in Tokyo, hasn't been at 100 since April 2009.
Current BOJ Governor Masaaki Shirakawa and his policy board bolstered credit and asset-purchase plans by 5 trillion yen ($64 billion) to a total of 55 trillion yen on Oct. 27, adding the new money to a program that buys government bonds and funds tied to stocks and real estate.
"This tiny change won't make any difference," said Nakahara, 76. "If they buy a massive amount of assets, it can be effective."
The central bank should boost purchases of real estate investment trusts and exchange-traded funds, which invest in stocks, to at least 10 times current levels to boost liquidity in the market, said Nakahara. Policy makers could consider a 50 trillion yen fund to buy foreign bonds, he added.
The yen has gained more than 4 percent in the past six months, the best performance among 10 developed-nation peers tracked by Bloomberg Correlation-Weighted Currency Indexes. The stronger yen hurts the overseas competitiveness of manufacturers such as Panasonic Corp. and Toyota Motor Corp. and reduces the value of repatriated earnings.
Yen Recession
"I'm very surprised by this high-yen recession," said Nakahara. "Japan needs to do more to prevent the yen from rising as soon as possible so it can avoid a hollowing out of industry."
Panasonic, the maker of Viera TVs, has said it will move the headquarters of its $57 billion procurement operation to Singapore from Osaka next fiscal year starting April 1. Toyota President Akio Toyoda yesterday called for more action on the yen, saying it will be "impossible to reclaim domestic auto manufacturing jobs once they're shifted overseas."
"Japan's automobile industry may experience not only a 'hollowing out,' but a collapse," he said.
Japan sold about 8 trillion yen on Oct. 31, analysts estimate based on current account data at the Bank of Japan, which would make it the biggest one-day intervention ever. Finance Minister Jun Azumi said he will "continue to intervene until I am satisfied."
Economic Assessment
The currency has pared losses since the intervention, as concern Europe's debt crisis will spread from Greece to Italy prompted investors to buy the yen as a refuge.
Japan's government on Oct. 17 downgraded its economic assessment for the first time since April, citing the impact of the strong currency and sluggish consumer spending. Exporters said in an annual Cabinet Office survey released in March that they can remain profitable as long as the yen trades at 86.30 per dollar or weaker. It's averaged about 106.50 in the past 10 years.
Nakahara said the yen may strengthen past 70 per dollar should the Federal Reserve embark on a third round of quantitative easing, a bond-buying program traders have called QE3.
Matching Fed
Fed Chairman Ben S. Bernanke said on Nov. 2 that unemployment is still "far too high" and the central bank may take further steps to bolster growth. Fed Bank of New York President William C. Dudley said last month "it's possible that we could do another round of quantitative easing."
The Fed's policies have been successful in weakening the dollar to stimulate exports and jobs, Nakahara said, and Japan may see its unemployment rate jump without more stimulus.
"The BOJ should add maximum employment to its policy mandate like the Fed," said Nakahara, who is now chairman of the American Studies Foundation, a Tokyo-based education group. "Just focusing on price stability is becoming a thing of the past."
Minutes of the BOJ's September 1998 meeting showed Nakahara said Japan may be "on the way to zero rates." The bank went on to cut its benchmark rate to near zero in 1999 and again in 2001 after temporarily lifting it to 0.25 percent. In November 2000, he pushed for the central bank to adopt quantitative easing "immediately," which the BOJ eventually undertook.
The central bank raised its key rate to 0.5 percent in 2007 before lowering it to 0.1 percent in December 2008 during the global financial crisis. It cut the rate to between zero and 0.1 percent October last year and has kept it unchanged since then.
Before it's here, it's on the Bloomberg Terminal.
LEARN MORE