Repsol Gains Most in 18 Months After Argentine Unit Oil Find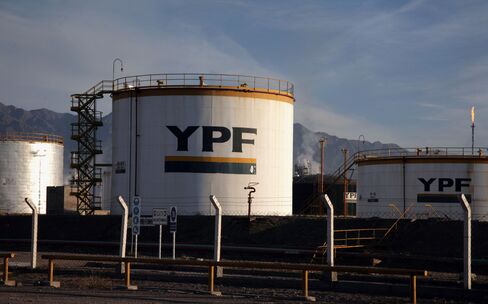 Repsol YPF SA, Spain's largest oil company, rose the most in more than a year after its Argentine YPF SA unit made its biggest ever discovery at a shale oil field in Patagonia.
YPF, in which Madrid-based Repsol owns a 57 percent stake, said yesterday well tests showed the Loma La Lata field holds about 927 million barrels. In May, it had said the find was about 150 million barrels.
Repsol rose as much as 1.43 euros, or 6.9 percent, to 22.34 euros a share in Madrid, the biggest gain in 18 months. The shares closed at 22.23 euros. YPF, which trades on the Buenos Aires exchange, closed up 10 percent at 167.20 pesos, the steepest gain since December 2010. YPF's American Despositary Receipts added 13 percent to $35.95 in New York.
YPF, which produces more than 50 percent of Argentina's crude, is boosting exploration to arrest a decline in output and last year had a 100 percent annual oil reserve-replacement ratio for the first time in 13 years. The Buenos Aires-based company, led by Chief Executive Officer Sebastian Eskenazi, made its largest oil find in Argentina after drilling a dry hole off the disputed Falkland Islands earlier this year.
Double Reserves
The field will roughly double YPF reserves and helps cement Argentina's ranking as having the world's third-largest probable reserves of shale oil, behind the U.S. and China, based on U.S. Energy Information Administration data.
So-called unconventional shale formations are more costly to develop than traditional wells, requiring the extraction of oil or gas trapped in shale rocks.
The "very positive" news for Repsol will need to be accompanied by increases in the prices Argentina sets for selling crude and refined products in its home markets, Fernando Lafuente, an analyst at N+1 in Madrid, said today in a note to investors. Lafuente has a "strong buy" rating.
Repsol will continue to spend more on exploration, and it´s too early to estimate how much it may invest in production of the new fields, spokesman Kristian Rix said today.
Repsol's target price was increased on the news by Credit Suisse AG and Bankia Bolsa. Credit Suisse increased its price to 27.8 euros per share, from 26.5 euros, while Bankia increased the price to 29.9 euros per share, from 27 euros.
Loma La Lata
The new probable reserves in Patagonia are contained in an area of 428 square kilometers in Loma La Lata, more than 1,200 kilometers (746 miles) southwest of Buenos Aires. The discovery announced in May boosted Argentina's total reserves by about 6 percent, President Cristina Fernandez de Kirchner had said.
At present, YPF has total oil reserves of about 531 million barrels. The find announced yesterday is located at the Vaca Muerta formation at Loma La Lata.
YPF controls about 12,000 square kilometers of the Vaca Muerta formation, which has a total surface of 30,000. Other companies that are seeking to produce shale oil and gas in Neuquen province include Apache Corp., Exxon Mobil Corp., Americas Petrogas Inc., Total SA and Madalena Ventures Inc.
YPF in December 2010 announced the discovery of 4.5 trillion cubic feet of shale gas in Neuquen province.
Before it's here, it's on the Bloomberg Terminal.
LEARN MORE