Unloved Treasury Notes Becoming New Favorite in Fed's Twist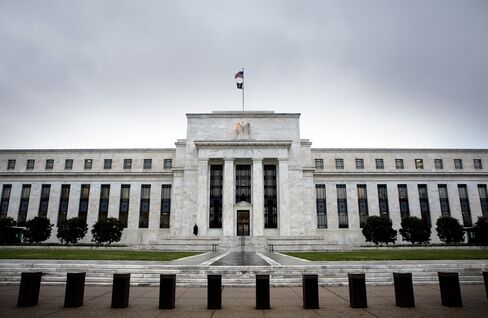 The U.S. Federal Reserve is finding no shortage of demand for the short-term bonds it's selling to focus on longer-maturity debt, a sign that the strength in the economy seen in October may prove fleeting.
Traders submitted $748.5 billion in bids for the $54.4 billion of securities maturing from 2012 to 2014 that the central bank sold from its holdings since Sept. 23. The 13.8-to-1 ratio exceeds the average 3-to-1 bid that the Treasury has attracted for the $1.78 trillion of new debt it auctioned this year, government data show.
Growing demand for shorter-maturity debt shows fixed-income investors remain concerned that Europe's sovereign debt crisis may worsen, slowing global growth after reports last month on everything from U.S. retail sales to durable goods suggested a rebound. The bids suggest that government borrowing costs may stay at about record lows while the U.S. ramps up borrowing to finance a budget deficit that exceeds $1 trillion.
"The situation in Europe has basically closed down what I'm sure many reserve managers thought was going to be their primary venue to diversify away from the U.S. dollar," Robert Tipp, chief investment strategist in Newark, New Jersey, at Prudential Fixed Income, which oversees $300 billion in bonds, said in a Nov. 2 telephone interview. "Against that backdrop, the U.S. Treasury market is looking better than ever."
High Unemployment
While the Labor Department said in a Nov. 4 report that the economy added 80,000 jobs in October, the unemployment rate was 9 percent. The jobless rate has held at or above that level every month except two since May 2009.
Reports the prior three weeks showed retail sales rose 1.1 percent in September, the most in seven months, while orders for U.S. durable goods other than transportation gear rose in September by the most in six months.
In Europe, a disagreement on boosting the International Monetary Fund's resources to fight Europe's debt crisis at the same time Greece's delay in accepting a bailout fueled concern the nation would default and worsen the region's debt crisis, helped boost Treasuries at the end of last week.
"In a world where it is unclear if the euro-zone will be able to hold together, Treasuries have been viewed as a safe haven," Franco Castagliuolo, co-manager of the $5.4 billion Fidelity Government Income Fund, said in a Nov. 3 interview. Boston-based Fidelity Investments manages $1.4 trillion.
Falling Yields
The yield on the benchmark two-year Treasury fell 7 basis points last week, the most since the period ended Aug. 12, to 0.22 percent. The price of the 0.25 percent note due October 2013 rose 1/8, or $1.25 per $1,000 face amount, to 100 2/32, Bloomberg Bond Trader prices show. Ten-year yields tumbled 28 basis points, or 0.28 percentage point, to 2.03 percent.
The two-year note yield was little changed at 0.23 percent at 1:26 p.m. New York time, while the 10-year rate dropped six basis points to 1.97 percent.
Treasuries have returned 8.6 percent this year, including a 6.2 percent gain since the end of June, according to Bank of America Merrill Lynch bond indexes. Standard & Poor's 500 stock index has gained 1.3 percent this year, and the S&P GSCI Total Return index of 24 commodities is up 0.4 percent.
Italian 10-year yields reached 6.68 percent today, the highest since before the euro's introduction, while Greek two-year note yields stayed at more than 100 percent.
After cutting its target interest rate for overnight loans between banks to a range of zero to 0.25 percent in December 2008 and buying $2.3 trillion of mortgage and government bonds in two rounds of so-called quantitative easing, or QE, the Fed has decided more needs to be done.
No Sell-Off
The central bank said in September it would sell $400 billion of short-term debt and use the proceeds to buy an equal amount of longer-maturity securities. Traders refer to the program as Operation Twist after a similar action in 1961 designed to contain borrowing costs for companies and consumers.
Ten-year Treasuries yield 1.79 percentage points more than two-year notes. The so-called yield curve has narrowed from 2.44 percentage points at the end of July as traders began to anticipate the Fed's actions.
"While Operation Twist has been remarkably successful in flattening the curve," it hasn't caused a sell-off in the shorter maturities the Fed has been disposing of, said Ian Lyngen, a government bond strategist at CRT Capital Group LLC in Stamford, Connecticut, in a Nov. 2 telephone interview. "It's really just been a bullish event."
U.S. Supercommittee
That's good news for the Obama administration. The Treasury Department raised its estimate last week for fourth-quarter government borrowing by $21 billion to $305 billion, reflecting in part lower revenue and higher spending. Treasury officials also projected borrowing $541 billion from January through March, the most since the October-to-December 2008 period, during the worst of the credit crisis.
The funding outlook depends on congressional action, as a so-called supercommittee responsible for cutting at least $1.2 trillion from the budget deficit approaches its Nov. 23 deadline. In the fiscal year ended Sept. 30, the government reported the second-highest deficit on record, or $1.3 trillion.
The Treasury will auction $32 billion of three-year notes tomorrow, followed by sales of $24 billion in 10-year notes on Nov. 9 and $16 billion of 30-year bonds on Nov. 10.
Sluggish economic growth is helping underpin demand for bonds. Fed policy makers led by Chairman Ben S. Bernanke cut their forecasts last week for growth and employment for the third time this year, and now project the economy will expand between 2.5 percent and 2.9 percent in 2012. That's down from a 3.5 percent to 4.4 percent range at the Fed's Feb. 16 meeting.
More Pessimistic
Fed predictions now say unemployment will average between 8.5 percent and 8.7 percent in the last three months of next year, falling to between 7.8 percent and 8.2 percent in 2013.
That view is more pessimistic than on Aug. 9, when Fed officials pledged to hold the federal funds rate near zero for until at least mid-2013. Their forecast then was for unemployment to fall to a range of 7 percent to 7.5 percent by 2013.
"The size of the move of the long-term unemployment rate was massive and suggests we're very far away" from seeing higher rates, said Eric Pellicciaro, head of global rates investment at New York-based BlackRock Inc., which manages $1.14 trillion in fixed-income assets. "That would suggest that three- to five-year securities present some value, and we'd look to any increase in yield in those securities to start adding," he said in a Nov. 3 telephone interview.
Foreign Demand
Demand is also getting a boost from the prospect that the Treasury may start selling floating-rate notes while curtailing short-term bill sales as part of the Supplementary Financing Program. In February, the Treasury began retiring its $200 billion of 56-day SFP bills as they matured to help avoid exceeding the U.S. debt limit.
Limiting supply of shorter-term Treasuries is continuing to make the debt attractive, Jim Vogel, head of agency debt research at FTN Financial in Memphis, Tennessee, said in a Nov. 2 telephone interview.
Demand from foreign buyers seeking safety is shoring up the dollar's status as the world's reserve currency, helping fuel demand for Treasuries. Net foreign purchases of Treasury notes and bonds rose to $88.2 billion in August from $16.5 billion in July, according to Treasury Department data.
"Treasuries are still the deepest and most liquid market and the dollar is still the world's reserve currency, and those things count," Michael Brandes, global head of fixed-income strategy for Citi Private Bank, a unit of Citigroup Inc. with $250 billion in global assets under management, said in a Nov.1 interview. "Treasury yields will be capped by prospects for growth and inflation pressures, which we think are pretty tame."
Before it's here, it's on the Bloomberg Terminal.
LEARN MORE