Italy Leads Surge in Sovereign Debt Risk on Berlusconi Concerns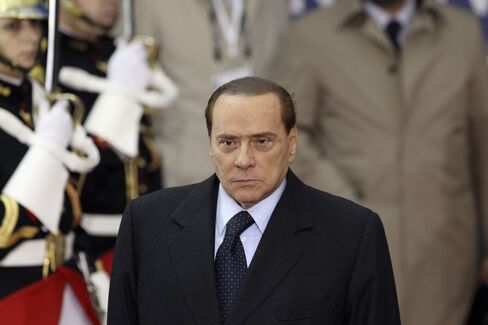 Italy led an increase in the cost of insuring European sovereign debt on concern Prime Minister Silvio Berlusconi's government is collapsing as he faces a parliamentary budget vote tomorrow.
Credit-default swaps on Italy climbed 13 basis points to 506 at 1 p.m. in London, approaching the record 534 set Sept. 22, according to CMA. The Markit iTraxx SovX Western Europe Index of swaps on 15 governments rose five basis points to 328. An increase signals deteriorating perceptions of credit quality.
Italian 10-year borrowing costs surged to a euro-era record as the focus shifted from Greece after Prime Minister George Papandreou agreed to step down to create a new unity government. Investors are betting Berlusconi may be forced to resign if he fails to win majority support in tomorrow's vote.
"With Greece temporarily off the market agenda, we fully expect Italy to fill that void this week," said Harpreet Parhar, a strategist at Credit Agricole SA in London. "The turning point required may be for Berlusconi to do the decent thing and step down."
Berlusconi lost the initial vote on the 2010 budget report last month, sparking calls for him to step down. Giuliano Ferrara, editor of newspaper Il Foglio and a former spokesman for Berlusconi, reported today that the prime minister may step down within hours and push for early elections.
Berlusconi said yesterday he's confident he has a majority after two allied lawmakers defected to the opposition and a third quit, and that he aims to complete his mandate through 2013. He has vowed to continue the "battle" and said he won't resign.
Bond Yields
Yields on Italy's bonds rose even as the European Central Bank bought the securities. Italy's 10-year borrowing costs have soared to 473 basis points more than German bunds, the benchmark for Europe. Germany is able to borrow at a yield of 1.8 percent for 10 years, less than a third of Italy's 6.52 percent.
A new Greek government will be formed to secure international aid and avert default as European finance chiefs meet in Brussels today to work on details of a plan to expand the region's bailout fund.
Credit-default swaps on Belgium climbed six basis points to 286, France rose three to 181, Germany increased one to 87 and Portugal was 10 higher at 1,047 CMA prices show.
Italian companies also led an increase in the cost of insuring corporate debt. Swaps on energy company ENI SpA jumped 39 basis points to 189, Compagnie Industriale Riunite SpA, which owns daily la Repubblica, soared 93 to 868 and Finmeccanica SpA rose 37 to 430, CMA prices show.
Crossover Index
Contracts on the Markit iTraxx Crossover Index of 50 companies with mostly high-yield credit ratings increased 11 basis points to 725.5, according to JPMorgan Chase & Co.
The Markit iTraxx Europe Index of 125 companies with investment-grade ratings rose 1.5 basis points to 175 basis points. The Markit iTraxx Financial Index linked to senior debt of 25 banks and insurers increased six basis points to 251.5 and the subordinated index climbed 10 to 470.
A basis point on a credit-default swap protecting 10 million euros ($13.7 million) of debt from default for five years is equivalent to 1,000 euros a year. Swaps pay the buyer face value in exchange for the underlying securities or the cash equivalent should a borrower fail to adhere to its debt agreements.
Before it's here, it's on the Bloomberg Terminal.
LEARN MORE