Shipping Companies Quizzed on U.S. Ownership Law Called Obsolete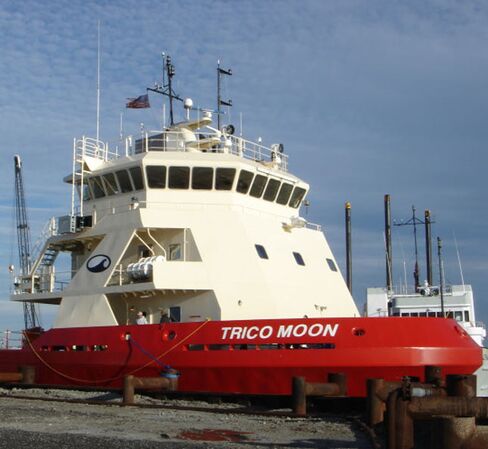 Nov. 7 (Bloomberg) -- The U.S. Coast Guard is exploring how publicly traded companies comply with a law requiring vessels working within U.S. waters to be 75 percent American-owned, after a company it fined for violations said the requirement can't be met.
The service, which posted the notice last week in the Federal Register, said it's following up on Trico Marine Services Inc.'s defense that no public company can comply with the 1920 law covering vessels that operate within U.S. waters and between U.S. ports.
Enforcing the law, which is designed to protect the U.S. maritime industry, may prevent all public shipping companies from operating within U.S. waters, a 'doomsday scenario,' Trico officials told Coast Guard investigators, according to the service's report.
"No one really knows how to interpret this law in this day and age," Joseph Cox, chief executive officer of the Chamber of Shipping of America, a Washington-based industry group, said in a telephone interview. "The companies, the Coast Guard, everyone involved are feeling their way around."
Stock in public companies can be bought by investors all over the world, with shares trading constantly and sometimes anonymously, he said. Determining if a shareholder is a U.S. citizen can be difficult, Cox said. Many public companies have corporate shareholders, which may have a U.S. chairman, a U.S. headquarters and a legal domicile in the Cayman Islands, he said.
"The Coast Guard's understanding of what takes place is based on a stock transfer system that no longer exists," Cox said. "The stock market has changed a lot since this rule was made."
Trico Case
Trico, based in Woodland, Texas, rents ships to oil and natural-gas drillers. The Coast Guard began investigating the company after the U.S. Maritime Administration received a tip in October 2009 that Trico was violating the law, according to a Coast Guard report.
Trico denied the allegations and said even if they were true, every other public company owning U.S.-certified ships also violates the law, according to the Coast Guard's report. The Coast Guard proposed fining Trico $6 million while backing down on investigators' recommendations that operating certificates for some of its vessels be revoked.
The Coast Guard also decided to seek more information about compliance with the law, which prompted the Federal Register notice last week. The service may propose new rules based on the information it receives, according to the notice.
"We felt this was an area that we needed to get better educated on," Mike O'Berry, a Coast Guard spokesman, said in an e-mail. "We are asking industry to share methods that they believe ensure compliance."
Shareholder Tip
Trico filed for Chapter 11 bankruptcy protection in August 2010. It received about 1.4 percent of its 2009 revenue of $642.2 million from the U.S., the last available data, according to company filings.
Christen Sveaas, chairman of Kistefos AS, an Oslo-based investment company, owns 3.5 million, or about 18 percent, of Trico's shares, according to Bloomberg data.
Kistefos' U.S. law firm prompted the investigation by sending a letter to the Maritime Administration that Trico's foreign ownership exceeded U.S. limits, according to the Coast Guard report.
More than 25 percent of Trico's stock was held by non-U.S. investors every quarter from the third quarter of 2008 through the first quarter of 2010 "at minimum," the Coast Guard concluded. Non-U.S. owners of Trico and its subsidiaries included Dimensional Fund Advisors LP, Barclays Plc, Bay Harbour Management LC, Whitebox Advisors LLC and Black River Asset Management LLC, according to the Coast Guard report.
'Furiously Debated'
The law is "furiously debated" in the shipping industry, said J. Stephen Simms, a Baltimore-based lawyer with Simms Showers LLP, which specializes in maritime and transportation litigation. Ocean-going vessels don't have to meet the ownership requirements unless they're traveling from U.S. port to U.S. port, Simms said.
Changing or repealing the law would be politically unpopular, Simms said.
Senator John McCain, an Arizona Republican, last year introduced legislation to repeal a set of laws including the ownership requirement. The bill was never taken up by the Senate Committee on Commerce, Science and Transportation. Other attempts to repeal the law have failed after opposition by U.S. shipping companies and some unions.
"The law is unlikely to be changed," Simms said. "Companies just have to find a way to adjust."
To contact the reporter on this story: Carol Wolf in Washington at cwolf@bloomberg.net
To contact the editor responsible for this story: Bernard Kohn at bkohn2@bloomberg.net