Ryanair Wants New Jets to Exploit Gaps Left by BA's BMI Deal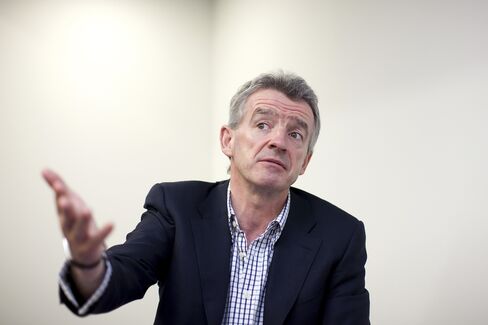 Ryanair Holdings Plc plans to step up talks with Boeing Co. and China's Comac as it seeks new planes to exploit gaps on short-haul routes likely to be left by a merger of British Airways with Deutsche Lufthansa AG's BMI unit.
Boeing representatives will make a pitch to Ryanair in Dublin this month on the re-engined version of its 737 single-aisle jet, while Michael O'Leary, the carrier's chief executive officer, will visit Commercial Aircraft Corp. of China for an update on the rival C919 model, he said today in an interview.
Europe's biggest discount airline, which still has 44 737 deliveries outstanding, aims to buy as many as 200 more planes as it seeks to increase passenger numbers as much as 75 percent to 130 million over the next decade. BA's deal with Lufthansa, announced last week, would create expansion opportunities as BMI slots are switched to long-haul routes, accelerating the exit of mainline carriers from services within Europe, O'Leary said.
"Europe continues to migrate in the same direction as the U.S.," the CEO said after Ryanair boosted quarterly net income 22 percent, in line with estimates, and lifted its full-year outlook. "There's no business-class across the U.S. on domestic flights and everybody is flying low-cost. What's driving it is the implosion of flag carriers in short-haul markets."
Shares Gain
Ryanair, which said it's in talks to serve 30 more airports, closed up 5.1 percent at 3.52 euros in Dublin, where it is based. The company is the best performer this year in the six-member Bloomberg EMEA Airlines Index, with a 6.6 percent decline that values it at 5.15 billion euros ($7 billion).
Air France-KLM Group, Europe's No. 1 carrier, has slumped 63 percent in Paris and Lufthansa some 39 percent in Frankfurt.
"The IAG merger with BMI will see more and more loss-making short-haul routes closed as slots are used for medium-and long-haul destinations," O'Leary said in the interview in London. "Those short-haul passengers will switch into our services."
Ryanair has an all-Boeing fleet and will take delivery of 30 737-800s this winter, giving it about 300 of the 188-seat jets. The U.S. company said in July it would go ahead with a version equipped with more fuel-efficient engines, christened the MAX.
Vital Seats
The possibility of a Chinese order emerged in June when Ryanair signed an accord to help develop the C919. The carrier is "fairly confident" Comac will stick to its schedule of a first flight in 2014 and service entry two years later, with a fully developed plane threatening to "blow a hole" in Boeing's order book, O'Leary said today on a call with analysts.
"The reality here is that if the Chinese deliver a 199-seat aircraft then there is nothing Boeing can do," the CEO said. "The 10 extra seats would almost pay for the aircraft."
Airbus SAS's A320neo, the re-engined version of the European company's single-aisle jetliner series, is a less likely option, and Ryanair isn't looking at the Russian SuperJet, Chief Financial Officer Howard Millar said by phone.
The Irish carrier is deepening talks with planemakers after scrapping an order with Chicago-based Boeing in December 2009 and opting instead to pay a 500 million-euro special dividend.
With 3.1 billion euros of cash on the balance sheet, Ryanair still plans to announce a second payout of a similar sum around this time in 2012, O'Leary said, and a jet order isn't imminent. A share buyback is also a possibility in the coming 18 months should the stock price weaken further, he said.
'Reassuring'
Ryanair aims to post net income of 440 million euros in the year to March 31, 10 percent more than previously targeted, it said in a statement. Profit for the fiscal second quarter ended Sept. 30 rose to 404 million euros, bucking an industry trend.
Deutsche Lufthansa AG, Europe's second-biggest airline, posted a 27 drop in third-quarter operating profit as a slowing economy hurt bookings, while International Consolidated Airlines Group SA, BA's parent, last week reported a 31 percent decline.
Ryanair has sustained margins by eliminating weaker routes and adding longer ones and adding more central airports to lure business travelers. That helped lift average fares 13 percent in the first half, including proceeds from checked baggage.
"Given what's going on in the world and in the airline industry in particular it's reassuring that they're still able to post this type of result," said Joe Gill, an analyst at Bloxham Stockbrokers in Dublin who recommends buying Ryanair stock. "It's testament to the benefits of the low-cost model."
Recession-Resilient
Ryanair has transformed the European airline industry since O'Leary took the helm in 1990 and introduced a strategy adapted from U.S. discount operator Southwest Airlines Co., luring passengers with discount fares made possible by a no-frills service to airports with lower entry costs than major hubs.
A deepening of the economic slowdown is unlikely to have a major impact as the carrier will retain passengers making non-discretionary flights while adding customers seeking less-costly vacations and business travelers trading down from network airlines, O'Leary told Bloomberg Television.
"We tend to do quite well in a recession," he said. "People don't stop traveling, whether for weddings, funerals or on business. And people don't give up their annual holiday either. They just give up the 700-euro package and fly with Ryanair."
The carrier raised its full-year guidance on the basis of forward bookings which suggest second-half yields, or average fares, will jump 14 percent, versus 12 percent previously.
Fuel remains the biggest brake on Ryanair's growth, O'Leary said, with the first-half kerosene bill surging 37 percent.
"We can handle it, but that's one of the reasons we're slowing down the growth rate this winter, sitting 80 aircraft on the ground," he said. "We don't want to fly a lot of extra flights losing money paying $100 dollars a barrel for oil."
Before it's here, it's on the Bloomberg Terminal.
LEARN MORE