Rabobank Sells Europe's First Samurai Since July: Japan Credit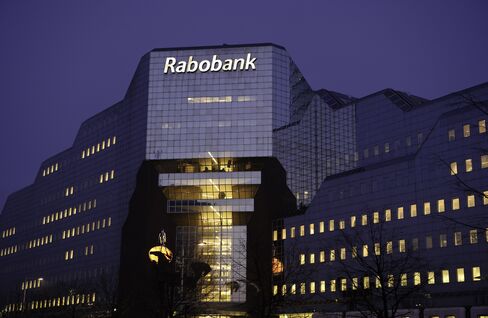 Rabobank Nederland sold the first yen-denominated bonds in Japan by a European issuer since July as its top credit rating outweighs concerns that the Greek debt crisis will spread.
The Dutch lender, which has the highest ratings of any private European bank, raised 89.5 billion yen ($1.15 billion) from a sale of Samurai bonds including 67.7 billion yen of five-year, 1.187 percent bonds priced to yield 68 basis points more than the benchmark yen swap rate, according to data compiled by Bloomberg. Rabobank paid a yield premium, or spread, of 22 basis points on similar-maturity so-called Samurai notes on May 27, the data show.
"The fact that Rabobank has to pay this much shows the level of investor concern about the debt crisis in Europe," Toshiaki Takahashi, who manages 340 billion yen at Meiji Yasuda Life Insurance Co., said in a telephone interview from Tokyo yesterday. "Given that Rabobank has the highest credit ratings, this spread is attractive." Takahashi said he plans to buy the bonds.
Sales of yen notes by European borrowers plunged 70 percent to 171.5 billion yen since June 30, compared with the same period a year ago, as the sovereign debt crisis stemming from Greece roiled global markets. The extra yield investors demand to own Samurai notes rather than similar-maturity government debt rose to a 16-month high of 157 basis points on Oct. 19, according to a Nomura Securities Co. index. The gauge, which has surged from a three-year low of 74 on June 15, added 1 basis point to 153 yesterday.
Greece Worries
Rabobank offered the debt as part of its overall financing needs, Kazuhide Tanaka, the bank's head of long-term funding for Japan, said in a telephone interview from Tokyo yesterday. The Dutch lender had a total of $8.2 billion of yen-denominated notes outstanding before the sale, some 3.8 percent of its overall debt, according to Bloomberg data.
Spreads on euro-denominated financial bonds surged 197 basis points to 403 in the three months ended Sept. 30, the biggest quarterly increase since the index's inception on Dec. 31, 1995, according to Bank of America Merrill Lynch's EMU Financial Corporate Index. The gauge rose 5 basis points to 366 yesterday.
Greek Prime Minister George Papandreou on Nov. 6 agreed to step down as a new government is formed to help the country get international financing and prevent its economy collapsing. In Italy, Prime Minister Silvio Berlusconi will today face a key parliamentary vote as Italy's borrowing costs rose to the highest since the euro came into existence.
Triple-A Rating
Rabobank, which has the top rating from both Moody's Investors Service and Standard & Poor's, sold a total of 77.2 billion yen of fixed- and floating-rate Samurai bonds on May 27, Bloomberg data show.
The bank's 70.6 billion yen of 2.01 percent yen notes due June 2013 traded at a yield of 58.9 basis points more than Japanese government bonds yesterday, according to Japan Securities Dealers Association prices on Bloomberg. The premium rose 20.9 basis points this quarter. JSDA doesn't provide prices for Rabobank's May issue.
The Utrecht, Netherlands-based lender, the largest issuer of Samurai notes this year, has the equivalent of $43.8 billion of bonds maturing next year, according to Bloomberg data.
Delayed Sales
"When European leaders agreed on the Greece bailout, we had thought we could tap the market without any worries," Rabobank's Tanaka said. "Of course, the news from Greece has been negative, but with our credit quality, we were able to overcome it."
European finance chiefs pledged yesterday to roll out a bulked-up rescue find next month. The region's leaders last month agreed to write down Greek government debt by 50 percent.
Norwegian lender Eksportfinans ASA was the last European borrower in the market when it sold 30 billion yen of five-year, 0.72 percent Samurai bonds priced to yield 15 basis points more than the yen swap rate on July 21, Bloomberg data show.
Nordea Bank AB, the Nordic region's biggest bank, yesterday delayed a sale of 35 billion yen of Samurai securities that was planned for this month, according to two people familiar with the matter, who asked not to be identified because the information is private.
Yen Intervention
France Telecom SA planned meetings with bond investors starting yesterday, a person familiar with the matter said. Mitsubishi UFJ Morgan Stanley Securities Co. and Mizuho Financial Group Inc. are arranging the meetings, said the person, asking not to be identified as the information is private. France Telecom is ranked at A3 by Moody's, its fourth-lowest investment grade rating.
Elsewhere in the credit markets, Export-Import Bank of Korea, the nation's biggest foreign-currency bond issuer this year, yesterday raised $612 million by selling notes non-yen notes to Japanese individual investors, according to an e-mailed statement yesterday.
Japan Housing Finance Agency yesterday started marketing 39 billion yen of 10-, 15- and 20-year bonds, and Osaka Prefecture hired Nomura Holdings Inc. for a sale of 20-year securities.
The yen was little changed at 78.06 against the dollar as of 11:42 a.m. in Tokyo. The central bank spent about 8 trillion yen of its currency on Oct. 31 to weaken it from the strongest level since World War II, according to Barclays Bank Plc and Totan Research Co. The Bank of Japan will likely leave the extra money in the economy, a person familiar with the matter said on Nov. 2.
Attractive Pricing
The benchmark 10-year government bond yield is little changed at 0.989 percent as of 11:40 a.m. in Tokyo, the lowest in a month. U.S. 10-year Treasury yields fell 2 basis points to 2.019 percent as of 11:43 a.m. in Tokyo.
The lender had "planned to sell Samurai bonds at some point between October and March, and started watching the market closely" last month, Tanaka said.
"Sales managers say there are investors who are buying our Samurais for the first time because the spreads are attractive," Tanaka said.
While Samurai offerings from European borrowers have declined, South Korean issuers have more than doubled to 185 billion yen in the second half, from the same period a year ago, Bloomberg data show.
Daejeon Riverside Expressway Funding Plc, a funding vehicle for the construction of an expressway in Daejeon, South Korea, sold 6.6 billion yen of the securities Nov. 4 including 400 million yen of five-year, 2.82 percent bonds priced to yield 230 basis points more than the yen swap rate.
"Diversification would certainly be one of the reasons for Rabobank selling Samurai bonds," Mana Nakazora, chief credit analyst at BNP Paribas Securities Japan Ltd., said in a telephone interview from Tokyo yesterday. "Another reason could just be that they want to show they can do it now."