Papandreou Gamble on Democracy Sours as Vote Plan Hastens Exit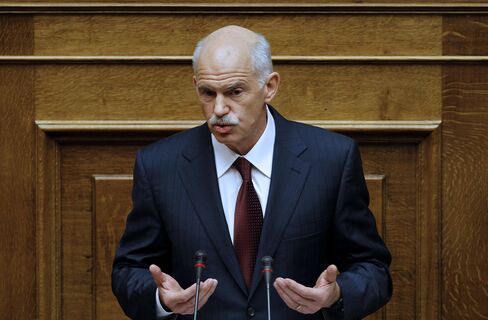 George Papandreou took a gamble on the most ancient of Greek traditions: democracy. Unlike his past success in extracting European bailout packages that avoided default, this idea helped lead to his departure.
During his two years in office, Athens became the nucleus of the European debt crisis and the Greek prime minister was its public face. While his legacy may be that of a man who tried to save the euro, he leaves his country struggling to maintain the needed flow of foreign aid.
"He was elected with this very grandiose idea of moving Greece to a higher plane and suddenly he was confronted with a situation he never anticipated," Stathis Kalyvas, a professor of political science at Yale University, said before U.S.-born Papandreou said yesterday he would hand over authority to a unity government.
The shakeup followed days of brinkmanship after the 59-year-old leader surprised his European partners as well as his own government with a proposal to ask voters fatigued by spending cuts and tax increases to approve the latest rescue package for his crisis-ridden country. On Nov. 3, he withdrew the referendum plan, which had sent markets tumbling worldwide and prompted a rebellion within his party.
The premier won a parliamentary confidence vote on Nov. 4, though his departure was the condition.
Brussels Accord
"Papandreou looks at politics like a chess game and he is usually several steps ahead," Pavlos Yeroulanos, the minister for culture and tourism, said in an interview before Papandreou's announcement yesterday. "The value of democracy and the voice of the people are extremely strong in his mind. It's been that way since he started his political career."
As Papandreou flew back from Brussels at the end of last month, it looked like he had done the hard part: nailing down a new bailout package with his euro partners that included aid and a 50 percent bank writedown on Greek debt.
It came after two years in which Papandreou, whose father founded the party he led, had pushed at least five austerity packages through a slim majority in parliament as a condition. He also survived a June confidence vote as protesters clashed with police outside.
"In my political life I was always a step ahead, taking risks, but I always had Greek interests in mind," Papandreou said in his speech on Nov. 4, ahead of the vote of confidence. The referendum harked back to ancient Greek practices, he said.
Aid Frozen
European leaders had cut off financial aid for Greece pending the outcome of the referendum. Finance Minister Evangelos Venizelos then broke ranks and said the country shouldn't be forced to vote on staying in the euro and aid should be safeguarded by abandoning the vote.
"We've been talking about the risk of an accident," Wolfango Piccoli, a London-based analyst at Eurasia Group, which assesses political risks, said in an interview. "This is the accident. But the accident hasn't come from society as we expected, but from the prime minister himself."
Papandreou said he didn't care if forcing through unpopular choices to save his country cost him his job. In November last year, he threatened to hold national elections if Greeks didn't rally behind his party in local voting.
As well as being a political gambler, Papandreou also proved himself as a survivor until his last bet turned sour.
"What we had was the desperate struggles of a drowning man," Bill Blain, co-head of the special situations group at broker Newedge Group in London, said on Bloomberg Radio's "Bloomberg on the Economy" on Nov. 1.
Debt Mountain
Greece's debt is expected to exceed the size of its economy by more than 60 percent this year. To reduce it, Papandreou pushed through spending cuts in parliamentary votes, the most recent one on Oct. 20, including new taxes on property and job cuts for 30,000 state workers.
As austerity measures got tougher, popular resistance intensified. General strikes grounded planes, garbage piled in the streets and protesters threw rocks at police during every key legislative debate.
Enduring the pressure at home seemed to have paid off abroad as Papandreou sought more aid.
"What did we achieve, colleagues?" Papandreou told his lawmakers on Oct. 31 after arriving from meetings with EU leaders in Belgium. "An agreement at the European Council that distances insecurity and allows us to look to our future, freed of a significant burden of the past."
Yes or No?
French President Nicolas Sarkozy said the deal on Greek debt was the only way to fix the country. German Chancellor Angela Merkel said any referendum would be a simple "yes or no" to staying in the euro.
Papandreou said in an interview in New York with Bloomberg News on June 20, 2010, that losing his job would be a small sacrifice compared with the persecution endured by his father and grandfather, both Greek prime ministers, to keep the Mediterranean country free for democracy.
His father, Andreas, founded the Panhellenic Socialist Movement, or Pasok, party in 1974, the year the military junta ended in Greece. Pasok traded power with the New Democracy party over the ensuing decades.
George Papandreou was hand-picked to lead Pasok in 2004 by then-Prime Minister Costas Simitis, who took Greece into the euro. Papandreou attempted to rebuild a party that had been tarnished by corruption scandals.
Pasok Prevails
After losing two bids to become premier between 2004 and 2007, Papandreou and his Pasok won almost 44 percent of the vote in 2009 elections to 34 percent for New Democracy and Prime Minister Kostas Karamanlis. It was a wider margin than pre-election polls indicated. The victory was a vindication for Papandreou, who led the party in 2007 to its worst defeat in 30 years against Karamanlis.
Born in St. Paul, Minnesota, where his father was an economics professor at the University of Minnesota, George Papandreou lived in the U.S., Canada, Sweden and Greece for much of his early life, attending eight different schools in four countries over 12 years.
He earned sociology degrees from Amherst College in Amherst, Massachusetts, and the London School of Economics. In 1974, when the junta ruling the country collapsed, his family returned to Greece.
Papandreou served in the education and culture posts under his father and as junior foreign minister.
False Economy
After his victory, he initially assumed the foreign-minister portfolio as well, a job he had held under a previous Pasok government. The economy became a priority when Papandreou discovered within weeks of taking office that successive governments had cooked the books on the economy.
Greece disclosed in October that its budget deficit was likely to be more than four times the level allowed under rules protecting the euro, the common currency shared by 17 European countries. In May last year, Papandreou clinched a rescue package totaling 110 billion euros ($135 billion) in loans from the European Union and the International Monetary Fund.
Speaking from the island of Kastellorizo, the most distant Greek outpost, Papandreou a month earlier called on Greeks to make it a national priority to turn around the country.
Under the sun, with a small fishing port and blue sea and sky in the background, he evoked Odysseus, the hero of Homer's epic poem, who battled monsters and vindictive gods to return to his island of Ithaca. He said Greece was "on a new Odyssey."
Before it's here, it's on the Bloomberg Terminal.
LEARN MORE