Obama Banks on Disappointed Environmentalists Returning in 2012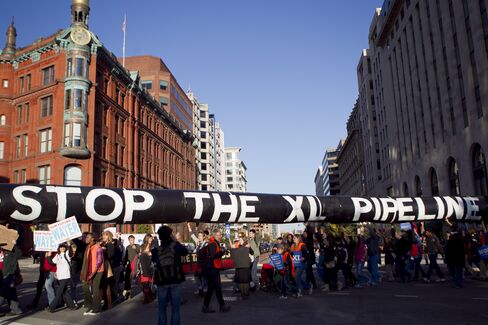 From alternative fuels to clean air, President Barack Obama's record is a disappointment to environmentalists, who helped get him elected and now are threatening to sit out his re-election bid in 2012.
"He's been held hostage by Congress, but at some point I feel that the important thing is to stand up for what you believe in, and he's not doing that," said Rhoden Streeter, 67, who attended a White House demonstration yesterday against a proposed crude oil pipeline that would cut through six states.
Obama's re-election campaign's response: Where can they go?
"When Americans compare the president's record promoting clean energy and America's energy security to those of the leading Republican candidates," Ben LaBolt, a campaign spokesman, said in an e-mail statement, "there will be no question about who will continue our progress."
The campaign's confidence lies not just in the positioning of the Republican candidates, most of whom deride the idea that humans have contributed to climate change. "Man-made global warming is poppycock," said Herman Cain, a former Godfather's Pizza chief executive officer and a leading Republican primary candidate, in a Sept. 27 radio interview.
It also stems from public opinion polls that show voters' primary concerns are the economy and jobs. A New York Times/CBS News poll conducted Oct. 19-24 found that less than 1 percent of adults consider the environment a top problem facing the country.
'Crushing' Economy
James Carville, a former adviser to President Bill Clinton, said the economy is "crushing" all other issues and Obama's declining support among environmentalists is part of a broader pattern. "When you go from a 60-plus approval rating to a mid-40 rating, everything goes down with it," he said.
Environmentalists' frustration was on display yesterday when thousands of demonstrators surrounded the White House to urge Obama to reject the proposed $7 billion Keystone XL pipeline, which would deliver crude oil from Canada to refineries in the Gulf of Mexico.
Approval of the project, which is under review by the State Department, would be a final straw for those already dismayed by the president's September decision to quash stricter ozone standards by the Environmental Protection Agency, abandon cap-and-trade legislation, and renew offshore drilling in the Gulf of Mexico after last year's oil spill.
'Stronger Position'
"We're looking for him to take a stronger position, not simply to try to balance sides, because it's not working," said Herman Greene, a corporate lawyer from Chapel Hill, North Carolina, who attended the event.
Clark Stevens, a White House spokesman, said the president will consider the pipeline's potential affect on "climate change and impacts on public health and natural resources." In addition, he said, Obama "remains committed to taking aggressive action to reduce our dependence on foreign oil."
While the issue may not be a top motivator for some voters, it is a prime concern for young Americans. Losing their support -- or depressing enthusiasm -- risks both financial and volunteer support for the re-election campaign.
The so-called Millennial generation -- those born after 1980 -- voted for Obama by about two-to-one in 2008. That's the largest margin within any age group since 1972, according to the Pew Research Center, a Washington-based nonpartisan research group.
Young Democrats
"A lot of college students view climate change as obviously happening and getting worse, and they see a government that can't respond to it because of wealthy interests and big corporations and tons of lobbying," said Stacy VanDeveer, a professor who specializes in environmental politics at the University of New Hampshire, in Durham.
Courtney Hight, 32, was among those young voters when she became one of the first volunteers to join Obama's campaign in New Hampshire in April 2007.
"I gave my entire life in 2008, so he will not see that energy if he approves the pipeline," said Hight, who worked at Obama's White House Council on Environmental Quality.
During the last presidential cycle, she said she spent 19 months knocking on doors and making phone calls in New Hampshire and helped develop ways to get young voters to the polls as the Youth Vote Director for Florida.
Loss of Volunteers
In 2008, the San Francisco-based Sierra Club, a non-profit environmental group with 1.4 million members, mobilized 5,599 volunteers to knock on doors and make phone calls for Obama, logging a collective 16,125 campaign shifts.
If Obama approves the pipeline "it will be increasingly difficult for our members to stand behind the president," said Michael Brune, the club's executive director.
Wendy Abrams, who raised between $50,000 and $100,000 for Obama in 2008, according to the Center for Responsive Politics, said rallying her friends around the president will be tough.
"I probably won't raise money like I did before because all my friends are going to bark back at me," she said. "It's hard to defend his record."
Susie Tompkins Buell, a co-founder of the Esprit clothing company, is sympathetic to Obama's efforts to fulfill those pledges and lends credence to LaBolt's assertion that environmentalists will stick with the president.
Buell has raised and personally contributed at least $20 million to Democratic candidates and progressive causes over the last decade.
Fears of Alternative
Though she's disappointed in the president's environmental record, she says she'll still vote for him and donate to the re-election campaign "because it's very important that the alternative is not successful."
Heather Zichal, deputy assistant to the president for energy and climate change, said Obama has made progress on environmental issues.
Zichal cited tougher national fuel-efficiency and greenhouse gas standards for cars and light-duty trucks spanning model years 2012 to 2025. Officials say those standards will save American families $1.7 trillion in fuel costs and cut oil consumption by 2.2 million barrels a day by 2025.
Also, doubling renewable energy generation from such sources as wind and solar by the end of the first term; investing in advanced battery production; setting new standards to lower pollution from industrial boilers and incinerators and limit pollution that crosses state lines, and proposals to establish the first-ever national standard to reduce mercury and toxic air pollution from power plants are other achievements, Zichal said.
This White House has "done more work to clean up the air and reduce dependence on oil than any previous administration."
Before it's here, it's on the Bloomberg Terminal.
LEARN MORE