Michael White Serves Fluke, Helps HSBC Raise Money for Charity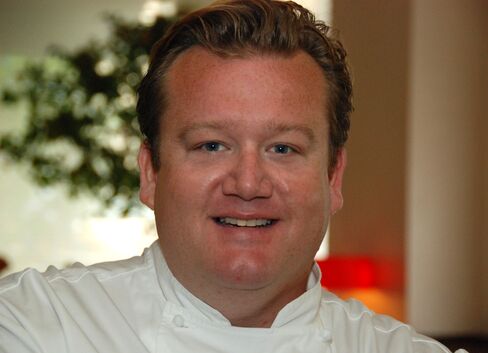 Michael White, executive chef of New York's Marea and Ai Fiori, says that while he gets "a good feeling" from doing charity work, he also likes how it keeps him in touch with his peers.
"It's the camaraderie," White said. "We're always working, so we don't get to see each other at our restaurants. We get to hang out and do something good and then we go out for libations."
Tonight, White joins about 40 other chefs at New York Taste, an event hosted by New York magazine and co-sponsored by HSBC Premier that seeks to raise money for City Harvest, which distributes food to the poor.
He will serve small plates of fluke at Manhattan's Skylight SoHo. Also scheduled to cook in the room are Masaharu Morimoto from television's "Iron Chef: America," North End Grill's Floyd Cardoz, Lincoln restaurant's Jonathan Benno, George Mendes, chef of the one-Michelin-starred Aldea, and Spanish tapas specialist Seamus Mullen of Tertulia.
White's star power has helped many nonprofits. For City Harvest, two guests bid $35,000 each for dinners cooked by White.
"That $70,000 will pay for the fuel for the 14 City Harvest trucks for one whole year," White said.
Celebrity also has brought charity calls from abroad. Last month, White helped a hospital in Toronto. In 2010, he went to Colombia to cook and raise money for a hospital in Bogota that treats children with heart defects.
Tackling, Cooking
The son of a banker father and homemaker mother, White grew up in Beloit, Wisconsin. In high school, he was on the swim team and played tackle on the football team. He also liked cooking and after graduating enrolled at Chicago's Kendall Culinary Institute in 1989.
"When I told my father that I was going to be a chef, he said, 'That's terrific, but how do you expect to make a living?'" White said.
A year later, he was offered a job at Spiaggia, one of Chicago's top Italian restaurants, under the tutelage of chef Paul Bartolotta. That experience led him to relocate to Italy, where he mastered the fundamentals of Italian cooking.
When he returned to Spiaggia, he helped the restaurant earn a four-star review from the Chicago Tribune. He came to New York in 2002 and made his mark as executive chef of New York's Fiamma Osteria, and then at L'Impero, Alto and Convivio before opening Marea and Ai Fiori, which have earned Michelin stars.
"If you want to focus and do your doctorate in Italian food, you have to spend time in the birthplace of it," White said. "That gave me a well-rounded education about the way Italians think about food."
(New York Taste is tonight at Skylight SoHo, 275 Hudson St. in Manhattan from 6 to 9. Tickets are $175 to $250 for VIP admission. Information: http://nymag.com/taste/2011/)
Before it's here, it's on the Bloomberg Terminal.
LEARN MORE