Jordan Says Swiss Franc Remains Overvalued, SNB Is Ready to Act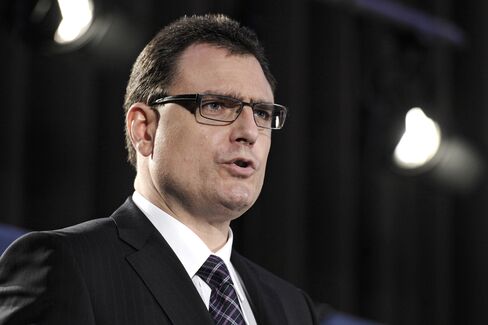 Swiss central bank Vice President Thomas Jordan said the franc remains "overvalued" and policy makers are ready to take further measures if needed.
"The minimum exchange-rate is a measure that was taken in a crisis where there was no other possibility to curb the franc's appreciation," Jordan said at a conference today in Lucerne, Switzerland. "We've always said that it's a minimum exchange-rate and not an exchange-rate target versus the euro. At the moment, the franc remains highly valued, overvalued, and should depreciate again over time."
The Swiss National Bank imposed a franc ceiling of 1.20 versus the euro on Sept. 6 to protect exports as the region's worsening debt crisis prompted investors to pile into the Swiss currency. Jordan said the economy is "extremely affected" by the European turmoil and policy makers are ready to act if needed to ward off deflation threats.
The franc, considered a haven in times of turmoil, reached an all-time high of 1.0075 against the euro on Aug. 9 as European leaders struggled to contain the region's debt crisis. It remained above 1.20 since the SNB imposed the ceiling and today traded at 1.2354 as of 12:11 p.m. in Zurich.
Jordan declined to comment when asked whether the Zurich-based central bank would consider raising the ceiling. The euro-area crisis "probably won't disappear" soon, he said. "Pressure on the franc will remain for a while."
The SNB's currency policy aims to "contain damages" rather than gain a competitive advantage, he said.
'Contain Damages'
"Our mandate is very clear: we need to deliver price stability and make a contribution to the stabilization of the economy," Jordan said. "We are monitoring the situation permanently. We are analyzing it and if there is a reason to act, we are obviously ready to take further measures."
With exports accounting for about half of gross domestic product, the Swiss economy's recovery is vulnerable to a strengthening currency. Consumer prices unexpectedly dropped in October from a year earlier and households grew more pessimistic than economists forecast.
"Clearly, the strength of the exchange rate has contributed to significant downward pressure on prices," Michael Derks, chief strategist at FXPro Financial Services Ltd. in London, said in an e-mailed note today. "For the SNB, this development will be of deep concern. At the very least, it will trigger a re-examination of the 1.20 euro-franc ceiling."
Policy Meeting
SNB policy makers led by Philipp Hildebrand hold their next quarterly meeting next month. The SNB cut interest rates in August, lowering its target for the three-month Libor to "as close to zero as possible."
About 30 percent of participants in a survey of 35 analysts called the current franc ceiling too low, with about half projecting an increase, Credit Suisse Group AG said Oct. 20. The survey was conducted from Oct. 6 to Oct. 17.
Novartis AG, Europe's second-largest pharmaceutical company, said on Oct. 25 it plans to eliminate 1,100 jobs in its home market, while creating some 700 positions in low-cost countries including China and India. Nestle SA, the world's largest foodmaker, said last month that group revenue was hurt by the Swiss currency's ascent.
Gerold Buehrer, head of the Economiesuisse business lobby in Zurich, said the franc's strength is damaging companies.
"We, not only exporters but the entire economy, we'd be very happy if there was a 1.30 Christmas present," he said late yesterday, referring to the SNB ceiling.
The BAK Basel economic research institute said on Oct. 27 that the economy may not grow through the first quarter of 2012, before gaining some strength. Even with the SNB measures, "prospects for the coming months remain bleak," it said.
"The verbal threat is already some sort of intervention, and it has worked well so far," said Thomas Costerg, an economist at Standard Chartered Bank in London. "The Swiss franc has weakened over the past days, trading below the cap, despite escalating euro-area debt crisis and therefore solid safe-haven flows."