Italy Debate Starts as Vote Tests Berlusconi's Hold on Power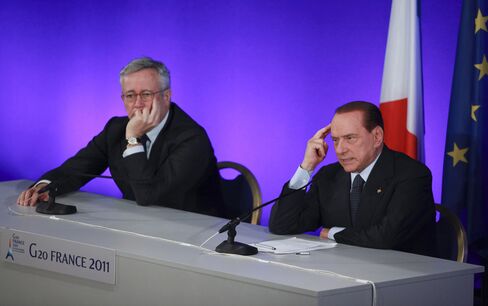 Italy's Chamber of Deputies began debate before a vote that will show whether Prime Minister Silvio Berlusconi has enough support to stay in power and implement austerity measures to trim the euro region's second-biggest debt and bring down record borrowing costs.
The ballot, postponed until 5:00 p.m. in Rome, is on a routine report on last year's budget plan that will reveal whether Berlusconi retains a majority in the 630-seat house. It's the first such test since three party members defected to join the opposition and six others publicly called on the premier to quit. Should Berlusconi fail to muster 316 votes, he would probably face a confidence vote that will decide his fate.
Northern League leader Umberto Bossi, whose party underpins the ruling coalition, called on Berlusconi to "step aside" and for the head of the premier's party, Angelino Alfano, to become prime minister, Ansa newswire reported today. Berlusconi told key ministers last night he may consider resigning should he not win an absolute majority in the vote, Ansa said, without saying where it got the information.
Italian bonds gained, with the yield on the benchmark 10-year bond falling 2 basis points to 6.63 percent at 1:33 p.m. in Rome. That pushed the difference over German bunds to 477 basis points, down from a euro-era record 496 basis points in earlier trading. Mediaset SpA, Berlusconi's media company, declined 2.5 percent, the biggest loser on Milan's benchmark FTSE MIB index.
Staying in Power
"If Berlusconi falls people like me will look at the country again," Paul Vrouwes, who helps oversee about 12 billion euros ($16.5 billion) of shares at ING Investment Management in The Hague, said by phone. "Investors will dream of a new government that will lower the debt, but that won't be achieved in a matter of days."
A report yesterday that Berlusconi's resignation was imminent led to a surge in Italian stocks and the FTSE MIB index extended those gains, advancing 2.1 percent at 1:42 p.m. The premier yesterday denied the reports and said he would call a confidence vote next week to secure passage of an austerity plan that aims to boost growth in the region's third-largest economy and cut the 1.9 trillion-euro debt.
Berlusconi told newspaper Libero that he would use the confidence vote to "look into the eyes of those who try to betray me."
"The market's bias is fairly clear. The question is; what comes afterward, assuming he falls?" Peter Schaffrik, head of European rates strategy at RBC Capital Markets in London, said in an interview.
Spreading Contagion
Berlusconi's coalition has been unraveling since contagion from the region's debt crisis led the country's bond yields to surge in July, prompting Italy's European Union allies and the European Central Bank to demand more austerity measures to balance the budget and try to spur growth in an economy that has lagged behind the European average for more than a decade.
"It's essential now that Italy stick to its fiscal targets, ensure their implementation and intensify the structural reforms," EU Economic and Monetary Affairs Commissioner Olli Rehn told reporters before a meeting of euro-area finance ministers in Brussels yesterday.
Finance Minister Giulio Tremonti abandoned the Brussels meeting this morning to return to Rome for the vote.
ECB Backstop
The ECB began buying Italian bonds on Aug. 8 after Berlusconi announced he would adopt measures to eliminate the budget deficit in 2013, a year earlier than previously planned. He did deliver a 45.5 billion-euro plan that included some higher taxes and spending cuts, though bickering within his coalition over the package delayed its passage and sapped investor confidence in Italy's ability to implement the changes.
To try to shore up confidence, Berlusconi presented EU leaders at a summit this month with a timetable for putting parts of that plan into action. It's that schedule that Berlusconi will put to a confidence vote next week in Parliament if today's ballot doesn't derail him first.
Leaders of the opposition parties have said their members will either abstain or vote against the measure today to force Berlusconi to show he can get to the 316-vote threshold that indicates he still holds a majority. Should he miss that mark or lose outright, they may call a vote of no-confidence to try to topple the leader who has governed for half of the 17 years since he entered politics in 1994.
"I fear we no longer have a majority in Parliament," Interior Minister Roberto Maroni said on a talk show on Nov. 6. Maroni, a member of the Northern League party that underpins the ruling coalition, said he backs early elections.
IMF Monitoring
With the yield on the benchmark bond now nearing the 7 percent level that drove Greece, Ireland and Portugal to seek bailouts, pressure is mounting on Berlusconi to show he can still rule. In a bid to boost confidence, the premier asked the International Monetary Fund on Nov. 4 to monitor Italy's debt-cutting efforts. The European Commission is sending a mission to Italy this week to ensure that the government follows through on promised reforms, EU President Jose Barroso said last week.
Should Berlusconi fail to muster a majority in either type of confidence vote, the government would fall and President Giorgio Napolitano would then consult with political parties to see whether another majority administration could be formed.
Napolitano could also try to build support for a so-called technical government led by a prominent figure charged with implementing the economic overhaul and eventually preparing the country for new elections. If Napolitano cannot forge a new government, elections would be called and probably held two months after the consultations end.
German Call
A senior lawmaker from German Chancellor Angela Merkel's Christian Democratic Union said Berlusconi should resign and be replaced by a leader capable of pulling Italy out of its debt misery. "Everyone knows he's not capable of solving the Italian crisis," Michael Fuchs, CDU economy spokesman, said on Bloomberg Television's "On the Move" with Francine Lacqua today.
Europe is unlikely to have the capacity to rescue Italy should the nation sink into a deeper crisis, Finnish Prime Minister Jyrki Katainen told lawmakers in Helsinki today as he called on Italy speed its austerity moves.
"The only possibility is to form a new unity government" headed by someone who's above party politics "who should be able to give credibility back to Italy and press ahead with reforms," Lavinia Santovetti, an economist at Nomura International in London, wrote in a note to investors.
Monti in Sight
Former European Union Competition Commissioner Mario Monti would be such a candidate and would probably be supported by the main opposition parties -- the Democratic Party and the Union of Centrists -- as well as by many members of the premier's People of Liberty Party, "who would support him only once" the government falls, she wrote.
Should Berlusconi survive the confidence vote next week, he would likely resign anyway and try to get Napolitano to agree to elections in January, rather than negotiating a new government, Giuliano Ferrara, a former Berlusconi spokesman who's editor of Il Foglio newspaper, said in an interview. Ferrara first reported yesterday that Berlusconi was poised to quit.
Before it's here, it's on the Bloomberg Terminal.
LEARN MORE