Google's Schmidt to Tap Korean Music Boom With YouTube Channel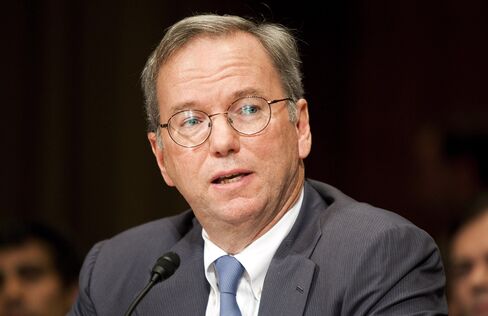 Google Inc. may start a video streaming service on YouTube for South Korean pop music, tapping the genre's worldwide popularity.
The channel on Google's free video site would help spread the "Korean Wave" and cement ties between the world's largest search engine operator and South Korea, Chairman Eric Schmidt told South Korean President Lee Myung Bak in a meeting in Seoul today, according to a statement from Lee's office. No timetable for the service was included. Lee asked Schmidt to "actively" cooperate with South Korean technology companies.
A new service dedicated to K-Pop would build on the popularity of music and television dramas originating in the country, home to Google's biggest Android operating system partner Samsung Electronics Co. and where the search engine operator is facing antitrust complaints. Videos of South Korean idol groups such as Girls Generation and Super Junior have generated tens of millions of views worldwide on YouTube.
The statement didn't mention the antitrust complaints.
NHN Corp. and Daum Communications Corp., operators of South Korea's two largest Internet search sites, said in April that Google blocked local phone carriers and manufacturers from embedding their search applications in devices using the Android system.
Google's Seoul office was raided by South Korea's competition watchdog as part of a probe resulting from the April complaints, a person familiar with the investigation said in September.
Robin Moroney, a Tokyo-based spokesman for Google, and Kwag Se Boong, a Seoul-based spokesman for the Fair Trade Commission, declined at the time to say whether the raid took place.
Schmidt also met today with SK Telecom Co. Chief Executive Officer Ha Sung Min and discussed cooperation in wireless payments and social-networking services, the Seoul-based mobile-phone carrier said in a statement.
Google's plans in South Korea also include services to make starting a business easier, according to the statement, which didn't elaborate on the services.
Before it's here, it's on the Bloomberg Terminal.
LEARN MORE