Germany Gains in Michelin Guide With New Three-Star Restaurant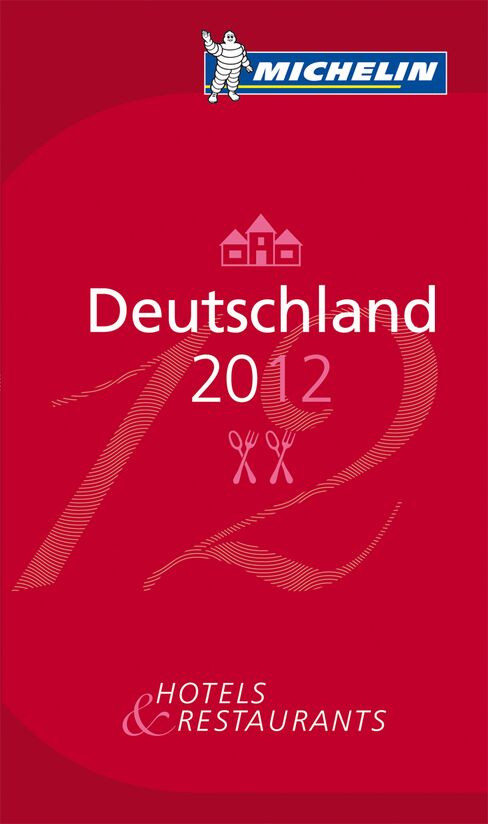 Michelin today awards a third star to a ninth restaurant in Germany, which is second only to France in Europe in the number of establishments holding top honors.
Chef Thomas Buehner draws on Asian influences to create his French-Mediterranean cuisine at La Vie in a townhouse in Osnabrueck. Gourmetrestaurant Lerbach, in Bergisch-Gladbach, loses its third star. Another 10 restaurants gain a second, extending Germany's reputation as a gastronomic destination.
The new holders of two stars include Lorenz Adlon and Reinstoff in Berlin; Schwingshackl Esskultur in Bernried; Kastell in Wernberg-Koeblitz in Bavaria; and Rosin in Dorsten and La Vision in Cologne in North Rhine-Westphalia.
The German guide now lists 32 two-star restaurants and 208 with a single star, of which 23 are new. The number of venues with a Bib Gourmand -- meaning a good meal for 35 euros ($48) or less -- increases by 45 to a record 431.
New winners of a single star include Renger-Patzsch, in Berlin; La Poele d'Or Bistrot and Sorgenfrei in Cologne; Dorfstube, Parlin and Spoerl Fabrik in Dusseldorf; Trific and Tschebull in Hamburg; Backmulde and Roter Ochsen in Heidelberg.
Three stars mean exceptional cuisine, worth a special journey; two stars are for excellent cooking, worth a detour; one star denotes a very good restaurant in its category.
Michelin & Cie. is the world's second-biggest tiremaker, after Bridgestone Corp. It produced its first guide in August 1900, distributed free of charge (until 1920) and intended for chauffeurs. The guide contained practical information, including street maps and tips on using and repairing tires.
France has a total of 25 three-star Michelin restaurants.
Three stars. (Location.) N means New:
Amador (Mannheim)
Aqua (Wolfsburg)
GaesteHaus (Saarbruecken)
Restaurant Bareiss (Baiersbronn)
Schwarzwaldstube (Baiersbronn)
Vendome (Bergisch-Gladbach)
Victor's Gourmet-Restaurant Schloss Berg (Perl)
La Vie (Osnabrueck) N
Waldhotel Sonnora (Wittlich/Dreis)

Two stars:
Restaurant Heinz Winkler (Aschau im Chiemgau)
August (Augsburg)
Brenners Park-Restaurant (Baden-Baden)
Gourmetrestaurant Lerbach (Bergisch-Gladbach)
Fischers Fritz (Berlin)
Lorenz Adlon (Berlin) N
Reinstoff (Berlin) N
Schwingshackl Esskultur (Bernried Kreis Deggendorf) N
Sterneck (Cuxhaven)
Rosin (Dorsten) N
Im Schiffchen (Dusseldorf)
Residence (Essen)
Meierei Dirk Luther (Gluecksburg)
Haerlin (Hamburg) N
Jacobs Restaurant (Hamburg) N
La Vision (Cologne) N
Le Moissonnier (Cologne) N
Villa Rothschild Kempinski (Koenigstein im Taunus)
Falco (Leipzig)
Buddenbrooks (Luebeck) N
La Belle Epoque (Luebeck)
Dallmayr (Munich)
Tantris (Munich)
Steinheuers Restaurant Zur Alten Post (Neuenahr-Ahrweiler, Bad)
Essigbraetlein (Nuremberg)
Le Pavillon (Peterstal-Griesbach, Bad)
Gourmetrestaurant Ueberfahrt (Rottach-Egern)
La Mer (Sylt/List) N
Faehrhaus (Sylt/Munkmarsch)
Soel'ring Hof (Sylt/Rantum)
Becker's Trier RP
Kastell (Wernberg-Koeblitz) N
"MICHELIN Guide Deutschland 2012" will sell for 29.95 euros or 30.80 euros in Austria.
(Richard Vines is the chief food critic for Muse, the arts and leisure section of Bloomberg News. He is U.K. and Ireland chairman of the World's 50 Best Restaurants awards. Opinions expressed are his own.)
Before it's here, it's on the Bloomberg Terminal.
LEARN MORE