Italian 10-Year Yield Surges to Record on Debt, Growth Concern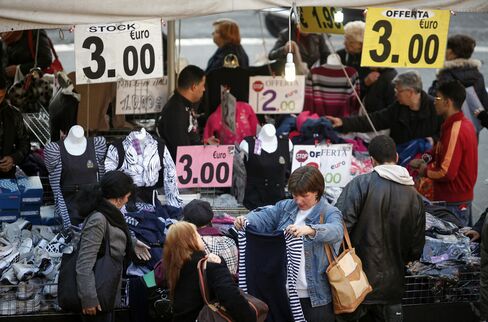 Italian benchmark yields climbed to a euro-era record amid concern the region's third-largest economy is struggling to manage its debt loads, while growth in Europe is faltering.
German two-year note yields were within seven basis points of an all-time low as European finance chiefs meet to discuss the region's bailout fund. Greek politicians agreed to form a national unity government to win international aid payments. The extra yield investors receive for holding 10-year Italian debt over similar-maturity bunds fell from a euro-era record after Il Foglio said Prime Minister Silvio Berlusconi may step down within "hours." The rumor was denied.
"Ultimately, Italy is a lot bigger issue than Greece for the future of the euro zone, given the size of the bond market," said Lyn Graham-Taylor, a fixed-income strategist at Rabobank International in London. "You've got very high bond yields and they can't live at this level forever."
Italy's 10-year bond yield climbed 30 basis points, or 0.30 percentage point, to 6.67 percent at 4:26 p.m. London time, after rising to a record 6.68 percent. That pushed the difference in yield, or spread, over German securities to as wide as 491 basis points. The 4.75 percent security maturing Sept. 2021 dropped 1.92, or 19.20 euros per 1,000-euro ($1,376) face amount to 87.045.
The Italian two-year note yield surged 55 basis points to 6.01 percent, after narrowing the spread over 10-year yields to 58 basis points, the least since September 2008.
ECB Debt Purchases
Volatility on Italy's sovereign debt was the highest among developed-country markets today, according to measures of 10-year bonds, two-10-year spreads and credit-default swaps. The change in the spread was 5.4 times the 90-day average, the Bloomberg gauge showed.
"The ongoing self-fulfilling pessimistic dynamics may ultimately restrict the sovereign's ability to roll over its liabilities and thus bring its sustainability into question," wrote Huw Pill, London-based chief European economist at Goldman Sachs Group Inc. "While yields are elevated and confidence is at a low ebb, these conditions weigh on the real economy, which appears to be entering a deep recession."
Italian Vote
Berlusconi's majority is unraveling before a key parliamentary vote tomorrow, with allies crossing the floor in parliament and others pressuring him to step aside.
Italy's borrowing costs rose even as the European Central Bank was said to be buying the nation's debt. It settled 9.5 billion euros of bond purchases in the week through Nov. 4, up from 4 billion euros the previous week, the bank said without detailing which markets it bought in.
Berlusconi's government in August approved 45.5 billion euros in austerity moves, its second deficit-cutting plan in a month, to secure ECB purchases of the nation's debt. The central bank is free to decide to stop buying Italian bonds if conditions are no longer met, council member Yves Mersch said in an interview with La Stampa released on Saturday.
Greece's two-year borrowing costs climbed to a record after Prime Minister George Papandreou yesterday agreed to step down to allow the creation of a new government, a move intended to secure international financing and avert a collapse of the country's economy.
The two-year note yield was 713 basis points higher at 105.10 percent, after surging to a euro-era record 107.36 percent. The price fell to 30.44 percent of face value. The yield on the benchmark 5.9 percent bond maturing in October 2022 climbed 121 basis points to 27.98 percent.
Euro Rescue Plan
An index measuring investor sentiment in the 17-nation euro area declined to the lowest since August 2009, European retail sales slid the most since May and German industrial production fell more than economist estimates.
The German two-year note yield was little changed at 0.39 percent. It reached a record low 0.32 percent on Sept. 23. The 10-year yield was two basis points higher at 1.80 percent.
German 10-year bonds posted their biggest weekly advance on record last week as officials struggled to find funding for the euro-area rescue and said Greece may exit the currency union.
Finance ministers from the 17-member euro area will today work on the details of plans to increase the muscle of the European Financial Stability Facility. Leveraging the fund would aim to ramp up spending capacity to 1 trillion euros. World leaders at a Group of 20 summit last week demanded euro governments do more to staunch the turmoil before they commit fresh cash to the region.
French Debt
The EFSF today revived the 3 billion-euro bond sale it pulled amid last week's market turmoil. The bailout fund is offering the bonds due February 2022 at a yield of about 10 basis points more than its existing 2021 notes, which equates to 104 basis points over the swap rate, according to five people with knowledge of the transaction. The proceeds will be used to help fund the rescue of Ireland.
The difference in yield between Europe's high deficit nations and benchmark German bonds rose as investors demanded greater compensation to hold the securities. The French 10-year yield spread widened seven basis points to 130 basis points. It earlier rose to within seven basis points from the Nov. 3 high of 141 basis points. The spread between similar maturity Spanish and bund yields widened to as much as 392 basis points.
The cost of insuring against default on European sovereign and corporate debt rose, according to traders of credit-default swaps. The Markit iTraxx SovX Western Europe Index of swaps on 15 governments rose seven basis points to 330. An increase signals deteriorating perceptions of credit quality. Swaps on Italy soared 24 basis points to 517, approaching the record 534 set Sept. 22, according to CMA.
Bunds have handed investors a profit of 8.3 percent this year, underperforming U.S. Treasuries, which have returned 8.9 percent, according to indexes compiled by Bloomberg and the European Federation of Financial Analysts Societies.
Before it's here, it's on the Bloomberg Terminal.
LEARN MORE