EFSF Revives 3 Billion-Euro Bond Sale Amid Deepening Crisis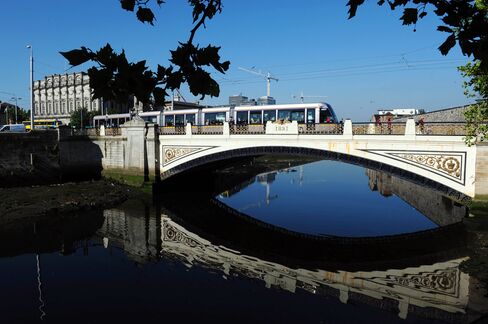 The European Financial Stability Facility revived the 3 billion-euro ($4.1 billion) bond sale it pulled last week even as the region's sovereign crisis deepened.
The bailout fund priced the bonds due February 2022 to yield 104 basis points more than the benchmark swap rate, according data compiled by Bloomberg. That compares to the facility's existing 3.375 percent bonds due in 2021 that were priced to yield 17 basis points, or 0.17 percentage point, more than swaps when they were sold on June 15, Bloomberg data show. A basis point is 0.01 percentage point.
The EFSF postponed the bond sale on Nov. 2 amid market turmoil prompted by Greek Prime Minister George Papandreou's call for a referendum on the rescue pact for his country. The euro-region's woes have deepened since then, with Papandreou agreeing to step down in favor of a national unity government, while concerns about Italy's creditworthiness sent its bond yields soaring to records.
The relatively high spread on the new issue "is a complete level-changer, a completely new world for the EFSF," said David Schnautz, a fixed-income strategist at Commerzbank AG in London. "This will be the new reference point" for any future 10-year deal, he said.
The Luxembourg-based fund, which was established in June 2010, previously raised 13 billion euros from three bond issues this year, according to data compiled by Bloomberg. Barclays Capital, Credit Agricole CIB and JPMorgan Chase & Co. managed today's sale, the proceeds of which will be used to help finance the rescue of Ireland.
Order Book
The deal attracted more than 3 billion euros of orders and met with "solid demand," the EFSF said in an e-mailed statement today. That compares with an order book of more than 8 billion euros for its 5 billion-euro issue of bonds due in 2021 sold in June, according to the EFSF website. The fund attracted 44.5 billion euros of orders for its first offering on Jan. 25 when it raised 5 billion euros.
"I am pleased that the EFSF has again attracted investors from all over the world with a satisfactory overall amount despite a difficult market environment," Klaus Regling, the facility's chief executive officer, said in the statement.
Underperforming
The EFSF's existing notes have underperformed European benchmark debt, with the extra yield over governments on its 2021 bonds widening to 167 basis points, the most since the notes were sold, Bloomberg Bond Trader prices show.
"The EFSF is paying the price for being a relatively new issuer, and for the increasing concerns about a sustainable solution for the peripheral economies," Ivan Comerma, head of treasury and capital markets at Banc Internacional d'Andorra, said of today's sale.
The fund sold the notes as European finance ministers prepared to meet in Brussels today to discuss bulking up the fund, amid uncertainty as to how they'll boost its spending power to 1 trillion euros.
"We still don't have the details as to what the EFSF mechanism will look like," said Richard McGuire, a senior fixed-income strategist at Rabobank International in London. "You're being asked to invest in something that could change shape relatively radically."
Central banks accounted for 35 percent of purchases, with banks the next biggest category of buyer at 30 percent, according to an e-mail from the EFSF. European investors purchased 45 percent of the notes with Asia buying 25 percent, the fund said.
Before it's here, it's on the Bloomberg Terminal.
LEARN MORE