EU Seeks Time on Fund Boost, Demands Cuts in Greece, Italy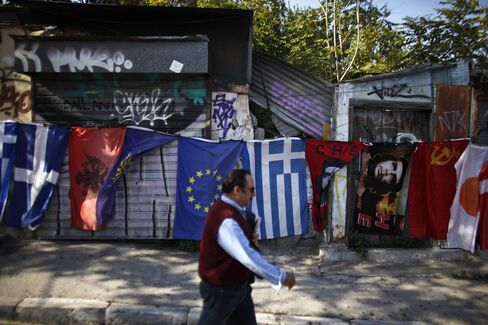 European finance ministers pleaded for more time to work out how to boost the region's rescue fund and counted on budget cuts in Greece and Italy to allay doubts about the response to the debt crisis.
Finance chiefs won't decide tonight how to scale up the 440 billion-euro ($606 billion) bailout fund or approve the next 8 billion-euro installment of Greece's aid package, Luxembourg Prime Minister Jean-Claude Juncker said.
"I don't expect we'll come to any decisions today," Juncker told reporters as he arrived to lead the Brussels meeting. He called talks on using financial engineering to bulk up the rescue fund "insanely complicated."
Europe is battling to regain the upper hand in the debt crisis after political dramas in Greece and Italy provided unexpected distractions and soured international confidence in a package of measures hammered out last month.
Greece was heading toward a cross-party government tonight after last week's call by Prime Minister George Papandreou for a referendum on the next bailout led European leaders to speak publicly about pushing the country out of the euro.
The stratagem brought down Papandreou, who prepared today to hand over to an interim leader to run an emergency government with the power to enact austerity measures demanded by the euro area.
National Unity
"It's now essential Greece will restore confidence of its European partners by building a coalition government of national unity," European Union Economic and Monetary Affairs Commissioner Olli Rehn said. "To my understanding, this is well under its way."
Italy, with Europe's second-biggest debt load, prepared to host European Commission inspectors charged with making sure that planned budget cuts and economic reforms become reality.
Prime Minister Silvio Berlusconi denied a report in Il Foglio that he is on the verge of resigning to make way for an Italian version of a unity government with a budget-cutting mandate. A test of strength comes tomorrow on a normally routine vote to rubber-stamp last year's budget report that may show whether Berlusconi still has a majority in the 630-seat Chamber of Deputies.
Italy was investors' chief target today. The extra yield on Italian bonds over 10-year German bonds rose to as much as 491 basis points, a euro-era record.
'Real Figures'
"Italy is not in a situation that's comparable" to Greece, German Finance Minister Wolfgang Schaeuble said. "Italy's real figures don't justify this nervousness in markets."
European government officials are consulting investors and credit-rating companies over two options for leveraging up the rescue fund, known as the European Financial Stability Facility.
"That's very important to increase the capacity and to increase the credibility of the fund, but there are several options with disadvantages," Dutch Finance Minister Jan Kees de Jager said.
The ideas are to use the fund to partly insure bond sales and to create a special investment vehicle that would court outside money, potentially from cash-rich emerging markets such as China and Russia.
Efforts to attract international donors hit a roadblock at last week's Group of 20 summit in France, when the heads of the world's up-and-coming powers called on Europe to do more to help itself first.