Stocks Gain, Euro Pares Drop as ECB's Stark Predicts Crisis End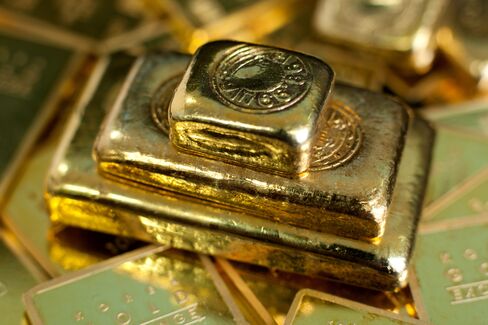 U.S. stocks rose, recovering from an early slump, while the euro trimmed losses as the European Central Bank's Juergen Stark predicted the region's debt crisis will be controlled within two years. Treasuries pared gains.
The Standard & Poor's 500 Index climbed 0.6 percent to close at 1,261.12 at 4 p.m. New York time. The euro slipped 0.2 percent to $1.3765 after sinking 0.8 percent earlier. The Swiss franc slid on a report the central bank may weaken the currency. Ten-year U.S. Treasury yields lost less than two basis points to 2.02 percent after decreasing seven points earlier. Oil climbed to a three-month high, while gold surged to the highest price since September.
Stocks recovered from losses triggered earlier as 10-year Italian bond yields reached a euro-era record of 6.68 percent, signaling Europe's debt crisis was intensifying as Italian Prime Minister Silvio Berlusconi's hold on power comes under attack. Stark said the crisis will be "under control, if not overcome" within two years and there will be no more need for further political actions.
Stark's comments "suggest that a cure can be found to remedy the peripherals' fiscal issues," Mark Luschini, chief investment strategist at Philadelphia-based Janney Montgomery Scott LLC, which manages $54 billion, said in an e-mail. "With things trading off of Europe, that is all it takes."
The S&P 500 rebounded after last week's 2.5 percent drop, its first weekly retreat since September. Health-care, telephone and commodity companies led gains among all 10 industry groups in the S&P 500. Financial shares rose 0.4 percent as a group, recovering from a 1.3 percent drop. Hewlett-Packard Co., Home Depot Inc. and Intel Corp. climbed at least 2.3 percent for the top gains in the Dow Jones Industrial Average, which rose 85.15 points, or 0.7 percent, to 12,068.39.
Amgen, Jefferies
Amgen Inc. rallied 5.9 percent after saying it will repurchase as much as $5 billion in stock. Jefferies Group Inc. rose 1.4 percent after saying it cut holdings in sovereign debt of Portugal, Italy, Ireland, Greece and Spain.
The euro pared a 1 percent loss versus the yen to less than 0.4 percent. Stark, a member of the ECB's Executive Board, spoke at an event in Lucerne, Switzerland.
"Stark said the crisis would be resolved in one to two years and it looks as if the equity market took that positively," said John McCarthy, managing director of currency trading at ING Groep NV in New York. "The euro is following the equity market. When nothing else is going on that correlation will reassert itself on a temporary basis."
European Stocks
The Stoxx Europe 600 Index lost 0.6 percent after tumbling 1.8 percent earlier. European markets closed before Stark's remarks. Insurance, industrial and real-estate companies led losses. Carrefour SA dropped 2.6 percent after Citigroup Inc. advised selling shares of the world's second-biggest retailer. PostNL NV slid 7.4 percent as the biggest Dutch postal operator said profit decreased.
Italy's 10-year bond yield trimmed gains after climbing as much as 31 basis points. The extra yield investors demand to hold Italian 10-year bonds instead of German bunds, the euro region's benchmark government securities, widened to as much as 491 basis points, or 4.91 percentage points, the most since the introduction of the euro in 1999, before retreating from the day's high to 488 basis points.
Italian Yields
Italy's yields are sending the nation down similar paths taken by Greece, Portugal and Ireland in the days before they were forced to seek rescues. Italy's 10-year notes traded above 5.5 percent for 40 days before breaching 6 percent on Oct. 28. The bailed-out nations consistently averaged above 6 percent for about a month before crossing the 6.5 percent barrier. After that, it took an average of 16 days for yields to pass the unsustainable 7 percent level.
Berlusconi struggled to hold on to power and prove he can implement austerity measures pledged to European Union allies as reports of his imminent resignation sent Italian stocks surging. The FTSE MIB Index rose 1.3 percent. Berlusconi denied a report by Giuliano Ferrara, his former spokesman and now editor of newspaper Il Foglio, who wrote that the premier would step down "within hours." Berlusconi will likely resign next week, Ferrara said in a phone interview after the report.
Reports of his resignation were "totally unfounded," Berlusconi said in an interview with newspaper Libero today. He said he would call on a confidence vote next week on the austerity measures and "look into the eyes of those who try to betray me."
Two Berlusconi allies defected to the opposition last week, and a third quit late yesterday. Six others called for Berlusconi to resign and seek a broader coalition in a letter to newspaper Corriere della Sera. More than a dozen more are ready to ditch the premier's coalition, Repubblica daily reported yesterday, without citing anyone.
Greek Yields
The yield on the 10-year Greek bond rose 88 basis points to 27.65 percent, climbing for the sixth straight day, while the two-year note yield touched a euro-era record above 107 percent. The yield on the 10-year German bund decreased four basis points to 1.78 percent, while the French 10-year yield rose three basis points, driving the difference in yield between the two securities almost eight basis points higher to 130.
Greek Prime Minister George Papandreou and main opposition leader Antonis Samaras agreed on a new prime minister to head a national unity government, state-run NET TV said, without saying how it got the information. The name of the new prime minister will be announced tomorrow as will the members of the new government, NET said.
Franc Weakens
The Swiss franc fell against all 16 of its most-traded peers following a report that the nation's central bank may move to weaken the currency.
The franc slid 1.7 percent versus the 17-nation euro and lost 1.8 percent versus the dollar. Policy makers remain ready to act in case the franc's strength increases the risk of deflation and threatens the country's economy, Swiss National Bank President Philipp Hildebrand told NZZ am Sonntag newspaper in an interview conducted Nov. 2 and published yesterday.
Gold futures rose as much as 2.5 percent to $1.799.90 an ounce. The metal climbed 6.3 percent in October, rebounding from the bear market in the previous month that saw it drop more than 20 percent from the record $1,923.70 reached Sept. 6. In September, investors sold gold to cover losses during a rout in equity markets.
'Safe Haven'
Bullion may rise to a record $1,950 by the end of the first quarter, according to the median estimate of eight of the 10 most accurate forecasters tracked by Bloomberg over the past two years. The metal has appreciated more than sixfold in its 11-year run of annual gains. Before today, gold climbed 24 percent this year.
"Gold is resuming its role as a safe-haven investment because of the problems in Europe," Donald Selkin, the chief market strategist at National Securities Corp. in New York, said today in a telephone interview. "It has also found good support from physical purchase. We saw investors return at the $1,600 level."
Gasoline, silver and oil also rose, spurring a 1 percent advance in the S&P GSCI Index of commodities.
Oil climbed to a three-month high in New York, rising 1.3 percent to settle at $95.52 a barrel.
The MSCI Emerging Markets Index increased 0.2 percent, rebounding from an earlier 0.7 percent drop. Chile's benchmark index surged 1.8 percent as Brazil's Bovespa and Mexico's Bolsa increased 0.9 percent.
Before it's here, it's on the Bloomberg Terminal.
LEARN MORE