Mirabela Takeover Seen With Minmetals Chasing Nickel: Real M&A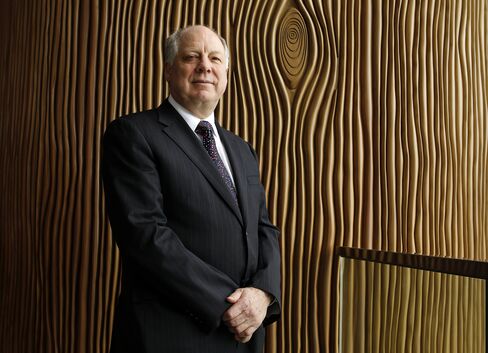 Minmetals Resources Ltd., backed by China's biggest metals trader, is transforming companies from Mirabela Nickel Ltd. to Alumina Ltd. into takeover targets as it eyes $7 billion of nickel, bauxite and alumina deals.
Minmetals, which agreed a month ago to buy copper producer Anvil Mining Ltd. after losing a bidding contest for Equinox Minerals Ltd., is planning more takeovers, its chief financial officer said Oct. 28. The Hong Kong-listed mining company is turning to dealmaking with its own stock selling for less relative to earnings than any raw-material producer in the world, according to data compiled by Bloomberg.
Mirabela, which controls the Santa Rita nickel mine in Brazil, and Alumina, which is an owner of the world's biggest producer of the raw material, may attract interest from Minmetals, Perpetual Ltd. said. With the company's earnings set to peak this year and the Anvil deal facing increased scrutiny from the Democratic Republic of Congo, Minmetals needs acquisitions to extend the life of its mines and boost valuations, according to Credit Suisse Group AG.
"Consummating a few of these would go a long way to closing that valuation gap," John Stephenson, who helps manage $2.7 billion at First Asset Investment Management Inc., said in a telephone interview from Istanbul. "Minmetals' mines have relatively short mine lives. They definitely would be an acquirer and it would certainly help."
David Lamont, the chief financial officer for Minmetals, declined to comment on speculation. An official for Mirabela and an external spokesman for Alumina also declined to comment.
Today's Trading
Shares of Minmetals slipped 1.3 percent to HK$3.86 today in Hong Kong. Mirabela advanced 0.9 percent to A$1.66 in Sydney, while Alumina gained 0.7 percent to A$1.52.
Wang Jionghui, general manager of mining exploration at China Minmetals Corp., the parent of Minmetals Resources, said that the group would be interested in acquisitions to meet demand for commodities in emerging markets.
"Metal consumption will remain strong in next 10, even 20 years, although the pace may slow," he said in an interview yesterday at the China Mining Congress in Tianjin, China.
Minmetals Resources, which produces zinc, copper, lead and gold from mines in Laos and Australia, is run by 59-year-old Australian Andrew Michelmore, the most senior non-Chinese executive at a state-owned listed mining company.
Michelmore oversaw the sale of WMC Resources Ltd., which along with Alumina Ltd. was created by the breakup of WMC Ltd. in 2002, to BHP Billiton Ltd. in 2005. Four years later, as chief of Melbourne-based OZ Minerals Ltd., the Rhodes Scholar sold off most of the company's mines to China Minmetals.
Equinox Bid
Minmetals this year made the largest takeover bid for an overseas mining company by a Chinese buyer when it offered to buy Perth, Australia-based Equinox, the owner of Africa's largest copper mine, for C$6.04 billion ($5.9 billion) in April. Minmetals, which was trumped in that bid by Barrick Gold Corp., on Sept. 30 agreed to pay HK$10 billion ($1.3 billion) for Anvil to gain three copper mines in the Democratic Republic of Congo.
"They have telegraphed they want to do a copper acquisition so it should" complete one, First Asset Investment's Stephenson said. "It would be good to come up with a deal that seems to be in their wheelhouse."
Anvil said last week that the takeover may not be completed if talks with state-owned partner Gecamines don't progress, after Gecamines called for a review of the terms of a lease for one of Anvil's mines. Minmetals said on Nov. 1 that it's "hopeful" talks with the Democratic Republic of Congo will allow the acquisition to proceed.
'Telling Stories'
Minmetals' inability to close this year's deals so far is keeping some investors away from its stock, according to Tsuyoshi Shiba, who oversees $600 million as chief investment officer of Hong Kong-based Triskele Capital Management Ltd.
"It is still telling stories," Shiba said. "Its overseas expansion isn't successful so far."
Minmetals is pursuing acquisitions with the mine lives of its four existing holdings set to end by 2020, according to the company's website. The life of its Century mine in Northwest Queensland, Australia, which is the world's second-biggest zinc mine, is projected to end in 2015.
"The focus for us has always been copper and zinc," Minmetals CFO Lamont said in an interview in Hong Kong on Oct 28. "We would like to have a third wedge in that pie that is another upstream base metal, which leads you to either nickel, bauxite, or alumina."
Relative Value
Minmetals, which may post a 50 percent increase in net profit to $615.3 million this year, according to analysts' estimates compiled by Bloomberg, will see earnings drop 8.7 percent next year, the data show.
The company already trades at 2.6 times profit, the lowest valuation among 282 raw-material producers in MSCI's indexes of developed and emerging markets, after the shares declined 28 percent this year.
"Attempts in 2011 at buying out Equinox and Anvil show the company's continuous efforts to extend its total mining life," Owen Liang, a Hong Kong-based analyst at Credit Suisse, wrote in an Oct. 26 note. "Future mergers and acquisitions will provide potential upside to the firm's valuation."
Mirabela would be an appealing target for Minmetals because its Santa Rita nickel sulfide mine could be productive for 30 years, said James Bruce, who helps manage $3.5 billion at Perpetual in Sydney. The mine has a 23-year reserve life with expansion potential, producing nickel sulfide concentrate that will be in short supply after 2014, according to Wood Mackenzie.
'Up for Grabs'
"Mirabela has a good, long-life asset and one that could be up for grabs," said Simon Tonkin, Perth-based senior resource analyst at Patersons Securities Ltd. "There will be a shortage of sulfide nickel concentrates."
Tonkin estimates Mirabela could be worth as much as A$3.30 a share, or A$1.6 billion ($1.7 billion).
Perpetual's Bruce said Minmetals may also look to acquire Alumina Ltd., citing Michelmore's relationship with the company from his days with WMC and a global shortage of available alumina and bauxite assets.
Alumina owns 40 percent of the Alcoa World Alumina & Chemical venture with New York-based Alcoa Inc., the largest U.S. aluminum producer. Its assets include two bauxite mines and three alumina refineries in Australia as well as mines in South America and Guinea, according to the company's website.
'Far More Expensive'
"It would be far more expensive to build Alumina's assets new," said Jamie Spiteri, head dealer at Shaw Stockbroking Ltd. in Sydney. Based on what companies such as BHP are spending to develop bauxite mines, building a company similar to Alumina may cost as much as A$8.5 billion, or more than double Alumina's market value, he said.
Buying Alumina wouldn't give Minmetals operational control of its assets. Instead, it would only become an equity owner with Alcoa maintaining marketing control as well.
With its backing from China's government, Minmetals may also face political and regulatory hurdles. Cnooc Ltd., China's largest offshore energy producer, abandoned its $19.4 billion offer for El Segundo, California-based Unocal Corp. in 2005 because of opposition from U.S. lawmakers. That left Chevron Corp. of San Ramon, California, as the winning bidder.
The top end of the $1 billion to $7 billion that Lamont said Minmetals may spend on nickel, bauxite or alumina deals also outstrips its market cap of $2.63 billion by almost three times, data compiled by Bloomberg show.
With its parent company backed by China, the world's largest consumer of metals from copper to zinc, funding the acquisitions still shouldn't be a problem, according to Ka Kei Lam, associate director at Redford Securities Ltd. in Hong Kong. Buying projects with "high-growth potential" may help Minmetals boost its price-to-earnings ratio to 8 or 9, more than three times its current valuation.
"It's a good time to diversify," Lam said. "If they get involved now, they can secure more to meet demand from China in the future. It's too soon to know if they can succeed."
Before it's here, it's on the Bloomberg Terminal.
LEARN MORE