Danish Recession Threat Has Firms Pleading for Bank Credit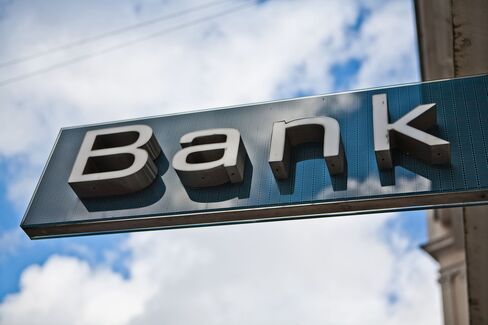 Danish firms are entreating banks in the Nordic country to step up their efforts to find funds that can be channeled into corporate lending as a lack of credit threatens to choke business, kill jobs and trigger a recession.
Denmark's regional lenders are mired in a crisis that's resulted in three failures this year, forced losses on bondholders and left banks shut out of senior funding markets. The $325 billion economy now risks contracting as unemployment swells and house prices fall another 10 percent until 2013, the government-backed Economic Council said last week. Meanwhile, banks aren't making proper use of less standard funding sources, ignoring a possible way out of the crisis, the Copenhagen-based Confederation of Danish Industry said.
Lenders may shun a 400 billion-krone ($74 billion) central bank liquidity line to escape the stigma of relying on such support, according to Sydbank A/S and Spar Nord Bank A/S. A pooled funding vehicle to help smaller lenders attract investors by spreading risk fell through, Nykredit A/S said in August. With funding options disappearing, banks should make better use of the Luxembourg-based European Investment Bank, which specializes in loans designed to support small- and medium-sized enterprises, said Thomas Soerensen, director of SMEs at the Confederation of Danish Industry.
"We're trying to advocate that other Danish banks see an opportunity in channeling the EIB loans to businesses," Soerensen said in an interview. "If we're not careful, we're going to lose jobs."
Options Dwindling
Denmark's banks are unlikely to get more state aid after receiving four rescue packages since 2008, Finance Minister Bjarne Corydon signaled last week. Without the funds needed to stay afloat, Denmark risks more bank defaults, Standard & Poor's said in July.
Only two Danish lenders have tapped the EIB for funds since 2008: Spar Nord Bank and Rinkjoebing Landbobank A/S. Most banks are shrinking their balance sheets by dumping assets and denying borrowers credit. A quarter of Danish companies surveyed for a June report by the confederation said they had limited, or no, financing options in the second quarter. Bank lending to businesses has slumped 25 percent since the start of the credit crisis in 2008, the confederation said.
Markets Underperform
The OMX Copenhagen index has lost 21 percent this year, compared with a 12 percent decline in benchmark Norwegian stocks and 16 percent drop in Sweden's main share index. The Euro Stoxx 50 index has lost 19 percent in the period. The yield on Denmark's 10-year government bond eased four basis points to 2.02 percent.
Gross domestic product probably shrank in the third quarter, Danske Bank A/S Chief Economist Steen Bocian said in a note today. The economy went through a technical recession after shrinking in the fourth and first quarters, according to statistics office data.
"The Danish economy is teetering on the brink of a recession, and this time there are grounds to be more worried than was the case at the end of last year," Bocian said. "The Danish economy is in a fragile state, which could already be a manifestation of an actual recession."
The EIB, owned by the European Union's 27 members, lent a total of 72 billion euros ($99 billion) last year. One third of Denmark's SMEs are struggling to find funding, according to the confederation. SMEs employ about two thirds of Denmark's workforce, according to the European Commission.
'Neglected Opportunity'
Turning to the EIB "is a neglected opportunity," Soerensen said.
The funds would also ease pressure on banks trying to refinance state-guaranteed debt coming due through 2013. Moody's Investors Service warned last week the outlook remains negative for Danish banks, which must refinance about 160 billion kroner in state-backed debt as asset quality sinks.
"Denmark is a country which has a very strong SME sector, so there is ample potential for funding investments and promising projects to work with," Paar Isaksson, a spokesman for the EIB's Nordic operations, said in an interview.
As external funds dry up, banks are curbing lending to SMEs to focus on companies that are able to get government guarantees to back about 70 percent of their loans.
Vaekstfonden, a state-backed investment fund, can provide guarantees on as much as 4 billion kroner in total. That includes 2.6 billion kroner earmarked for loans to riskier projects. The fund will run out of money next year for the 2.6 billion-krone lending facility, said Rolf Kjaergaard, senior vice president for guarantees at Vaekstfonden.
More Demand
"There is just a lot more demand for guarantees now compared with four, five years ago," Kjaergaard said.
Banks are turning to Vaeskfonden, rather than the EIB, because the Danish program shares risk, Sine Jensen, a business policy specialist at the Copenhagen-based Danish Bankers Association, said. At the same time, EIB is more bureaucratic and loan conditions change, she said today by phone.
"Our members want stable conditions so they can plan," Jensen said.
Spar Nord, Denmark's fourth-largest listed lender, received a 40 million-euro EIB loan in September. Ringkjoebing Landbobank has tapped the EIB nine times since 2003, taking out loans totaling 223 million euros, according to the EIB's website.
According to the local bankers association, only two of Denmark's 90 local banks can tap the EIB. Others were rejected because they're either not rated or too small, said Jan Kondrup, the association's director. His group is lobbying the Danish government to press for a change in the EIB's lending criteria, he said.
Bankruptcies
"We have complained to the EIB," Kondrup said in an interview. "This is strongly anti-competitive. We want our fair share of the funding that's paid out by the EIB."
The EIB has received inquiries from Danish banks, Isaksson said, declining to give details. As many as 15 Danish lenders may be eligible to receive loans, he said.
Bankruptcies in Denmark rose to 460 in October from 454 a month earlier, the statistics office said Nov. 4, citing seasonally-adjusted data. The number of companies going out of business may rise in coming months, according to Jyske Bank A/S, Denmark's second-biggest listed lender.
"There's not much doubt that this half-year is a rough patch for the Danish economy," Niels Roenholt, an economist at Jyske Bank, said in a note. "The longer it takes for things to improve, the tougher it will get for companies."
Before it's here, it's on the Bloomberg Terminal.
LEARN MORE