Papandreou to Step Down in Accord on Greek Unity Government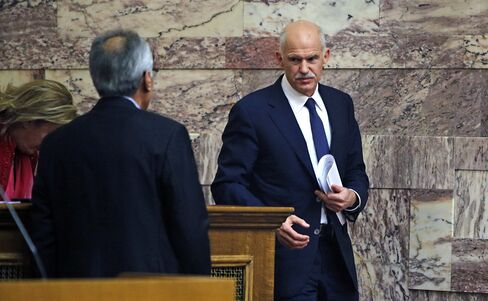 Greek Prime Minister George Papandreou agreed to step down to allow the creation of a national unity government that will secure international financing and avert a collapse of the country's economy.
Papandreou met with Antonis Samaras, leader of the main opposition party, and agreed to form a government intended to lead Greece "to elections immediately after the implementation of European Council decisions on October 26," according to an e-mailed statement yesterday from the office of President Karolos Papoulias in Athens. Papandreou already stated he won't lead the new government, the statement said.
"A lot is already being asked of the yet-to-be-formed coalition and markets could be wary of any splits that appear, especially over the tougher decisions yet to be taken," Thomas Costerg, an economist at Standard Chartered Bank, said in comments made before yesterday's announcement. "Greece is still not out of the woods."
Both sides will meet again today to decide who will be the head of the new government with a separate meeting to discuss the time frame and the government's mandate, the statement said. Papoulias will also host talks with all political party leaders today as well. Feb. 19 is the "most appropriate" date to hold new elections, according to a statement yesterday from the finance ministry.
International Aid
Trying to preserve international aid before the nation runs out of money next month, Papandreou raced over the past 48 hours to clinch an agreement with the main opposition party before markets open today, healing divisions to secure an aid agreement. Samaras, 60, who previously demanded elections and balked at joining forces with Papandreou's socialist Pasok party, said he was "determined to help" reach an agreement as long as the premier stepped down first.
The euro traded little changed as of 9:39 a.m. in Tokyo today after sliding 2.5 percent last week.
Finance Minister Evangelos Venizelos has said he wants a unity government agreed on before euro-area finance ministers meet in Brussels today. Lucas Papademos, former European Central Bank vice president, will head a Greek national unity government, To Vima newspaper reported, without citing anyone.
The premier's capitulation caps a tumultuous 10 days that started with him securing a second bailout from the European Union, then roiling markets by unilaterally deciding to put the terms of that rescue to the Greek people in a vote, a plan he then dropped. Bowing to pressure from his party and the opposition, Papandreou pledged to stand aside for a government with wider support.
'Positive Development'
Dora Bakoyannis, a former foreign minister who counts on the support of another four lawmakers in parliament as part of her Democratic Alliance group, said the decision is a "positive development," necessary to the country's "survival" and that decisive action must now be taken to quickly form the new government.
"A Greek unity government will give markets confidence," Spyros Economides, a senior lecturer at the London School of Economics, said in telephone interview.
Papandreou, 59, met with Papoulias as pressure mounted on him to step down after he was forced to cancel the referendum that might have led to Greece being ejected from the euro. The premier won a confidence motion early on Nov. 5 after pledging to disaffected members of his ruling Pasok party that he would not stay on.
More than one EU government is teetering on the brink. Italian Prime Minister Silvio Berlusconi also faces mounting pressure to step down as 10-year borrowing costs for the region's third-biggest economy approach the 7 percent level that forced Greece, Ireland and Portugal to seek bailouts. The premier reiterated today that he won't resign.
Pressure on Berlusconi
"With Papandreou's decision, the focus will perhaps shift to Italy, where Prime Minister Berlusconi is facing intense pressure, and may well follow Papandreou's footsteps should tension increase further, " Standard Chartered Bank's Costerg said.
Officials from the Greek ruling party and New Democracy met to discuss details of the Oct. 26 bailout accord late in Athens, before Venizelos attends the Brussels meeting, government spokesman Elias Mosialos told reporters.
The main goal of a unity government is securing approval of the Oct. 26 agreement with international lenders, Papandreou told reporters in Athens on Nov. 5. Last month's accord "is a prerequisite for our remaining in the euro," he said, referring to the second financing package of 130 billion euros ($179.7 billion) agreed by EU leaders on that date.
Stocks Decline
European stocks declined for the first week in six last week, while Greek two-year bond yields climbed above 100 percent for the first time, German 10-year bonds posted their biggest weekly advance on record and Italian borrowing costs surged to euro-era records after European leaders said that Greece may have to exit the euro following Papandreou's referendum decision.
The government will need the backing of 180 lawmakers to secure approval for Greece's second aid package. Disbursement of funds was halted after Papandreou's call for a referendum was opposed by German Chancellor Angela Merkel and French President Nicolas Sarkozy.
Austerity Measures
Papandreou, a graduate of the London School of Economics and former foreign minister, had survived a confidence vote in June called to rally support for austerity measures demanded by international lenders in return for a continuation of a 2010 bailout, the first for an EU nation. The EU and the IMF agreed to provide 110 billion euros in May last year in return for cuts in government spending and public sector jobs.
His referendum plan triggered a suspension in assistance by EU leaders less than a week after they'd approved the second rescue package and wrote down the value of Greek debt by 50 percent.
The surprise referendum announcement triggered the biggest two-day slide in the MSCI World Index in almost three years and sent spreads on French, Greek and Italian bonds over bunds to euro-era records. France now pays 123 basis points more than Germany to borrow for 10 years.
Before it's here, it's on the Bloomberg Terminal.
LEARN MORE