Spanish Post-Election Austerity Poses Growth Risks: Euro Credit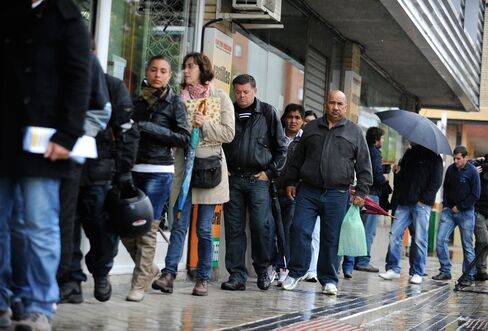 Pledges by Spain's People's Party to deepen budget cuts may further undermine the nation's stalled recovery, increasing the risk of contagion as European leaders entertain the prospect of Greece leaving the euro.
The PP, led by Mariano Rajoy, has promised to restore Spain's AAA rating through "restraint and rigor" if it wins the Nov. 20 election, as polls predict. It plans a cost-cutting overhaul to rein in borrowing costs, which have climbed to 5.5 percent for 10-year debt, close to the highest since the European Central Bank started buying Spanish bonds in August.
Spain's ruling Socialists have already raised taxes, reduced public wages and slashed investment as part of efforts to bring the euro region's third-largest budget deficit back within European limits by 2013. The PP is pledging even deeper austerity after the economy slowed to a halt in the third quarter and unemployment surged to 23 percent.
"It's getting harder," said Olaf Penninga, who helps manage 150 billion euros ($206 billion), including Spanish debt, at Robeco Group in Rotterdam. "You don't want to get into the Greek situation where part of the benefits of the spending cuts is lost because of the weaker economy."
Youth Unemployment
Spain's economy didn't grow in the third quarter after expanding 0.2 percent in the previous three months. Unemployment among young people is 48 percent. More than 40,000 public-sector jobs were lost in third quarter, Labor Minister Valeriano Gomez said on Oct. 28, as regional governments try to halve deficits to 1.3 percent of gross domestic product this year.
"Fiscal consolidation is having a negative impact on employment," said Antonio Garcia Pascual, chief southern European economist at Barclays Capital in London.
The ECB unexpectedly cut its benchmark lending rate by 25 basis points to 1.25 percent yesterday, citing "slow growth heading toward a mild recession."
Spain's PP already controls 11 of the 17 semi-autonomous regions, and on Nov. 20 it may win the largest majority of any Spanish government since 1982, according to a poll by El Mundo published on Nov. 2. That grip on power at all levels of government will be a "golden opportunity" to restructure the economy, Alvaro Nadal, the PP's economy secretary, said in an Oct. 25 interview. He rejected the idea that budget cuts would prompt a recession, saying anyone who thinks Spain "is in a 'Catch 22' situation is wrong."
Rising Yields
The party's first challenge will be to convince investors it can meet budget targets and avoid seeking aid from the European Financial Stability Facility, which euro-region leaders beefed up on Oct. 27. The Spanish 10-year yield is close to a a three-month high and reached 5.66 percent on Oct. 31, the most since the ECB purchases began on Aug. 8. Even with that support, the gap between Spanish and German yields is about 360 basis points, up from an average this year of 260.
The PP doesn't give details of spending cuts in the electoral program it published Nov. 1, although it says it will define some "basic services" in areas including health. The party would sanction administrations for overspending, and state-owned companies will be sold unless they do a better job than private companies, which will play a bigger role in managing public services and infrastructure.
Deficit Cuts
PP-led governments in the regions, which manage more than a third of the nation's spending including health and education, have started slashing costs. The region of Castilla-La Mancha aims to shrink its shortfall to 1.3 percent of GDP from 6.5 percent in two years without raising taxes, while Madrid is battling teaching unions over staff cuts.
Public-spending reductions are hurting companies that depend on government contracts, said Ana Bujaldon, the chairwoman of the Spanish women executives' group Fedepe. The number of companies filing for bankruptcy rose 20 percent to 1,494 in the second quarter from a year earlier, according to the National Statistics Institute.
"The number of tenders and their budgets has diminished to the point that it has become practically impossible to be profitable, especially for small and medium enterprises," Bujaldon said in a telephone interview.
Spanish Finance Minister Elena Salgado said Nov. 1 that the "enormous" global slowdown means forecasts, including the 1.3 percent growth target for this year, are "out of date." The government had already lowered this year's growth outlook from 1.8 percent as a result of budget cuts.
Need for Stimulus
"This shows one can't expect deep austerity measures not to have an impact on growth," said Ludovic Subran, chief economist at credit insurer Euler Hermes SA in Paris. "In the future, that means we need to be more selective in austerity measures and have some stimulus in parallel."
The PP will take charge of a stagnant economy where 1.4 million households have all their members out of work. The average yearly income of Spanish homes fell by 4.4 percent to 24,890 euros last year, according to INE, while 36 percent of households say they can't cope with unexpected expenses and 21.8 percent risks crossing the poverty line.
"We have reached the limit," said Julio Salazar, general secretary of USO union, the nation's third-largest union, in a telephone interview.
Before it's here, it's on the Bloomberg Terminal.
LEARN MORE