Olympus Delays Earnings Release Pending Probe Into Acquisitions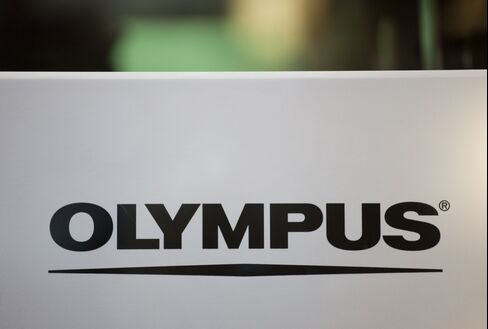 Olympus Corp. said it was postponing the release of second-quarter earnings pending the results of a probe into $1.4 billion of writedowns and fees related to the company's acquisitions.
The company had been due to announce results on Nov. 8, and now aims to do so by the end of the month, spokesman Tsuyoshi Kitada said by phone today. Olympus on Nov. 1 asked a six-person independent committee, including two former judges and a retired prosecutor, to investigate allegations by former president Michael C. Woodford after he was axed Oct. 14.
Olympus fell as much as 12 percent in Tokyo today, adding to a stock plunge that has wiped out more than half the camera-and medical-equipment maker's market value since Woodford's dismissal. Only three weeks ago, analysts including Goldman Sachs Group Inc.'s Toshiya Hari and Kenya Moriuchi had been anticipating next week's planned earnings announcement as a possible turning point for Olympus' shares.
"The near-term catalyst for the stock is likely to be the second-quarter results," Hari and Moriuchi wrote in a 47-page paper dated Oct. 12, advising investors buy the company's shares and targeting a price gain of more than 50 percent in two years. "We have high hopes for Mr. Woodford," they wrote, six months after he was named Olympus' first foreign president.
Unknown to Goldman and other securities firms that gave positive reports on Olympus in the past two months, Woodford was locked in a feud with his board over the company's acquisitions that ended when they sacked him. Investors including Harris Associates LP say Olympus is failing to answer questions over the takeovers.
Deny, Deny, Deny
"They just keep denying that anything illegal or excessive has happened," David Herro, Chicago-based chief investment officer for international equities at Harris, said in a Bloomberg Television interview this week. "Clearly they've done something excessive" which leads "us to question whether their first statement is correct."
Harris held 10.9 million Olympus shares as of June 30, a 4 percent stake that makes it the company's second-biggest overseas investor. Olympus shares traded 9 percent lower at 1,092 yen at 9:57 a.m., down 56 percent from their Oct. 13 closing price.
Japan lacks an efficient framework to mediate internal disputes or to reassure investors once allegations surface, said Nicholas Benes, who heads the Board Director Training Institute of Japan, a public-interest organization that aims to improve corporate governance, according to its website.
'Absolutely Hideous'
"Everyone except the person who was sacked is speaking with one voice, saying something completely different from what he's saying and not explaining things," Benes said. "The perceptional aspects of this are absolutely hideous."
After being fired, Woodford went public with his concerns raised with then-Chairman Tsuyoshi Kikukawa over $687 million paid in advisory fees in the $2 billion acquisition of U.K. medical-equipment company Gyrus in 2008 and $700 million of writedowns in three other takeovers. All the transactions involved payments to Cayman Islands companies or special purpose vehicles whose beneficiaries are not known.
Kikukawa stepped down Oct. 26. In a statement read out to reporters later the same day, he denied any wrongdoing and said he would remain on the board. Newly appointed President Shuichi Takayama said regaining trust will be the company's top priority. "Our corporate value hasn't been ruined," he told reporters in Tokyo last week. "We believe we can restore the stock price."
Attracting Attention
Woodford impressed on his first public outing to present 2010 earnings in May, promising cost cuts and "to raise the level of scrutiny" over mergers and acquisitions, according to Goldman's report. "One of the primary reasons behind our faith in Olympus is the change in management," it said.
In Europe, Woodford cut costs and improved profitability, Goldman said. Analysts including Hiroshi Torii at Cosmo Securities Co. in Tokyo took his promotion as a signal Olympus, the world's biggest endoscope maker, would focus on its faster-growing medical division. The company's camera arm lost 15 billion yen ($192 million) last year.
"Woodford was the first president who specialized in the medical business, and that drew my attention," said Torii, adding that he initiated coverage on Sept. 26 with a "neutral plus" rating after meeting Olympus investor-relations officials.
Same Date
Sept. 26 was also the day on which Woodford wrote to Kikukawa demanding to know who received the Gyrus fees and why they were paid so much, according to the letter, which was circulated to the board and a copy of which was given to Bloomberg News. He said he would "initiate the actions I believe fit and proper to ensure the appropriate scrutiny of the various transactions" unless he was given an answer.
Woodford's fight over the takeovers began almost three weeks before Goldman elevated Olympus to its list of 25 best Japanese equity investments, according to letters from Woodford to Executive Vice President Hisashi Mori and Kikukawa.
As the letters showed tensions mounting between Woodford and his Japanese colleagues, Olympus on Oct. 1 said it was adding the chief executive role to that of president and operating officer. On Oct. 11, Woodford called for Kikukawa and Hori to resign, according to a letter with that date.
Citigroup, Paribas
In the month before Woodford was axed, Citigroup Inc. and BNP Paribas SA started new coverage of Olympus with a recommendation of "buy" and "hold" respectively, according to Bloomberg data. Goldman and the other brokerages have since suspended ratings. Spokesmen at New York-based Goldman and Citigroup and Paris-based BNP Paribas declined to comment.
"I expected to see Woodford at the company's earnings briefing for analysts," said Cosmo's Torii, who withdrew his rating Oct. 18. "I never thought it would turn out like this."
The U.S. Federal Bureau of Investigation is probing the allegations, according to Woodford. Olympus is also under scrutiny of Japanese regulators, officials said.
The probes center on more than $600 million in fees paid to AXAM Investments Ltd., a now-defunct Cayman Islands fund connected to U.S.-based Japanese banker Hajime Sagawa. Olympus executive vice president Mori, a key official involved in the Gyrus takeover according to U.K. company records, on Oct. 27 declined to name the person who introduced Sagawa to Olympus.
Repeated attempts to reach Sagawa at his registered address in Boca Raton, Florida, have been unsuccessful, as have efforts to trace the owners of Cayman entities paid about $940 million in the three other acquisitions.
"The money went to those shareholders," Mori said at the Oct. 27 briefing in Tokyo. "We have no idea who they are."