Mirae Asset Considering Indonesian Acquisition, CEO Koo Says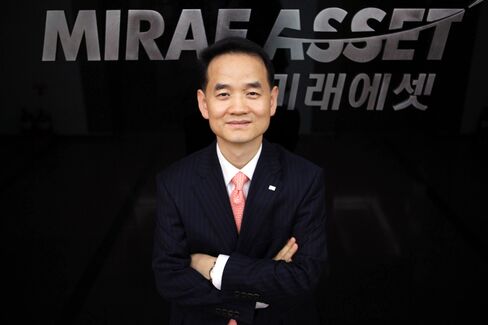 Mirae Asset Global Investments Co., South Korea's second-largest money manager, is considering an acquisition of an Indonesian asset-management company to tap rising affluence in the Southeast Asian nation.
"We want to be an Asian expert," Koo Jae Sang, Mirae Asset Global's Chief Executive Officer, said in an interview at his Seoul office yesterday. "We're trying to enter the Indonesian asset management industry," Koo said, without specifying the name of a potential target and timetable.
Koo is betting on higher income levels in Indonesia, whose middle class grew by 62 percent from 2003 to 2010, according to World Bank estimates. Goldman Sachs Group Inc. and Morgan Stanley are considering buying brokerages in Indonesia, two people with knowledge of the matter said in September, while South Korea's Hyundai Securities Co. also said last month it's considering an acquisition of a brokerage.
Koo's firm, an unlisted affiliate of Mirae Asset Securities Co., oversees about 45 trillion won ($40 billion) in assets. It had 305 overseas employees as of August, the company said in an e-mail.
The International Monetary Fund predicts Indonesia's economy, Southeast Asia's biggest, will expand between 6 percent and 6.5 percent in 2011 and 2012, according to a statement on Oct. 21. Indonesian gross domestic product gained 6.49 percent in the second quarter, compared with growth of 4 percent in neighboring Malaysia and 2.6 percent in Thailand.
Growing Middle Class
The number of Indonesians in the income bracket classified as middle class rose to 131 million in 2010 from 81 million in 2003, the World Bank said in a March report. The nation's population of 243 million ranks behind only those of China, India and the U.S., data from the U.S. Census Bureau show.
The benchmark Jakarta Composite Index has risen 0.1 percent this year to yesterday, making it the third-best performer in the Asia-Pacific region. The gauge has fallen 12 percent from a record high of 4,193.44 set on Aug. 1.
"Indonesia boasts a resilient economy, and it's a populous nation with ample natural resources," according to Koo. "The nation's fledging asset-management industry is set to expand, and we're seeing potential there."
The asset-management industry in Asia outside of Japan may double by 2015, helped by an expanding middle class and growth in sovereign, pension and insurance pools, according to a study commissioned by Citigroup Inc. and Mirae Asset Global.
Mirae Asset Global's expansion plan is aimed at boosting the contribution to assets under management from overseas clients to about 50 percent in coming years from less than 10 percent currently, according to Koo.
The firm bought 60 percent of TLG Asset Management Co., a unit of Taiwan Life Insurance Co., in June and agreed in July to buy 85 percent of Canada's BetaPro Management Inc., an exchange-traded funds manager. The South Korean company has units in Hong Kong, India, U.K., U.S. and Brazil.
-- With assistance from Femi Adi in Jakarta and Weiyi Lim in Singapore. Editors: Darren Boey, Richard Frost
Before it's here, it's on the Bloomberg Terminal.
LEARN MORE