Michigan's Snyder Says He Wants to Avoid Takeover of Detroit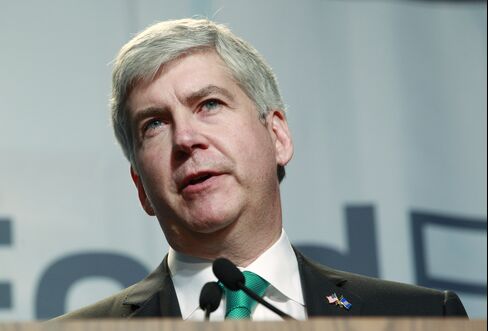 Michigan Governor Rick Snyder said he wants to avoid appointing an emergency manager for Detroit, which faces an estimated $150 million deficit.
Snyder said he has had preliminary discussions with Detroit Mayor Dave Bing about state intervention to help the city, though Bing hasn't requested a financial review. The governor is allowed to appoint an emergency manager under a law approved this year.
"I'm not aspiring in life to run the city of Detroit," Snyder, 53, said in an interview in Ann Arbor. "I don't want an emergency manager in the city. My goal is to be a supporting resource and be there to help Detroit succeed by itself."
Bing this week told City Council members that Detroit may need an emergency manager because of its deficit and the possibility it may run out of money by February, according to the Detroit Free Press. Bing said city unions need to offer more concessions to avoid insolvency, according to the newspaper.
A financial review would be the first step in a state decision to take control by appointing an emergency manager with powers including the authority to nullify union contracts.
Chapter 9 Warning
Detroit warned investors about the risk of a Chapter 9 bankruptcy in a preliminary official statement for a $250 million debt offering in March 2010. The Citizens Research Council of Michigan said a month later that the city might have to resolve its fiscal problems by filing for Chapter 9 or appointing an emergency manager.
Snyder said the emergency-manager law is meant to help financially distressed cities and school districts shore up finances. Three cities and Detroit's public schools are under control of state-appointed emergency managers. Two more cities are under state financial review, as is the Highland Park school district.
"There's good leadership in Detroit," Snyder said. "How do we be supportive and say, 'How can we partner in your success?'"
Before it's here, it's on the Bloomberg Terminal.
LEARN MORE