McEntee Retiring After 30 Years Leading Public-Workers Union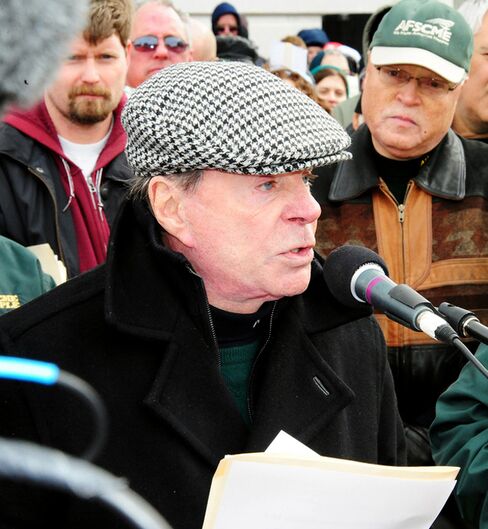 Gerald McEntee, president of the 1.6 million-member American Federation of State, County and Municipal Employees, will retire after leading fights this year against state efforts to roll back worker benefits.
McEntee, 76, told union leaders in a letter yesterday that he won't seek re-election in June, ending a three-decade career that included efforts that he said helped save Medicaid, Social Security and union bargaining.
"In Wisconsin and Ohio," the union is "leading the fight to combat the Wall Street-backed challenges to our freedom to organize and bargain," McEntee said in the letter. "The spark we have lit has ignited a national movement to defend the rights of all Americans against a broken government."
AFSCME, as the group is known, is the largest labor union for employees such as nurses, correction officers, child-care workers and trash haulers in state and local government. McEntee also heads the political committee of the AFL-CIO, the largest U.S. labor federation.
David Warrick, the union's leader in Indiana, said yesterday in a phone interview that McEntee is calling local officials to inform them of the decision. "I had heard his health has not been the best lately," Warrick said in an e-mail.
McEntee is "still in fighting form, just ask any governor he's yelled at in the past month," Chris Fleming, a union spokesman, said yesterday in an e-mail.
Saunders, Donohue
Lee Saunders, a former administrator for New York City's largest public-employee union who was elected AFSCME's secretary-treasurer in June 2010, plans to run to succeed McEntee. Danny Donohue, president of New York's Civil Service Employees Association for 17 years, also is a candidate.
In his letter to labor leaders, McEntee said the union has fought for legislation that had "a profound impact" on working Americans, from workplace safety to the minimum wage.
"It was AFSCME that led the fight to protect Medicaid in 1995, Social Security in 2005 and collective bargaining in 2011," McEntee said. "We transformed the role of the labor movement in American politics, moving from simply providing election resources to building a solid grassroots cadre of activists who participate in campaigns."
McEntee said in May he wants the union to increase support for Democrats in 2012 and exceed a record $90 million spent in 2010, when Republicans won the U.S. House and state legislatures.
'Under Attack'
A new leader may reduce the union's role in presidential and congressional elections, said Henry Bayer, the union's vice president for Illinois.
"Public employees are under attack in the states in ways they never have before, and we need a leader who understands the importance of state fights," Bayer said in a phone interview. "I suspect there will be an examination of our priorities, rather than doing what we have routinely done in the past. We need a fresh look at our spending priorities."
Randi Weingarten, president of the American Federation of Teachers, praised McEntee for balancing politics and member needs, and said his retirement is 'a salient moment'' for labor.
"He's always understood that what happens at the ballot box is as important as what happens at the bargaining table, and he has used every tool at his disposal to try and change the nature of events," Weingarten said in a telephone interview. "Sometimes it worked, and sometimes it didn't."
Politics, Organizing
Donohue said he will concentrate less on national politics and more on helping boost union membership as rolls shrink. "There needs to be a lot more emphasis on organizing, and we can't lose sight of where our members work every day," he said today in a telephone interview. "Washington is important, but it's not the only thing."
Governors and legislators in states such as Ohio and Wisconsin are seeking spending cuts to resolve budget deficits that may total $112 billion the next year nationwide, according to the Center on Budget and Policy Priorities in Washington.
McEntee, son of a sanitation-truck driver who was arrested for leading colleagues in one of Philadelphia's most violent strikes, has been a union activist since 1958. His rise began in 1970, when as the Pennsylvania head for AFSCME he helped persuade the state's Republican governor and Senate to give state workers collective-bargaining rights and led the drive to organize more than 75,000 public employees in the state.
'Most Effective'
"He's the most successful labor organizer of his generation, and one of the most effective in U.S. history," Francis Ryan, a history professor at Temple University in Philadelphia who wrote a book about AFSCME, said this year in an interview.
Government employees became a majority of union members for the first time in 2009, and last year they outnumbered those in private industry by 7.6 million to 7.1 million, according to the Bureau of Labor Statistics.
McEntee turned his union into "a very strong political organization, which in turn has become the dominant force for deciding who will be its members' bosses" in government office, James Sherk, a labor analyst at the Heritage Foundation in Washington, which describes itself as supporting free markets, said in an interview earlier this year.
That political influence is why "in most states, government workers have a greater compensation package than they would get in the private sector," Sherk said.
McEntee and his wife, Barbara, have been married more than two decades. He has four children and eight grandchildren from a previous marriage. He received $382,026 in pay and $173,441 in benefits and expense reimbursements in the year ended Sept. 30, 2010, according to a Labor Department report.
Asked this year how long he planned to keep his job, McEntee initially said, "Forever." He said he was too busy right now concentrating on winning union fights in the states.
"Maybe when things settle down a bit, I'll give it some thought," he said.
Before it's here, it's on the Bloomberg Terminal.
LEARN MORE