India to Ease Telecom Merger Rules by December in New Policy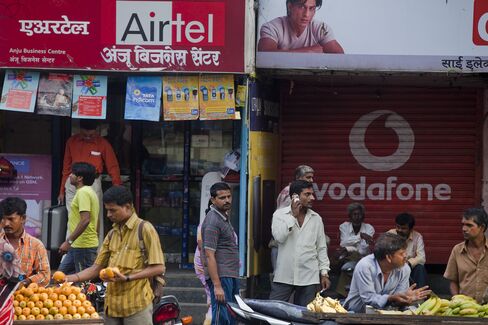 India's government aims to ease rules for mergers and acquisitions among mobile-phone service providers under a new policy it plans to adopt by next month.
The Department of Telecommunications plans to have the new regulations, which also will fix a mechanism for pricing wireless airwaves, approved by the cabinet by Dec. 31, R. Chandrashekhar, secretary for telecommunications, said in an interview yesterday in New Delhi.
"It is a priority for the government to remove roadblocks to consolidation, which currently exist," he said. "Every company can plan their long-term investments and their business strategy knowing that this is the direction in which the country will go."
The rule changes may trigger consolidation in a market where 15 mobile phone companies -- including Bharti Airtel Ltd. and the local ventures of Vodafone Group Plc, Telenor ASA and NTT DoCoMo Inc. -- compete for subscribers, pushing call charges to one U.S. cent a minute. India's wireless market is forecast by research firm Gartner Inc. to surpass 872 million active users by the end of 2015, compared with 609 million in August.
"Currently, we've got too many players," said Mahesh Patil, who oversees about $3 billion in stocks as co-chief investment officer at Birla Sun Life Asset Management Co. "Getting some clarity on mergers and acquisitions will be a win-win for the sector. Incumbents will be able to consolidate their position and struggling marginal players may find an exit option."
Telecom Circles
India has 22 telecommunication service areas called circles. Each circle must have at least four non-state, mobile-phone carriers, and the combined market share of a merged entity cannot exceed 40 percent.
Also, a mobile-phone provider can't own more than 10 percent of another carrier operating in the same circle. A mobile-phone company can't sell a stake for three years after receiving a license, according to existing rules.
Current regulations "result in fragmentation of the market, more so in terms of spectrum, and denies companies and consumers the benefits of more efficient operations," Chandrashekhar said.
NTT DoCoMo, based in Tokyo, said partner Tata Teleservices Ltd. may acquire other companies if government policies change to allow purchasers to keep the seller's spectrum. Current rules mandate that some spectrum may need to be returned to the government, leading to "a lot of losses" for the acquirer, Masatoshi Suzuki, senior executive vice president in charge of overseas strategy at NTT DoCoMo, said Oct. 26.
India restricts the amount of spectrum a company can hold to a maximum of 15 megahertz in some regions and 12.4 megahertz in others.
The proposed changes come amid a government investigation into the 2008 sale of second-generation wireless spectrum at prices the nation's chief auditor said caused a loss of as much as 1.4 trillion rupees ($30.5 billion) to the treasury.