Heating Fuel at Record as European Diesel Surges: Energy Markets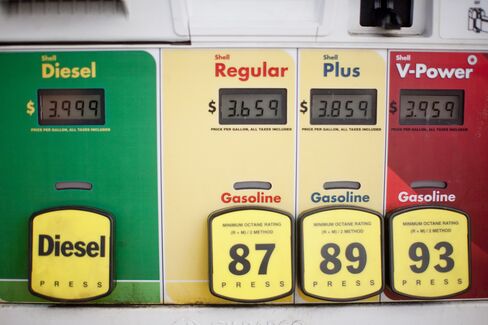 European consumers will probably pay the most ever to run diesel cars and heat their homes this year, at a time when unemployment is at the highest in more than a decade and economic confidence is falling.
Diesel at the pump in 27 nations averaged 1.362 euro a liter ($7.22 a gallon) in 2011, up 6 percent from the record year of 2008, weekly data from the European Commission show. Wholesale gasoil averaged $929.93 a metric ton this year, compared with $920.75 for 2008, the highest mean for a full year, according to ICE Futures Europe data. The two similar fuels, known as middle distillates, have jumped as declining refinery output leads to lower stockpiles before the winter, analysts at Citigroup Inc. and Barclays Plc said.
Energy users are paying more because refiners halted plants for maintenance and slowed production in response to falling profit margins over the last two months. Reduced imports from Russia and Asia exacerbated the shortage.
"We are bullish on distillate fuels for the next month," Seth Kleinman, European head of energy research at Citigroup in London, said in an e-mail Nov. 2. While diesel led prices higher, "now in the run up to winter with stocks low in Germany and the U.S. East Coast, heating oil is holding its own."
Drivers on the continent use about twice as much diesel as gasoline, according to the European Petroleum Industry Association, which represents BP Plc, Royal Dutch Shell Plc and other refiners.
Winter Exposure
European diesel is scarcest, trading at the highest in 3 1/2 years relative to gasoil. Rising prices are a blow to consumers in the euro zone where unemployment rose to 10.2 percent in September, from 10.1 in August, according to the European Union's statistics office in Luxembourg. Confidence in the region's economic outlook dropped to the lowest in almost two years last month as national leaders struggled to contain a worsening debt crisis.
"Diesel is still looking pretty solid," Amrita Sen, a London-based analyst at Barclays, said by phone Oct. 31. "It is already a market that's tight," as winter approaches, she said.
The ultra-low sulfur grade traded at a premium of $64 a barrel to first-month ICE November gasoil futures on Oct. 21, the most since April 2008, according to data for the wholesale Amsterdam-Rotterdam-Antwerp barge market compiled by Bloomberg. The spread was at $48 yesterday, compared with an average $39.28 in September and October. Tax breaks and higher fuel prices prompted drivers to switch to more efficient diesel engines since 1999, according to the U.S. Energy Department.
Gasoil Above Average
Diesel's advance coincides with a drop in supplies in Europe's oil trading hub to a three-year low. The product is typically priced at a premium to gasoil, the European term for heating oil, which is already trading 28 percent above its five-year average for this time of year on London's ICE exchange.
Inventories of middle distillates dropped to 1.82 million tons in the so-called ARA area last week, data from Netherlands-based consultant PJK International BV show. That's the lowest level since November 2008. The quality difference between the fuels is narrowing as governments require the use of cleaner motor and heating fuels.
On the U.S. East Coast, distillate inventories dropped to a three-month low of 57.9 million barrels in the week to Oct. 28, just before an early winter storm engulfed the region, U.S. Energy Department data showed.
Seasonal Demand
"It's a supply-side issue," Roy Jordan, an analyst at FACTS Global Energy who worked for more than 30 years as an oil trader at Shell, said Oct. 28 by phone from London. "The middle distillate spreads have strengthened recently due to concern in Europe about the shortage of imports from Asia and at the same time, there is increasing seasonal demand for heating oil."
Some European companies cut processing rates since September as the profit to refine crude into products such as gasoline dropped 73 percent. Italy's Eni SpA, Hellenic Petroleum SA of Greece and Swiss-based Ineos Group AG are among the companies that have halted or slowed production.
In Germany, Europe's largest heating market, gasoil tanks in households were 59 percent full at the end of September, Christophe Barret, a London-based analyst at Credit Agricole SA, said by phone Oct. 31. That's less than the average 62 percent for this time of year from 2003 to 2010, he said.
Refinery Fires
Refinery fires in Asia curtailed exports to Europe, Jordan said. Blazes at Formosa Petrochemical Corp.'s 540,000 barrel-a-day Mailiao facility in Taiwan and Shell's 500,000 barrel-a-day Pulau Bukom plant in Singapore cut shipments from July and September, respectively.
Shell delayed maintenance of a diesel-making unit at the Pernis refinery in Rotterdam, the largest in Europe, by four months to February after the Singapore fire.
Russian diesel output in September fell 11.9 percent from the previous month, according to the Energy Ministry's CDU-TEK unit in Moscow. The country's five largest refineries carried out maintenance in the past two months, data from CDU-TEK showed.
"There's limited supply from Russia," Ehsan Ul-Haq, senior market consultant at KBC Energy Economics, said from Walton-on-Thames, England on Oct. 31. KBC forecasts the diesel premium to Brent crude in northwest Europe will climb to $20.25 a barrel in the fourth quarter from $16.40 in the third.
Gasoil Backwardation
ICE gasoil futures traded since early August in so-called backwardation, where contracts closer to expiration cost more than later-dated shipments, which is often a sign that prompt demand is outpacing supply.
The front-month contract's premium to the second month closed at $13 a ton on Nov. 2, the most in more than three years, excluding the last two days of each contract when the expiration makes prices volatile. Backwardation can reflect near-term scarcity or increased demand and discourages traders from storing products. Gasoil for November delivery was at $966.75 a ton, or $12 more than December, as of 5:17 p.m. in London.
Distillate prices in Europe have been high enough to attract shipments from as far away as the India, Kuwait and Taiwan, according to shipping data compiled by Bloomberg News.
"The arbitrage from everywhere remains open to Europe, and eventually barrels will flow," Kleinman said. "But we are sitting at the peak of global refinery turnarounds, so products are at their tightest."