Greek Ruling Party Lawmakers Desert Papandreou Before Vote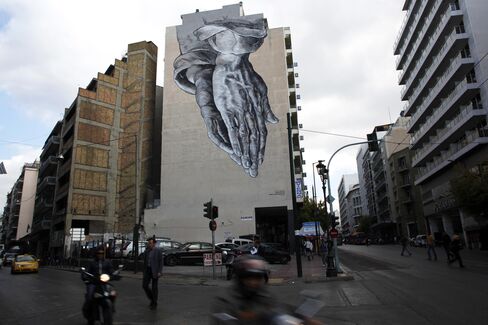 Ruling party lawmakers urged Greek Prime Minister George Papandreou to step aside and allow the formation of a new government that can approve a European Union aid package needed to avert default.
Odysseas Vodouris, a deputy in the Pasok party, said a confidence vote tonight signaled the end of Papandreou's administration and colleague Vasso Papandreou said the motion would support the formation of an administration of national consensus. Lawmakers will later start a roll call televised on state-run Vouli TV with results expected at midnight in Athens.
"It is a paradox for the Parliament to be giving a vote of confidence to a government and its head which has lost the confidence of Greek society and the international community," Vodouris said in a faxed statement. "An exit from the crisis demands a government of national responsibility headed by a person widely accepted by all."
Should Papandreou, 59, win the vote, his options this weekend include handing over power to the unity government or fighting on. Papandreou's inability to resolve the political gridlock pushes the country closer to the first default by an EU nation even as his scrapping of a referendum averted potential ejection from the 17-member euro region.
Political Forces
"The issue is how to keep the country going and then evolve the current government into a broader government that takes on board other political forces," Energy Minister George Papaconstantinou told Bloomberg Television's Nicole Itano in an interview. "We need broader support and approval for the kind of measures that were taken."
European stocks extended the biggest weekly slide in six and the euro fell before the vote as a meeting of the world's top 20 leaders ended without agreement on how to support the continent's indebted nations.
Opposition leader Antonis Samaras refused to share power with the premier and wants a caretaker government chosen by the president. Papandreou's party currently controls 152 seats in the 300-member legislature, almost double the 85 lawmakers in Samaras's New Democracy party.
National Unity
Papandreou may propose Finance Minister Evangelos Venizelos as his replacement, Mega TV reported earlier, without saying where it got the information.
European Commission President Jose Barroso said he expected a government of national unity will approve last week's bailout agreement with the EU before Greece runs out of funds, which Greece says could happen in mid-December.
A successful vote in parliament tonight must be accompanied by concrete steps to forge a unity government, Health Minister Andreas Loverdos said today. Loverdos shepherded the country's pension reform through parliament last year as labor minister, a key demand under the original EU-led bailout.
He joins Education Minister Anna Diamantopoulou, a former European Commissioner, who asked Papandreou yesterday to immediately begin the process to form a government of "national responsibility."
"I never excluded any topic from the discussion, not even my own position," Papandreou told lawmakers in Parliament yesterday. "I am not tied to a particular post. I repeat I am not interested in being re-elected but just in saving the country."
Papandreou's hope for a unified approach to tackle the financial crisis disintegrated last night as Samaras rejected his overtures before leading deputies of his New Democracy party out of parliament.
Disorderly Default
"There's a real danger of a disorderly default," billionaire investor George Soros said in a speech in Budapest. Without support for Greek lenders, "you're liable to have a run on the banks in other countries as well. That's the danger of a meltdown."
If the premier loses the confidence vote, President Karolos Papoulias could try to bring parties together to form a national administration under a new premier or invite opposition parties to form a government. Under Greek law, an election could be held within three weeks.
Papandreou's fortunes have dimmed this week after a planned referendum on Greece's membership of the Europe, announced on Oct. 31, was slammed by European leaders and domestic lawmakers alike and then abandoned yesterday.
The referendum plan triggered the biggest two-day slide in the MSCI World Index in almost three years and sent spreads on French, Greek and Italian bonds over bunds to euro-era records. Greek two-year bond yields climbed above 100 percent for the first time yesterday after the EU blocked aid.
'Speculative Pressure'
"With the announcement of a referendum the entire loan accord was up in the air," Samaras told lawmakers yesterday. "This in turn caused a wave of speculative pressure on other vulnerable countries of the union, such as Italy, and this in turn prompted a wave of panic across international markets."
Papandreou said Greece's continued participation in the euro was at risk and any rejection of the accord reached in Brussels last week would force Greece to exit the currency.
The Minnesota-born lawmaker has led his party since 2004, three decades after it was founded by his father Andreas at the end of Greece's military rule.
"It is unprecedented for an elected prime minister of Greece to cast doubt over the only two great achievements since the fall of the military dictatorship -- Greece's membership of the European Union and of the euro area, in just 72 hours," said Dora Bakoyannis, a former foreign minister and lawmaker who supported Papandreou in the first bailout vote in 2010 and was expelled from the main opposition party. "The only things we have to be proud of are directly at threat today because of Mr. Papandreou's brilliant referendum idea."
Political Vacuum
Papandreou said Greece cannot have a political vacuum at this critical time and that it would be irresponsible for the government to resign.
Elections would hold up disbursement of Greece's next aid package, which was frozen by German Chancellor Angela Merkel and French President Nicolas Sarkozy in the wake of Papandreou's referendum plan.
European leaders met on Oct. 26 and agreed to boost the European Financial Stability Facility's firepower to 1 trillion euros ($1.4 trillion), set aside 100 billion euros for Greece and provide 30 billion euros in collateral for a debt swap that will give Greece's investors new, lower-risk bonds at 50 percent off the existing debt's face value.
Banks, Greek authorities and other officials continued to work on a proposed bond exchange even as the political turmoil cast doubt on the new rescue package.
Instrument of Government
"The country needs the constitutional instrument of a government, it can't be ungoverned, unable to negotiate, sign things, get the money from the EU and IMF," Finance Minister Evangelos Venizelos told lawmakers.
Greece said today that it will sell 1 billion euros of 26-week Treasury bills on November 8.
Canadian Prime Minister Stephen Harper said Greece's possible exit from the euro currency block was discussed by the world leaders at the Group of 20 summit in Cannes, France, adding he expected "cooler heads will prevail."
Barroso said the EU wants to keep Greece in the euro and that the country's exit from the monetary union would risk setting a precedent for investors.
"They're really on the verge of being unable to pay for their schools and hospitals," Barroso said on Europe 1 radio. "Obviously this is the type of situation that requires national unity. We're saying, 'Please, agree on the essentials. It's you the Greeks who have to be united.'"
Before it's here, it's on the Bloomberg Terminal.
LEARN MORE