German Factory Orders Unexpectedly Plunged 4.3% in September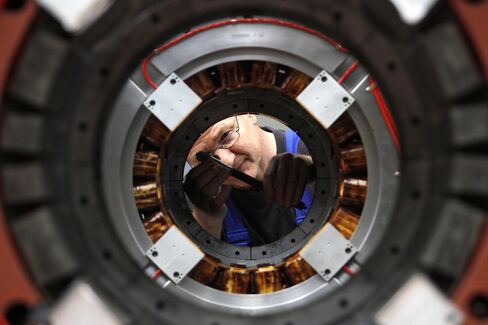 German factory orders unexpectedly plunged in September as demand from the euro region slumped, adding to signs the region's debt crisis is damping growth in Europe's largest economy.
Orders, adjusted for seasonal swings and inflation, fell 4.3 percent from August, when they dropped 1.4 percent, the Economy Ministry in Berlin said in a statement today. It's the third straight month orders have declined. Economists forecast a 0.1 percent increase for September, according to the median of 34 estimates in a Bloomberg News survey. In the year, orders rose 2.4 percent when adjusted for work days.
The European Central Bank yesterday unexpectedly cut interest rates to boost growth in the 17-nation economy, saying a "mild recession" is on the cards as the debt crisis damps confidence. German unemployment unexpectedly rose for the first time in more than two years in October and Europe's manufacturing industry contracted for a third month.
"The insecurity due to the debt crisis will be simply lethal for the economy if it continues like this," said Ulrike Rondorf, an economist at Commerzbank AG in Frankfurt. With global demand also slowing "we can at best expect slight growth through the end of the year."
Domestic factory orders fell 3 percent in September and export orders dropped 5.4 percent, led by a 12.1 percent plunge in demand from other euro-area countries, today's report showed. Orders for investment goods declined 4.6 percent, while consumer goods orders rose 2.3 percent.
Sales to Asia
Some German companies have so far been spared the brunt of Europe's debt crisis by selling to faster-growing emerging markets like Asia.
HeidelbergCement AG, the world's third-largest maker of cement, yesterday reported third-quarter profit that beat analyst estimates as sales to countries such as Indonesia grew faster than anticipated. Bayerische Motoren Werke AG, the world's largest maker of luxury vehicles, also reported better-than-expected profits in the third quarter.
While Germany's Bundesbank on Oct. 17 predicted "strong" growth in the third quarter due to a rebound in industrial production and private consumption, it said the outlook has deteriorated.
The ECB yesterday unexpectedly lowered its key rate by 25 basis points to 1.25 percent. ECB Executive Board member Juergen Stark said in Frankfurt today that the euro-area economy may not grow at all in the fourth quarter.
Germany's top economic institutes on Oct. 13 cut their 2012 forecast for growth by more than half, though they said the economy will probably avoid recession. Growth will slow to 0.8 percent next year from 2.9 percent in 2011, they said in a bi-annual report commissioned by the government. In April, the group forecast 2 percent growth for 2012.