FIFA Says Blatter Not Involved in Rights Agreement With Nephew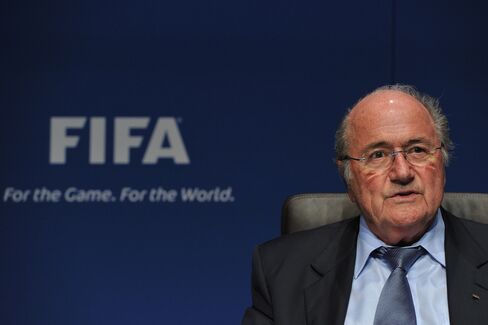 Soccer's governing body said President Sepp Blatter wasn't involved in meetings or decisions that led to FIFA selling the Asian television rights for the World Cup to a company headed by his nephew.
Infront Sports & Media AG, a Zug, Switzerland-based company whose chairman and chief executive officer is Philippe Blatter, will market broadcast rights to the next two tournaments in 26 Asian countries including India, China and Singapore.
The agreement came shortly after the FIFA president announced anti-corruption measures following a series of scandals that have hurt the organization over the past year. FIFA says its reforms will be complete by June 2013.
"The decision to go with Infront was made by the finance committee and ratified by the executive committee on the basis that Infront presented the best offer," FIFA said in an e-mail. "The FIFA president is not a member of the finance committee and was not present when the decision was made."
Blatter is one of 23 members of FIFA's executive committee, its decision-making body. The panel is supposed to have 24 members but has yet to replace Jack Warner, a Caribbean official who quit the sport in June in the middle of an inquiry into whether he helped Mohamed Bin Hammam, a challenger for the FIFA presidency, buy votes.
InFront's relationship with FIFA dates back to the sale of rights for the 2002 World Cup, four years before Philippe Blatter joined the company, company spokesman Joerg Polzer said. The FIFA president's nephew wasn't directly involved in the talks over the World Cup contract, he added.
"These have been carried out by a team of specialists responsible for media-sales operations," he said.
The television rights to the World Cup are FIFA's biggest income generator. Last month it announced sales of $1.85 billion for rights in the U.S., Canada, Australia and the Caribbean. The U.S. deals with Fox and Telemundo are worth about $1.2 billion, almost four times the current agreements that end after the next tournament in Brazil in 2014.
Sylvia Schenk, senior adviser for sport at Transparency International, said she's spoken to FIFA about the agreement and "as far as I know the decision itself looks like it's OK."
Schenk, who's advising FIFA on its reforms, said the organization needs a better policy to deal with potential conflicts of interest.
"It's always a problem to explain to the public when two relatives are involved," Schenk said in a telephone interview.
Philippe Blatter had been head of management consults McKinsey & Co Inc.'s international sports practice before moving to InFront. McKinsey was hired by FIFA in 2000 to conduct an audit of its practices.
InFront was created after the 2001 collapse of FIFA's marketing and television rights partners International Sports Leisure and KirchSport AG.
Competitive Package
FIFA announced last month it will release documents in December that contain the names of serving or former executives who took commissions from ISL before the company's bankruptcy. Until now FIFA has filed lawsuits to prevent the information becoming public after repaying $6.2 million last year on condition the names were not revealed.
FIFA hasn't given details of the tender process for the Asian sales rights won by InFront, or revealed the names of other bidders. Polzer declined to give details of the contract, citing confidentiality.
"We responded to an invitation to tender by FIFA," he said. "Who else was there you have to ask FIFA. We believe our offer was the most competitive package to FIFA. It needs to be mentioned this is a complex project in distribution."
InFront works with the top soccer leagues in Italy and Germany and says it's the biggest distributor of rights to winter sports.