China Toy Sales Seen Surging to $9 Billion With Princess: Retail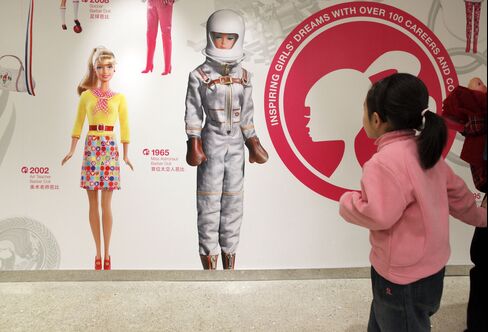 Nov. 4 (Bloomberg) -- Wanted: BFF; pretty in pink; not too trashy; lower maintenance than Barbie. Must speak Chinese.
Meet Princess Secret, a potential best friend forever for the children of China's swelling mass of consumers, who increasingly demand better-quality toys at cheaper prices than foreign brands can offer. The doll's manufacturer, closely held China Focus (Yiwu) Ltd., is among Chinese exporters seeking licenses to sell on the domestic market as overseas growth flags.
"Our products probably cost twice as much as those designed for the local market, but that's not a problem because they're still cheaper than imports," Maggie Zhang, a sales manager, said at the country's biggest trade fair last month, while staffing a stall stacked with Princess Secret pink dolls, gloves, scarves and cosmetic bags.
The nation's toy market is expected to double to 60 billion yuan ($9 billion) by 2015 from 2010, according to the China Toy & Juvenile Products Association. In contrast, overseas sales grew 8.9 percent in the first nine months of the year, lagging the 23 percent growth in total China exports.
"Chinese toy exporters are coming to a turning point where domestic growth is starting to outpace that of overseas orders," said Hua Zhongwei, a macroeconomic analyst with Huachuang Securities in Beijing.
Eating at McDonald's
Three decades of economic growth averaging 10 percent a year has lifted hundreds of millions of people from subsistence levels of poverty, spurring sales of consumer goods such as Coca-Cola Co. sodas and McDonald's Big Macs.
China's retail sales rose 17.7 percent in September, topping the 17 percent pace that was economists' median estimate and also the reported level in August. Per capita disposable income for people in towns and cities rose 8 percent to 19,109 yuan last year, and 10.9 percent to 5,919 yuan for those in rural areas, according to government data.
Gross national income adjusted for the cost of living jumped 58 percent to $7,570 in the four years to 2010, World Bank data show. Still, that's lower than the $47,120 in the U.S. and $38,140 in Germany, and means toys like El Segundo, California-based Mattel Inc.'s best-selling Barbie remain expensive for most Chinese families.
Mattel in March closed its first Barbie-dedicated store in China two years after opening the six-story Shanghai outlet. The toy company, which didn't provide a reason for the closure, had lowered the outlet's sales targets by at least 30 percent.
U.S. Consumer Confidence
Mattel is now expanding its distribution network into smaller Chinese cities, Jean-Christophe Pean, Asia-Pacific general manager, said in an e-mailed response to queries.
Chinese toy exporters, who made $7.9 billion of overseas sales in the first 9 months according to customs data, are also turning their eyes to home because of weak prospects in the U.S. and Europe.
The U.S. Conference Board's confidence index slumped in October to the lowest level since March 2009 as Americans' outlooks for jobs and incomes soured, figures from the New York-based private research group showed Oct. 25.
The U.S. toy market is about $21.9 billion and the global market is about $83.3 billion, according to Port Washington, New York-based NPD Group, a market research company.
Growth in shipments to Europe, China's biggest export market, slowed to 9.8 percent in September, from 22 percent in August, amid the sovereign-debt crisis in euro-region nations. Outlook for trade this quarter and in the first three months of next year is "grim," Shen Danyang, a spokesman for China's Ministry of Commerce, said at an Oct. 19 briefing in Beijing.
Canton Fair
At the Canton Fair in the southern city of Guangzhou last month, some of the more than 23,700 exporters with stalls there reported a drop in interest from foreign buyers. The semi-annual event that started in 1957, formally called the China Import and Export Fair, accounts for one-quarter of the country's trade, its website claims.
"Business isn't good," said Ken Shum, a product manager at Dongguan, Guangdong-based table-soccer maker Euland Industrial Co., as he played on his cell phone at the company's stall. This year is his fifth visit. "We may not come again next time," he said.
At this year's fair, 168,280 foreign purchasers registered, compared with 207,103 in the spring fair event and 200,612 in the autumn show last year. The final number will be higher when unregistered visitors are tallied by the organizer after the event closes today.
One-Child Policy
China Focus' Zhang said the company will probably attend next year's fair mostly to maintain relations with clients, as their orders are still growing. The Yiwu, Zhejiang province-based company, got most of its $5 million of revenue last year selling about 1,500 types of toys to the U.S. and the Europe. Chinese retailers such as China Resources Enterprise Ltd. are starting to show interest, Zhang said.
"There definitely is a market in China," she said. "It's a step we must make in the future."
Zhang said toymakers are targeting young parents born after the 1980s, when the communist government began freeing markets and the one-child policy helped concentrate the benefits of growth into fewer, younger hands.
Selling locally poses challenges for Chinese exporters. They need a government license to sell their goods in China, and would forgo the 20 percent rebate they get for goods sold overseas.
Princess Charm School
Established brands also have an edge. At the Next Age Department Store in Shanghai's Pudong on Nov. 2, six-year-old Yue Yue had eyes only for Barbie. After passing over a 128-yuan doll made by Guangzhou Star-Moon Toys Co., she checked out the range of Barbies before buying a "Princess Charm School" model at 199 yuan.
"My girl has always liked Barbie," said 34-year-old housewife Yang Yuan, Yue Yue's mother. "Barbies aren't cheap, but local brands are also catching up in terms of price. I'd rather spend a little more on better quality and a better brand."
Exporters also face rising costs and a strengthening yuan. Monthly wages at Euland's Dongguan factory making tables for billiards and other games have jumped 50 percent this year to 3,000 yuan, Shum said. The yuan has gained 1.3 percent against the euro and 4.45 percent against the dollar this year.
Euland's Shum said doing business in China requires more effort and "hidden costs are everywhere." Still, the company gets about 5 percent of sales at home after a year in the domestic market, he said.
Wendy Xu transferred from Ningbo Shenma Group Co.'s export department to help set up a domestic business for the maker of baby carriages two years ago. Domestic sales already accounted for about 5 percent of the company's 500 million yuan revenue last year, she said.
"When overseas sales growth gradually became flat, we thought it was time to develop a domestic business," she said.
To contact Bloomberg News staff for this story: Michael Wei in Shanghai at mwei13@bloomberg.net
To contact the editors responsible for this story: Frank Longid at flongid@bloomberg.net; Stephanie Wong at swong139@bloomberg.net