China's Stocks Advance, Capping Biggest Weekly Gain in Asia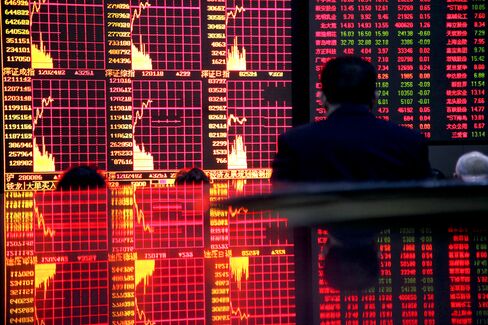 Chinese stocks rose today, capping the biggest gain among major Asian indexes this week, as Greece signaled it won't hold a referendum on a bailout package and on speculation China will take more measures to boost growth.
Jiangxi Copper Co. climbed the most in a week as commodity prices jumped after Greece moved closer to accepting a bailout and the European Central Bank unexpectedly cut interest rates. China Petroleum & Chemical Corp. and PetroChina Co. climbed at least 1.5 percent on speculation that the government may allow refiners to adjust prices on their own. China Life Insurance Co., the largest insurer, rose for an 11th day on the prospect improving stock and bond markets will boost investment returns.
"The rate cut and recent progress on the Greek debt problem help local investors psychologically by increasing their appetite for risk assets," said Zhang Ling, general manager at Shanghai River Fund Management Co. "Domestically, the period for policy over-tightening is over and that'll help the economy get on a smooth track and is positive for stocks."
The Shanghai Composite Index, which tracks the bigger of China's stock exchanges, climbed for a fourth day, rising 20.20 points, or 0.8 percent, to 2,528.29 at the close. It gained 2.2 percent this week, the most among major Asian markets ranked by Bloomberg. The CSI 300 Index advanced 0.7 percent to 2,763.75.
The Shanghai Composite has rebounded 9.1 percent from this year's low on Oct. 21, after the government announced measures to help small businesses through easier access to bank loans and said it will lower the threshold for payment on value-added and business taxes for small companies.
Policy Support
Chinese stocks have advanced this week as some manufacturing and non-manufacturing reports signaled a slowdown in the economy, increasing speculation the government will cut banks' reserve requirement ratios or introduce more fiscal measures to bolster growth as inflation eases.
The nation's inflation may slow to 5.3 percent or 5.4 percent in October, according to Zhu Jianfang, a Beijing-based economist at Citic Securities Co. The figure is scheduled for release on Nov. 9. Consumer prices rose 6.1 percent in September.
"Recent news flow suggests policy loosening may have already started," Mingchun Sun, the Hong Kong-based head of China Research at Daiwa Capital Markets, said in a report dated yesterday.
Media reports from Hong Kong and China that some Chinese banks had their loan quotas being increased for November are "most likely true," according to Sun. New Chinese bank loans may exceed 600 billion yuan ($94.6 billion) this month and next and full-year loan growth may reach 7.5 trillion yuan, he said, cutting the probability of an economic "hard-landing" to 5 percent from 25 percent for the fourth quarter.
Greek Bailout
The Shanghai Composite has fallen 10 percent this year after the central bank raised interest rates three times and lifted the reserve-requirement ratio to curb inflation that's near a three-year high. It's valued at 11.9 times estimated earnings, compared with a record low of 10.8 times on Oct. 21, according to weekly data compiled by Bloomberg.
Greek Finance Minister Evangelos Venizelos, speaking to party lawmakers in Parliament in Athens, said the nation won't hold a referendum. Just hours after saying Greeks need to decide on whether their future is in the euro, Prime Minister George Papandreou said the country belongs in the currency bloc.
The European central bank unanimously lowered the benchmark interest rate by 25 basis points to 1.25 percent, confounding 51 of 55 economists in a Bloomberg News survey. ECB President Mario Draghi said the rate cut happened partly because "what we're observing now is slow growth heading toward a mild recession."
Commodity Stocks
Jiangxi Copper, China's biggest producer of the metal, rose 1.8 percent to 28.68 yuan. Tongling Nonferrous Metals Group Co., the second largest, gained 1.6 percent to 21.85 yuan. Zijin Mining Group Co., the largest gold producer, advanced 2.2 percent to 4.70 yuan. Europe is China's biggest export market, accounting for more than a fifth of its overseas shipments.
"We are expecting at this stage the bailout package to go through," Lorraine Tan, director of Asia equity research at Standard & Poor's, said in a Bloomberg Television interview from Hong Kong. "Our strategy is to stay positive in markets where there are good domestic stories, we're talking mainly about China and Indonesia."
Free Pricing
China Petroleum, Asia's biggest oil refiner, also known as Sinopec, climbed 2.6 percent to 7.41 yuan. PetroChina, the nation's biggest oil company, gained 1.5 percent to 10.11 yuan.
China, which controls fuel prices to curb inflation, may permit refiners to make "appropriate" changes, China Securities Journal reported, citing an unidentified person.
Huang Wensheng, Sinopec's Beijing-based spokesman, declined to comment on the China Securities report. Mao Zefeng, PetroChina's Beijing-based spokesman, didn't answer two calls to his mobile phone. Two phone calls to the news department of China's economic planner went unanswered.
China Life advanced 1.1 percent to 18.24 yuan, capping a 23 percent gain over 11 days. The winning streak is the longest since the stock started trading in Shanghai in January 2007.
Citigroup Inc. said in a report that it favors insurers, banks and other cyclical companies including information technology, consumer discretionary, materials and energy.
"The low for insurers' earnings has appeared and a decline in bond yields will partially boost the investment incomes for insurers," Tao Jinggang, a strategist at Sinolink Securities Co., said in a report yesterday as he recommended insurers and brokerages. "It's a good time to increase allocations and jump on to the rebound."
The Bloomberg China-US 55 Index, the measure of the most-traded U.S.-listed Chinese companies, rose 0.3 percent yesterday to the highest in a week.
— With assistance by Shidong Zhang
Before it's here, it's on the Bloomberg Terminal.
LEARN MORE